Remembering Jerry Lewis
The iconic actor, singer, director, and entertainer passed away at the age of 91.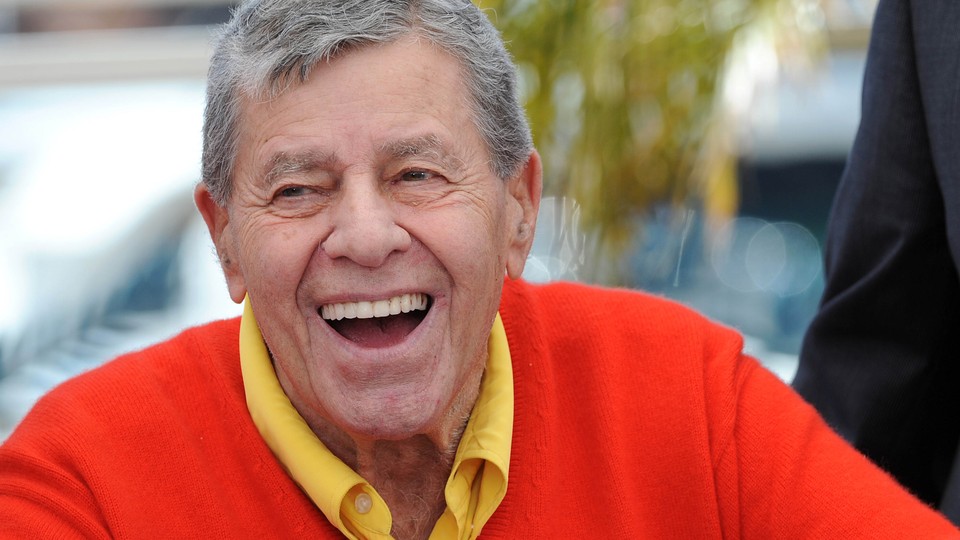 Jerry Lewis, one of Hollywood's most iconic and influential comedians with a decades-long legacy as an actor, writer, singer, director, and humanitarian, died on Sunday morning in Las Vegas at the age of 91. Beloved beginning in the late 1940s as a broad family entertainer with an unparalleled gift for physical comedy, Lewis was many things to many people over his 70-plus years in the industry. He was the zany instigator alongside Dean Martin's straight man in their legendary comedy duo; he was a slapstick film star who pumped out movies dismissed by some as the lowest common denominator and embraced by others as high art; and he was a famously mercurial and acidic celebrity who devoted much of his star power to raising money for children suffering from muscular dystrophy.
Over his long career, Lewis never stopped working, even as his on-screen appearances dwindled. He sold out shows at the age of 90, and never lost grip of his specific, irascible sense of humor (as evidenced by this marvelously uncomfortable interview he gave The Hollywood Reporter last December). His star was at its apex in the '50s and '60s, but he did some of his most fascinating work in his later years, while many of his films, dismissed at the time as fluff, are now admired for the total artistic control Lewis exerted over them.
Born in 1926 and raised in Newark, New Jersey, the son of Russian Jewish parents who both worked as entertainers in the Catskills, Lewis dropped out of high school in the tenth grade and began working as a comedian. In 1946, he formed a partnership with the 29-year-old nightclub singer Dean Martin and the two merged their acts, with Lewis performing elaborate physical-comedy skits alongside the crooning Martin, the former's disheveled mania playing off the latter's cool-guy attitude.
Their "sex and slapstick" routine, in which Lewis was the wisecracking id and Martin the smooth-talking ego, quickly got a radio show. They then made several appearances on television before jumping to Hollywood, starring in comedies like That's My Boy, Sailor Beware, Jumping Jacks, The Caddy, Scared Stiff, and many more—17 in all, all released between 1949 and 1956. Almost as fast as they had risen to fame, Martin and Lewis broke up, ending their partnership in 1956 after years of creative strain, with Lewis reportedly looking to make more adventurous work, and Martin resentful of his increasingly diminished roles, and his partner's controlling nature as an artist.
Lewis felt betrayed by the split, and though the two appeared together a few times on television, they didn't fully reconcile until the late 1980s. Lewis occasionally spoke of his regret at the split—in that 2016 interview, referencing the time "when my partner was alive" as the happiest of his career. But he forged on as a solo act, making a string of films in the late '50s with director Frank Tashlin (a Warner Bros. animator with a similar sensibility to Lewis) before taking on his directorial debut, 1960's The Bellboy. A practically plotless, nearly dialogue-free ode to the slapstick heroes of Lewis's youth like Laurel and Hardy, the film was a hit, and the beginning of Lewis's most successful period as a filmmaker, one still revered (especially in France, where his reputation as a great auteur is unquestioned) as a landmark for movie comedies.
These films included The Ladies Man (1961), where he played a clumsy dweeb working at a ladies' boarding house, and The Family Jewels (1965), in which he played seven roles. But the era is probably best remembered for The Nutty Professor (1963), a take on the Jekyll-Hyde story in which he plays the shy scientist Julius Kelp and his suave alter-ego Buddy Love. Lewis had taken the bifurcated comic chemistry of his Martin-and-Lewis act and put it into one body; the result is still extraordinary to watch. But as the studio system began to change in the late '60s and the darker New Hollywood era began with the release of films like Bonnie and Clyde, Lewis struggled to adapt, with his broader material finding less and less of an audience.
His infamous attempt at a serious film about the business of clowning, the 1972 Holocaust drama The Day the Clown Cried (in which he played a washed-up clown who entertains Jewish children in Auschwitz), was such a disaster that it was never released and was tied up in an abyss of litigation for decades afterwards. Lewis would mock the effort himself, once saying, "I was embarrassed. I was ashamed of the work, and I was grateful that I had the power to contain it all, and never let anyone see it. It was bad, bad, bad. ... But I can tell you how it ends." However, it became part of the legend of his diminished career in the '70s, as he struggled to adapt to a grimmer, more subversive comedy world.
He returned to the big screen in 1981 with Hardly Working, which was a hit despite poor reviews; his next appearance, in Martin Scorsese's 1983 satire The King of Comedy was much more acclaimed. As a famed talk-show host kidnapped by a disturbed fan (played by Robert De Niro), Lewis played off his public image in dark and fascinating ways, turning in the best performance of his later career—though the film was initially a box-office bomb before its reputation quickly grew. After that, he mostly made cameo appearances in television and film, as well as making his Broadway debut in Damn Yankees in 1995.
Through all his career highs and lows, Lewis was also a spokesperson for the Muscular Dystrophy Association, hosting an annual Labor Day weekend telethon to raise money for the cause of "Jerry's Kids." Over 44 years, he helped raise some $2 billion for the organization before he stopped hosting in 2010, the telethons' effectiveness having been blunted by the internet age. Though unheralded by such organizations in the prime of his career, Lewis has been honored with the Academy's Jean Hersholt Humanitarian Award, a star on the Walk of Fame, a special tribute by the Cannes Film Festival, and France's Legion of Honor as well as countless other lifetime achievement awards. He had six sons with his first wife Patti Palmer (whom he divorced in 1980), one of whom, Joseph, died in 2009; he is also survived by his second wife SanDee Pitnick and their daughter Danielle.