Why Netflix Is Releasing So Many New Shows in 2018
The company is apparently ignoring warnings about "Peak TV."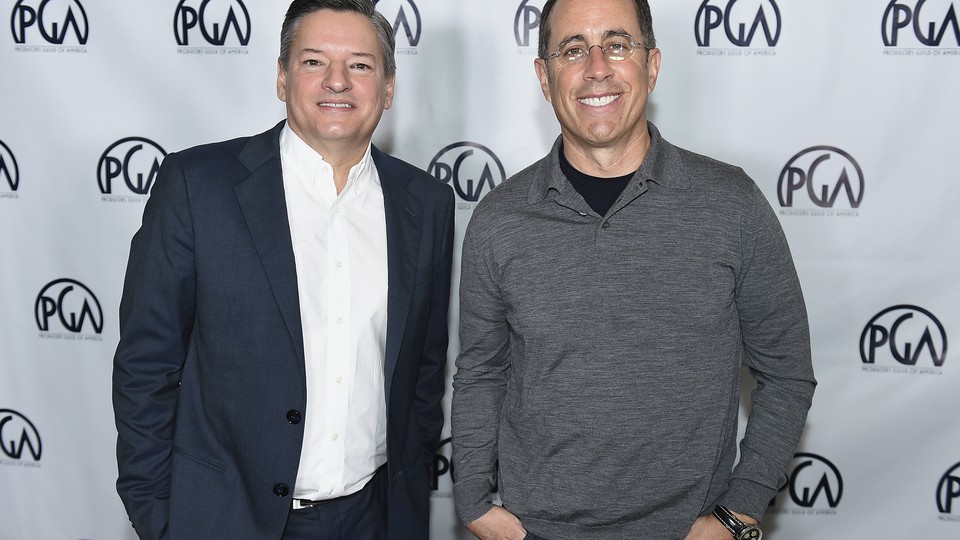 Since first moving into original programming in 2012, Netflix has gone from a fringe curiosity to a major player in film and TV, actually living up to the mantle of "disruptor" that so many tech companies try to claim. But even by that standard, the last few months have been a whirlwind, with Netflix making several of its biggest acquisitions yet: securing a deal with the juggernaut TV producer Shonda Rhimes, luring David Letterman out of retirement, buying Jerry Seinfeld's Comedians in Cars Getting Coffee series, giving the green light to shows by the Coen brothers and Steven Soderbergh, and optioning an entire comic-book brand (the indie Millarworld, which birthed the cult-favorite film Kick-Ass).
In a recent, wide-ranging interview with Variety, Netflix's chief content officer Ted Sarandos made it clear the company had no plans to let up: It's looking to increase its original offerings until they make up half of the service's entire library, aiming to spend $7 billion on content next year. Reading Sarandos's comments, it's clearer that the phrase that's been used to describe this era of abundant television—"Peak TV"—is only part of the picture. We're really in an era of Peak Netflix, where the company is launching such an unprecedented volume of new programming that its more traditional rivals have to choose between spending into oblivion or possibly having their shows swamped.
Netflix has seen its share of flops in the last couple years. The Naomi Watts-starring drama Gypsy, one of its big 2017 launches, was quickly canceled, as was the comedy Girlboss. Expensive epic TV shows like The Get Down and Sense8 struggled to click with a wide audience and were canceled early. And while other 2017 offerings like Santa Clarita Diet, Friends From College, and Ozark secured renewals, each debuted to mixed reviews and couldn't quite capture the zeitgeist. The same goes for the company's original films, which so far have failed to crack the Oscar market.
But for all those misses, Netflix has had plenty of hits, some unsurprising (its stable of Marvel shows), some more so (the teen-suicide drama 13 Reasons Why, the 1980s female wrestling dramedy Glow). Even bigger is Stranger Things, one of the very few TV programs that rivals Game of Thrones as a genuine "water-cooler" hit, cutting through the glut of niche TV. Netflix's strategy is to get these shows by casting a massive net; risk-taking, in Sarandos's eyes, is much more appealing than releasing a hit every time.
"Every one of our creative executives has buying power," Sarandos told Variety, revealing just how drastically his company's programming model differs from that of a traditional TV network. "They can greenlight a big-budget show in the room without me." In upending the hermetic pilot process—where networks lock creators into producing a pilot episode of their shows without any guarantee it'll go to series—Netflix can move much quicker than most and make bigger commitments to brand-name creators like Rhimes. The company spent $5 billion on content in 2016 and $6 billion in 2017, and will up that figure next year.
When the FX Networks chief John Landgraf coined the phrase "Peak TV" in 2015, he was talking to television critics about the explosion in scripted shows in recent years, which grew from about 180 in the early 2000s to 455 in 2016. "[The business] is in the late stages of a bubble. We're seeing a desperate scrum. ... There is simply too much television," Landgraf told the press. Since then, the number of scripted shows has plateaued in the world of basic and premium cable, but streaming networks are continuing to increase production.
To Landgraf, "Peak TV" was a dire warning. To Sarandos, it's a marketing tactic, a way to keep Netflix at the forefront in a rapidly changing industry. When companies like HBO and FX broke into original TV in the early 2000s, they did so by making sure every new show was an event, after years of development. With its ambitious 2018 release schedule, Netflix is moving much more quickly. Sarandos's biggest fear is not the amount of money he's spending, but that Netflix will be a victim of its own success. "The more successful we get, the more anxious I get about the willingness of the networks to license their stuff to us," he told Variety, acknowledging that the company still needs a base of older, licensed material to keep subscribers on board.
The company's tactics have been far less popular in the film world, where some creators (like Christopher Nolan) regard Netflix as an enemy of the theater experience. Sarandos is unabashed about his desire to change the movie-release model. "I don't think we compete with Amazon in the movie space at all," he said, referring to Amazon's habit of giving films wide releases, then hosting them exclusively online many months later. "I frankly don't understand their strategy. I don't understand why perpetuating a model that feels more and more disconnected with the population is good."
That's what's impressive (or terrifying, depending on who you work for) about Sarandos's future plans. Within five years, television has changed from the prescribed September-to-May schedule that has existed since the birth of the medium to a never-ending blitz of new shows that networks struggle to keep up with. And even though Netflix hasn't toppled the similarly staid film calendar as quickly, it could mark the beginning of the end for movie theaters, if the company's success so far with TV is anything to go by.