Storytellers Grapple With the Porn Identity
In new works, Jon Ronson and Tom Perrotta examine the cultural impact of a digital sexual revolution.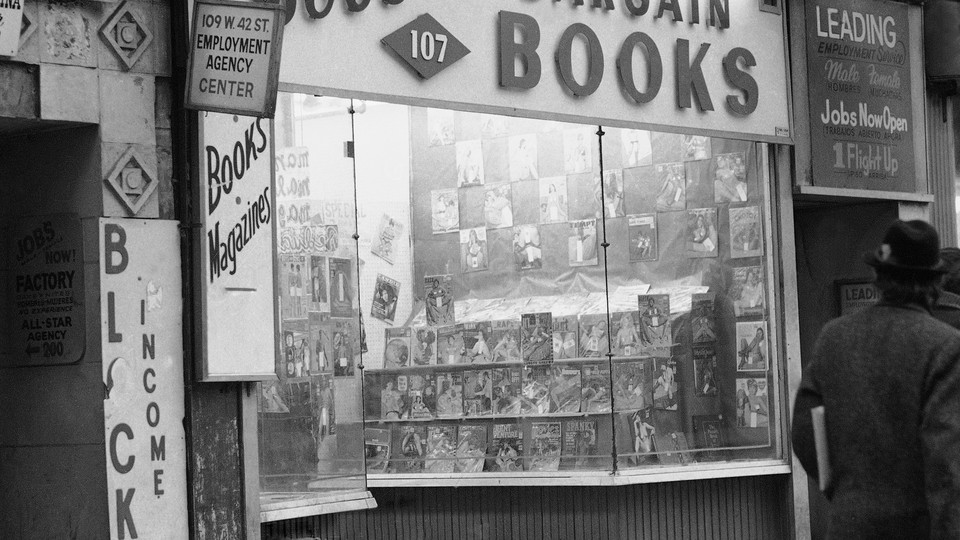 Just a few pages into Tom Perrotta's Mrs. Fletcher, Eve, a mother in her mid-40s, overhears her teenage son receiving oral sex in his bedroom from his ex-girlfriend. What offends Eve isn't what's happening, exactly—she's already made a point of explaining that she's not a puritanical mom but a cool mom, who gives her son plenty of space and even offers to pick up condoms at the grocery store. But she's alarmed, even repulsed, by what she hears: Brendan, her beloved only child, delivering sexual instructions in a parlance that, Eve deduces, is ripped right from hardcore pornography.
Eve recalls attending PTA seminars where a blustering county prosecutor warned parents about "the insane amount of pornography that kids were exposed to every day, a tsunami of filth unprecedented in human history." In this environment, the man rants, it will take "constant, unwavering vigilance to keep your kids safe." At the time, Eve and the other parents concluded that he was being hysterical—that all you had to do was teach your kids the right values, and they'd have the tools to become grounded and empathetic adults. But Brendan's casual, degrading lingo proves how naively wrong this way of thinking was.
Or does it? Mrs. Fletcher, over the next 300 pages, explores the redefining of American sex lives by technology, but the primary person affected isn't Brendan. Rather, it's Eve, whose "accidental" visit to a porn site leads to a nightly obsession. Perrotta explores the ripples that reverberate from her new habit: how Eve starts to view even the most casual everyday activities through a sexualized lens, but also how pornography alters her own conception of herself as a woman. Mrs. Fletcher is a wry, compassionate novel about the ramifications of porn filtering so effortlessly into mainstream culture, without hysteria or accusations. Perrotta, well-versed in capturing the manifold follies and fetishes of human behavior, knows enough by now to gently emphasize that sex is as complicated as people are, and pornography no less so. To simply categorize porn as a malign influence on vulnerable minds is to ignore what it really says about desire.
And yet. Porn is more prevalent than ever before, watched by 82 percent of men and 60 percent of women. It's also easier than ever to find, and free. In the U.S., it's replacing sexual education for a generation reared on abstinence-only and limited awkward discussions with their parents. The nature of our anxieties about porn hasn't shifted—back in the early aughts, Naomi Wolf was documenting how online porn was ruining real sex for young men—but the ease with which we're able to find it has. But we still have no real idea what the consequences might be of making porn so readily available to anyone with a phone.
It's this question that the writer Jon Ronson considers in The Butterfly Effect, a sprawling, frustrating new seven-part audio series available for free on Audible, soon to be released in podcast form via iTunes. Ronson starts with a single event, a German businessman who sees the lucrative potential in enabling people to share porn online, and examines the consequences that ensue. Occasionally they're cultural: He interviews a Christian woman who's a porn addict and talks to an autistic teenager who's on the sex offenders registry because he sent sexually explicit images to a friend. But Ronson's curiosity is more frequently piqued by the people who've lost their livelihoods thanks to free porn: the producers in the San Fernando Valley whose earnings are way down and the former actor who lost his job as a nurse after his hardcore scenes became more widely available online. Thanks to one man—the flap of a butterfly's wings, Ronson argues—millions of lives have been upended.
How porn has affected consumers is unclear: Given how much debate there is over the current glut of porn, there's surprisingly little research about what it's doing to us. Some psychologists and activists state that it's grooming young men to interpret violence as normal sexual behavior, and just last year, Republicans added an amendment to their 2016 policy platform defining porn as a "public health crisis." But other mental-health experts liken fear of pornography to a moral panic, arguing that all parents need to do is educate kids that porn is fiction: as alien to real sex as the Olympics are to flip cup. Amid the confusion, writers like Ronson and Perrotta are picking up the slack, pondering how an abundance of graphic, hardcore sex to view might be changing the world. Their methods are very different, but their deductions align.
* * *
Ronson starts his story with an anecdote. He was meeting a porn actress in a Los Angeles hotel in 2013, he explains, when he happened to observe the hotel receptionist's face when the actress walked in. "It was a look of total contempt," Ronson says, in his northern English drawl, familiar to anyone who's listened to This American Life. "It made me think that some people are only comfortable with porn people when they're on their computers, and not in their immediate vicinity." One of Ronson's quirks is that he describes porn actresses and actors not as "stars" but as "porn men" and "porn women," an oddly charming and childlike turn of phrase that evokes images of erotic Lego figures. He also adds a plosive emphasis to the "p" at the beginning of "porn" every time he says it, which is often.
The Butterfly Effect is about what happened "because of Fabian." In the 1990s, Fabian Thylmann was a teenager in Brussels using CompuServe to trade passwords to porn sites with other teenagers. At the time, Ronson says, the only way to gain access to pornography online was with a credit-card number. But by 2010, when Thylmann bought the company that owned the streaming site PornHub, users had long since figured out how to upload their own adult videos. Thylmann consolidated the free-porn industry, ferociously buying up competitors and paid sites. By 2012, Ronson explains, 80 percent of people watching porn were doing so on one of Thylmann's sites. In 2013, PornHub had between 65 and 70 million visitors a day.
This has, Ronson explains, been disastrous for the people who actually make porn, and his main aim with the series seem to be understanding the force of the impact on them. It's a worthwhile, if slightly familiar, goal, given that the story of porn in 2017 is similar to so many stories of businesses made commercially unviable by technology—with a few colorful tweaks. The algorithmic classification of porn, Ronson explains, has defined two kinds of female performers, MILFs and teens, and anyone between the ages of 22 and 29 is now finding it near-impossible to get work, unless they fit into another category ("If you're 26 with a huge butt you can do big-butt movies," a producer explains).
But most of all, Ronson seems outraged by the fact that such a thriving industry could be desolated by technology, as if it's never happened before in any other medium. It almost starts to feel like his real subject isn't porn at all but the cruelty of an unfettered free market. As Irvine Welsh wrote in Porno, "If you really want to see how capitalism operates, never mind Adam Smith's pin factory, this is the place to study." Ronson repeatedly emphasizes Thylmann's wealth, asking him how many cars he has, and interviewing an artist commissioned to paint a mural in Thylmann's house, who opines about the fishtanks that require a diver to clean, and how his pool retracts like something out of a Bond film.
The biggest problem with porn, The Butterfly Effect posits, is that it's free and easy to access. It's a little simplistic to put this all on Thylmann, since porn-sharing sites have operated since at least the early aughts, and if he hadn't consolidated free porn there would still be a bonanza of individual sites going it alone. (One errant observation of mine is that lamenting the internet is an odd thing to do in a podcast being released exclusively as a download.) Ronson's most compelling episodes, by contrast, focus on the why of porn—its appeal not just for the obvious reasons, but for people who are lonely, or repressed, or damaged. He spends two episodes examining the world of custom porn, where enterprising actors and producers have set up a new business making tailored videos for wealthy private clients who specify exactly what they want.
Custom videos often aren't sexual at all. In one, a woman is doused in ketchup. In another, two actresses set a man's stamp collection on fire. These are specific fetishes, coming from specific psychological places. At Ronson's behest, a porn actress interviews the man who commissioned the stamp video, who explains how his obsession with stamps had come to dominate his life and ruin his relationship. His video is an act of liberation. Another custom client requests a video of Wonder Woman being kidnapped by a gremlin, which is baffling to the producers until he explains that his mother left home when he was five. The gremlin is a manifestation of his younger self, trying desperately to stop Wonder Woman from leaving.
* * *
The idea that people are held prisoner by their own desires is also fertile ground for Perrotta: His 2004 book Little Children featured a discontented feminist housewife whose husband leaves her for an online porn star named Slutty Kay, and a pedophile grief-stricken by the loss of his mother. What's distinctive about Mrs. Fletcher, though, is how passively and unenthusiastically his characters go about their sex lives, almost as if they have no say in the matter. "Tinder was like tequila—fun today, sad tomorrow—but sometimes you didn't have a choice," thinks Amanda, who works for Eve at the local senior center. Eve, meanwhile, is "addicted to internet porn," even though it makes her feel more alone.
For as much as Eve's new porn habit leads her to do inappropriate things—simply because she's gotten so used to the idea propagated by internet porn that everyone in the world is having sex all the time, regardless of age, or gender, or body type—it also leads to a potent reawakening. She goes from being defined by her relationships to other people (mother, boss) to feeling seen by them as herself (an anonymous late-night text reads U r my MILF!). In the hands of a clumsier storyteller, it would be less of a revelation. But there's freedom, and folly, for Eve in identifying as a sexual object at 46. (The book's title would seem to be a sly reference to another married midlife woman with an inconvenient libido.)
Brendan, though, installed as a freshman in college, is paradoxically having no sex at all. One of the sharpest elements of Mrs. Fletcher is how Perrotta presents two opposing forces colliding on campus: porn culture and PC culture. Brendan falls for Amber, a smart young woman who's "painfully aware of the mismatch between her politics and her desires"—she's a thoughtful, sensitive intersectional feminist who's somehow only attracted to jocks.
Perrotta makes it clear that Brendan has hidden depths, and isn't as much of a jerk as high school has conditioned him to be. But he also has no idea how to interact with women. His casual familiarity with porn has left him with distorted ideas of how people behave in bed; he and his friends have become so habituated to the idea of a standardized female body that any deviation from the norm revolts them. Then he's thrust into a college climate that demands aggressive sensitivity from teenage boys. Describing his first week in college, Brendan writes, "The weather was beautiful, which meant that lots of hot girls were wearing cutoffs and bikini tops ... Some of the less hot girls stripped down too, and everybody tried to be cool about it, because body image and all that."
For Eve, porn expands her consciousness. But it confines Brendan's. Perrotta approaches the subject of pornography with an open mind, but he's attuned to its consequences, good and bad. Eve, who came of age in a feminist environment where porn was decried as abusive to women, comes to see it differently. Brendan, whose ex watches YouTube tutorials on blow jobs, begins to understand that sex isn't just a purely physical act. Quietly, Perrotta points out that porn itself isn't the problem—it's the people who watch it.
It's a surprisingly simple argument, and yet a shocking one, in a culture that's as polarized over porn as it is over everything else. What if porn is neither good, nor bad, but both? What if it enables some people to feel less isolated even while it conditions others to do things they regret? It's a conclusion Ronson almost gets at. Midway through The Butterfly Effect, he documents some people who've been harmed by porn, and almost all are teenagers. But he ends with a custom video in which a client asks for a video of a woman sitting cross-legged on the floor, telling the camera that he's not alone, that he's loved, that it will get easier. Is it porn, or therapy? It's hard to tell.