When McGregor Faced Mayweather
In the end, the much hyped fight played out as it was destined to.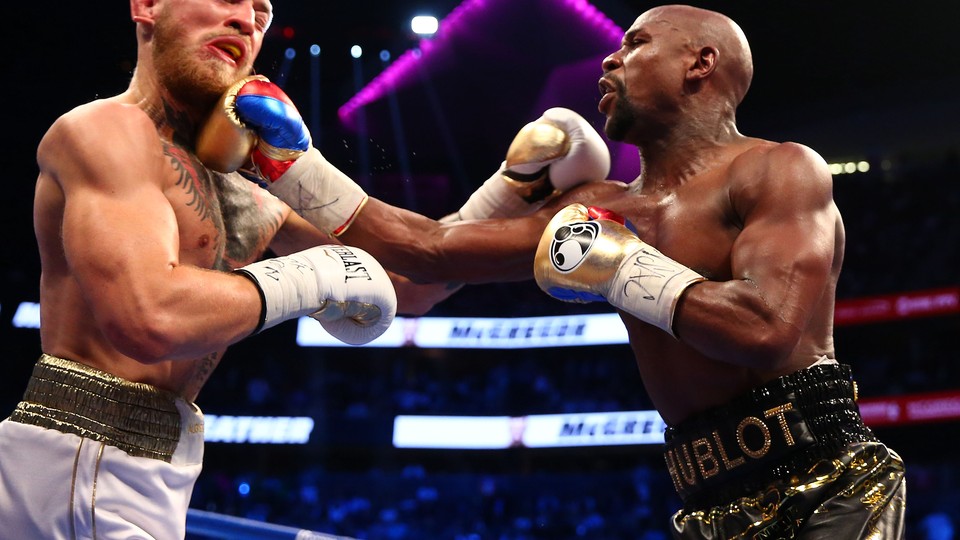 By midnight, we were good and ready. Boxers had been slugging away all evening, but it was Gervonta 'Tank' Davis, in the junior-lightweight contest that immediately preceded the main event, who brought at last the requisite note of wildness and transgression. Davis, approximately two feet tall, is a teetering, veering energy cone with an expression of sealed hostility and neck tattoos. Having already lost his belt by failing to make weight, and wearing shorts trimmed with fur of the smurfiest blue, he put in a scattered and rhythm-less shift against the hardwearing underdog Francisco Fonseca, finally laying him low with an illegal clout around the back of the head that appeared not to have stunned Fonseca so much as perforated his morale, or disgusted him completely: He sank to his knees and stayed there, like a seminarian having a nervous breakdown. Hooray for the sport of boxing!
And now: Here it was. This preposterous, Trump-ish thing was about to happen. As in an anxiety dream, a man was about to step into the ring, before an audience of millions, and participate in his first ever boxing match—against Floyd Mayweather. "I'm calm, comfortable," recited Conor McGregor auto-hypnotically in his dressing room. "I see me truly outclassing this man and putting him to sleep." He actually did look sort of calm: a lot calmer, anyway, than the screaming, dehydrated, sunken-eyed nutcase (with an apparent erection) that he had been at the weigh-in the day before. Restored now to something like his proper weight, McGregor lounged sleek and insouciant as they wrapped his hands, taking sips, as it were, of his own magnificence. Second-round knockout, perhaps, Conor? "I may stretch it a little bit longer." As the whim took him.
There was, of course, no way that he could pull it off. Take out Floyd "Money" Mayweather, evasive and cold-blooded ringmaster, supreme cynical manager of pugilistic risk? Not a chance. But what if ... ? Might he ... ? How about that tree-felling left fist of his? This is what Conor McGregor does: He bends our expectations to his will, like Uri Geller bending a spoon. And, for a few rubbery and deranged-feeling minutes at the beginning of the fight, there did seem to be a small but leaping possibility that he might have—if not psyched out his opponent—then perturbed him at some level. Crouched behind the turret of his raised guard, moving in a cramped and tight-shouldered shuffle, Mayweather was doing absolutely nothing. He threw four punches in the first round. McGregor, by contrast, was vibrantly busy, bouncing around in his fighting-Irish stance and whipping up chances from the broad and magically protected zone in front of him. His right hand was out, pawing, dabbing affectionately at Mayweather while his left hovered and looked for a target. At one point he caught him cleanly with a counter-uppercut. ("That was intriguing," noted a ringside commentator.)
Round one, round two, round three, round four ... So this was Conor McGregor, boxing. No hook kicks, no takedowns, a drastic restriction of his capacities—although now and again he would incur the referee Robert Byrd's displeasure by drubbing the top of Mayweather's dome with an MMA-style "hammer fist." His legal punches were landing, though. "Lovely shots," said his coach John Kavanagh after the eighth round. (McGregor's corner was ablaze with dapperness, the whole team shirtsleeved and waistcoated like angelic bartenders.) And Mayweather, for his part, continued to do almost nothing. He lumbered uncharacteristically forward, and then turned his back. The details, the angles, seemed to be escaping him. What was going on? Had the sheer freakishness and openness of McGregor's style disrupted his game? Was an upset in the offing?
Uh, no. The apparition of McGregor's dominance turned out to be an illusion produced by the extreme boringness of the Mayweather gameplan, which was: Wait until he gets tired, and then knock him over. And after 25 minutes of suspending the world's disbelief, Conor McGregor got tired. He slowed down. His chest—tattooed with a crowned gorilla eating somebody's heart—rose and fell in vast sighs. At which point Mayweather accelerated, popped out his combinations, and rocked McGregor repeatedly until Byrd stopped it in the tenth. The technical knockout gave the undefeated Mayweather his historic 50th win. In the post-fight interview, McGregor lamented the stoppage—"I get like that when I'm tired. ... Let me wobble back to me corner!"—but appeared otherwise satisfied. Elated, even. And why not? He was still alive, he was undisgraced by the battle just concluded, and he was richer and more famous than ever. "Some buzz," he said. Let him wobble back to his corner.