What Lena Waithe Wants From Hollywood
The Emmy-nominated actress and writer on what's next after Master of None, creating her own show, and forcing the industry to pay attention to new black talent.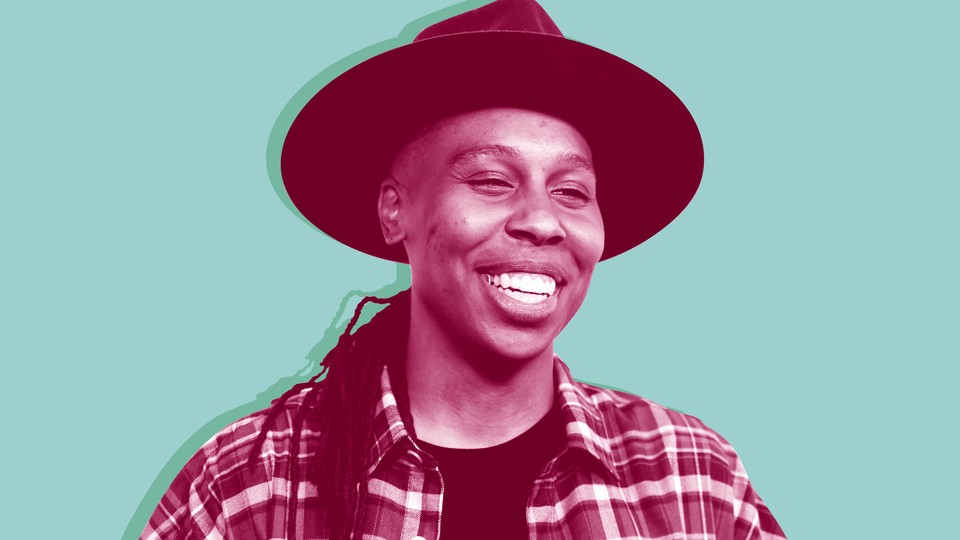 "I don't want life to be hard for you," a mother, played by Angela Bassett, says to her daughter Denise after learning her child is gay in the Master of None episode, "Thanksgiving." "It is hard enough being a black woman in this world. Now you want to add something else to that?" Lena Waithe, who plays Denise, read for the role when the character was supposed to be a straight childhood friend to the main character, Dev (Aziz Ansari). Soon after casting Waithe, though, the co-creators Ansari and Alan Yang ditched the character's background for one based on some of her real-life experiences.
That decision—to have Denise reflect Waithe's identity as a queer black woman—led to Waithe being asked to co-write "Thanksgiving," which went on to become one of Master of None's most praised storylines. Thanks to her work on the episode, Waithe is up for an Emmy Award for comedy writing on September 17; she's also the first black woman ever to be nominated in the category. Based largely on her own experiences, "Thanksgiving" chronicles Denise's life over decades of holiday dinners, where she evolves from a tomboyish teenager in the '90s to a woman coming out to her mother and dealing with familial growing pains as she brings a series of girlfriends home.
The Emmy nomination is just the beginning of what looks to be a busy year for Waithe, who previously worked on shows such as Bones and films such as Dear White People. Following her performance on the second season of Master of None, Waithe is now producing her own drama series on Showtime, The Chi, about a handful of black men on the South Side of Chicago, where she's from, and developing a pilot about her experience living in Los Angeles in her 20s. She'll also appear in Steven Spielberg's film adaptation of Ready Player One, which is set to premiere in March 2018.
With each project, Waithe is solidifying her place among a cast of Hollywood's new multihyphenates—including Issa Rae, Donald Glover, and Aziz Ansari, to name a few—that juggle writing, acting, directing, and producing responsibilities. For The Atlantic's series on the business of creativity, I spoke with Waithe about how the industry is shifting, overcoming the stigma associated with black women creatives, and how writing "Thanksgiving" changed her view of storytelling. The interview that follows has been edited for length and clarity.
---
Adrienne Green: How did you get your start in the entertainment industry?
Lena Waithe: I've been obsessed with television since I was 7 years old, and I've always been writing on some level. My first official job was an assistant to the showrunners at [UPN's] Girlfriends. I got the chance to be around all these cool black people making art and that was really big for me. I was writing bad scripts for a while, and luckily those writers would give me feedback. I ended up working for Gina Prince-Bythewood and ultimately worked for Ava DuVernay on [her film] I Will Follow.
Green: Earlier this year at an event honoring Gina Prince-Bythewood you told a hilarious story about being her assistant and being given the task of getting Whoopi Goldberg on the phone without help. What lessons about the business did you learn from that early part in your career?
Waithe: Honestly, [I learned about] decorum and the way specifically black women have to carry themselves in this industry. You can't be pissed about a note, you can't be angry about the way that something is happening, you can't be unhappy about the creative process. When you handle it, you have to be Claire Underwood in House of Cards. In that town, there is still a stigma that goes along with being a woman, particularly a woman of color, where people already want to label you difficult or not easy to work with. It's happened to me. So we ultimately have to navigate this industry in a different way. We have to sometimes be kind to people who aren't kind to us, we sometimes have to be polite, even when we're not in the mood, we have to handle dealing with executives in a different way because otherwise we run the risk of being put in industry jail.
People can say what they want about a person, but if you're successful and you make them money, then people don't care. The truth is, I'm always working to get to that place so I don't have to make myself quieter or make other people feel comfortable in certain instances. I learned a lot of that in watching Mara [Brock Akil], in watching Gina [Prince-Bythewood], in watching Ava [DuVernay] because they really do glide through the industry with a lot of class and grace and dignity, even though they've been put through probably a lot more trials and tribulations than their white male counterparts.
Green: Where do you draw the energy to encourage yourself when that gets frustrating?
Waithe: You remind yourself that the reason that you have to behave that way is because people are insecure. Because the truth is, the paradigm is shifting in the industry. They need [black women] now, in a real way. Look at Ava, look at Issa [Rae], myself. Tracy Oliver is now the first black woman to be credited as a writer on a film that made over $100 million for Girls Trip. Make no mistake, the people that own these big corporations and networks are still in charge. But, this is not a coincidence. How many more box-office successes or Golden Globes will it take before people realize, "Oh, the people who aren't 'in charge' have the drop on what the culture is wanting and needing and starving for."
There's controversy around certain stories about brown bodies being told by people who aren't brown, and the world isn't standing for that [anymore]. So now there's a really dire need for writers and creators to come on and tell our own stories. I was in D.C. and I was honored to go to the National Museum of African American History and Culture. To be a black person is to come from a long bloodline of survivors and storytellers, with a resilience that people can't even comprehend. I walked out of there a different person. I stood in front of Emmett Till's casket. Without telling our stories, we will be forgotten.
I don't subscribe to that thing that white folks can't tell our stories. A white person wrote one of my favorite episodes of A Different World, called "Mammy Dearest." But, what I do believe is that the person that was sitting at the head of the table was a black woman, [the director Debbie Allen,] and they were working together to make sure that story was told in a very dignified way.
Green: What is it like having concentrated creative control now that you're developing your own show on Showtime?
Waithe: I definitely have been very mindful of what kind of leader and creator I want to be. A lot of that has to with looking at the writers that you work with. They're all like your children. They all need love, but different versions of it.
Having a singular vision [is important]. There's a difference between being collaborative and something being done by committee. When everyone falls in line with whatever the vision is you get something really great. You look at [projects by] Jordan Peele, Donald Glover, Michaela Coel, Justin Simien, there's obviously a single vision. I do think it's difficult sometimes for the industry to do that because what you're saying in that instance is, "This person is in charge." Some people look at that and think, "Oh, I must be inferior if they're in charge." No, this person is the sergeant, but you're all on the same team.
Waithe: Sometimes you can't always preserve it. Especially if it's your first show, you have to be really collaborative. I'm still growing my legs as an artist. Maybe on the next thing it will be more exactly my vision, because I will have learned different things about how to assert myself. The Chi is about Chicago, it's where I'm from, so it's a part of who I am. But also it's the first TV show that I've ever sold. I'm hopeful that people in Chicago will like it, I hope that people will respond to it. But for me, by the time that I get my third show, there's no excuse for, "Yeah I'm still trying to figure it out."
Green: Both you and Aziz Ansari have spoken about the fact that he and co-creator Alan Yang wouldn't proceed with the "Thanksgiving" episode unless you wrote it. How did being consulted like that change your perception of writers rooms where characters of diverse backgrounds aren't written with input from writers of color?
Waithe: I'll be honest, writing that episode was the most freeing experience I've ever had. It's the difference in going from being a slave to being free. They didn't bring in somebody to rewrite me or put it through a filter of somebody that doesn't look like me to make it more palatable for a broader audience. Our writers' draft versus the real one is like 98 percent the same. That never happens, but what that says to me is, when it does happen that's when success comes. Aziz let me lead. He said, this is your story, I can't tell it the way you can, and you need to do this your way. For me to have that experience was enough, but the reaction to it was icing on the cake.
It's interesting because [the director] Barry Jenkins said he made Moonlight for an audience of two, him and [his co-writer] Tarell McCraney. I made that episode for an audience of one: myself. This is something that I never thought I would write about, not because I'm ashamed of it but because I was feeling like, "I'm gay, of course I had a coming-out story." That's such a part of our narrative [as LGBT people], but I guess people needed that story in my very unique, specific sort of way. And for people to embrace it the way they have, it feels like the world is embracing, not just me, this queer brown girl from the South Side of Chicago, but they're also embracing my voice. They were like, "We see you, we appreciate you, we love you," and that was the fuel I needed.
Green: Given the offerings of shows on TV right now, where do you think the conversation about diversity in storytelling is heading?
Waithe: I don't think there's ever a time where the industry all of a sudden is going to go, "Ok, we're going to start letting these black girls tell their stories, purely and unfiltered." Because you've got to understand, [the people in charge] saying, "We've got to let them lead," means that there needs to be a real shift in culture and industry. If they really start to accept the reality of the thing—that we don't need the notes as much as they think, that we don't need to be put through a filter, that we don't need that guy to come and rewrite us—that breaks down the whole infrastructure. They start looking around like, "Well what do y'all need us for?"
There are places like FX and Netflix saying, "We want to be a place where people can see your work." There needs to be more of a real collaboration. Things become problematic when someone that oversees a show that they don't really get but they like the idea of it try to make it fit into a box. But when people say, "I don't get this, but that's okay and I'll support you," that's when you get magic. Sometimes you fall flat on your face, so I understand the fear. But at the end of the day, when you succeed you make something amazing. I saw Moonlight in the movie theater three times—three times! I want more of that.
Green: You're the first black woman to be nominated for an Emmy in comedy writing. Do you predict people will receive your work or ideas differently now as you're pitching new projects?
Waithe: I'm sure. I'm not naive to the business, so I know what [the Emmy nomination] means. I think it puts me in a different position in the industry and gives me little bit more respect. But I'm an artist at the end of the day. People ask how my life has changed, and I got up and had a writing session the day after [getting nominated].
I'll never not be Lena Waithe, Emmy-nominated writer. But I hope what that [means] is that there was that moment in time where I was my best self, I made something that the Academy of Television Arts & Sciences believes is worthy of a nomination. But, at the same time, I'm still gonna go hard. I would never rest on that. The goal is to surprise people with my writing, to make them think, and laugh, and to make them emotional while watching a character that looks nothing like them or comes from a  completely different walk of life. And if I get nominated in the process that's fantastic. But ultimately I want to write something that makes people want to go to the movies three times.
Green: What would you say is the most difficult part about achieving this level of success and trying to usher in new voices or hold the door open?
Waithe: It's not difficult at all. Does it take more effort? Sure. But there's a multitude of voices that I come across that I love—Marcus Gardley, Justin Hillian, Cathy Kisakye, Dime Davis. I literally just gave you every writer in the writers room of The Chi. That is the difference, saying their names. Just how we say our ancestors' names, I say their names. I'm going to force the industry to notice them. My hope is that I can continue to introduce executive industry people to amazing black writers so that there's no shortage of them to choose from. I don't want to just hire people to make my stuff look good. I want to know what show they have to make and how I can help make it happen. That's the only way the industry is going to change—from the inside out. It just can't be about my empire. I want to not just see us run races in separate lanes, I want to see us grab hands and run faster and cross the finish line together.