The Very Human Return of Kesha
After a public legal and personal struggle, the pop star is back with Rainbow, an album that blends fantasy fun and bummer reality.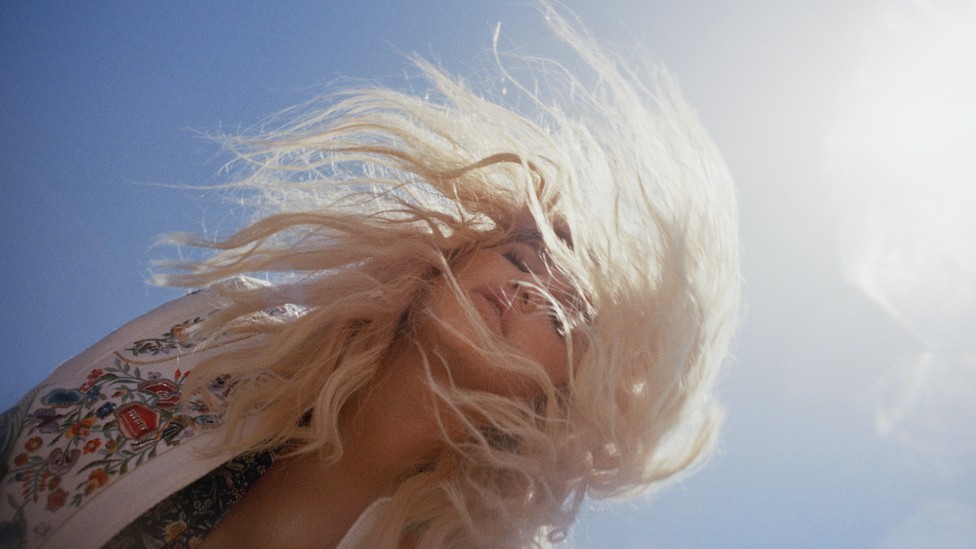 To use the language likely heard in music-industry boardrooms circa 2010, around the time of the great female pop-superstar boom, Kesha once benefitted from strong market differentiation. She wasn't the cryptic alien provocateur Lady Gaga; she wasn't the coy Betty Boop update Katy Perry; she wasn't the unflappable fashion assassin Rihanna. She was the glorious, superheroic epitome of a very familiar type—the party girl. In neon face paint and with a dollar sign in her name, she squealed about brushing her teeth with booze and sleeping with the heirs to Mick Jagger. She was fun: the brand.
But this was, in a way, just a different flavor of the same product on offer elsewhere. Kesha's music was powered by the backbeat of Dr. Luke, a producer who'd helped set the template for 2000 club-pop and who'd been groomed by Max Martin, the most important architect of hits for a few decades now. She also was on-trend thematically: Her hedonism handily doubled as capital-e Empowerment, serving as a rallying cry for misfits and the marginalized. She sassily bit back at male creeps ("Gonna smack him if he getting too drunk"), casually preached self-acceptance ("We R Who We R"), and insisted that girls could have as much a good time as guys without being called sluts. In their way, the likes of Gaga and Perry did something similar—baby, you were born this way; baby, you're a firework.
The novelty of such an act might be expected to wear off eventually, but the public never  got a chance to fully get its fill of Kesha. Instead, about two years after her 2012 sophomore album, Warrior,  she filed a lawsuit against Dr. Luke alleging abuse, sexual assault, artistic tyranny, and general horrible behavior by the producer. The illusion of her invulnerable persona was smashed forever—and its origins given grim new context with the assertion that Dr. Luke had manipulated her starting in 2005, when she was 18. The suit sought to end her contract with him; he denied all allegations; a long legal battle has resulted in no ruling on the merits of the accusations but rather a series of procedural losses for Kesha. She recently announced her intention to move on from this ugly chapter by releasing new music.
Her comeback album, Rainbow, is fascinating in terms of narrative and fine-just-fine in terms of pop. It is being released by Kemosabe Records, the imprint that Dr. Luke founded but no longer runs, and has come out reportedly with his "support" but not involvement. It appears he will get a cut of the profits. Lyrically, Kesha's show of resilience doesn't have a ton of specificity about what she's overcoming—which is perhaps an artistic choice, or perhaps a sign of legally prudent caginess. What's certain is that the outrageous character and commercial force Kesha once represented is gone, replaced by a human being: poignant, striving, and flawed.
Though Kesha's situation isn't fully precedented in pop, the spectacle of resetting after a setback is, and the most common tropes of the licking-one's-wounds narrative are all here. Like Gaga with last year's Joanne, Kesha trades thumping electro for analogue instruments and genres that, fairly or not, have an easier time being perceived as "authentic": rock and roll, country, folk. Also like Gaga, she tries to execute this turn while tamping down, but not altogether ditching, her previous persona. Kesha opens the album with a slowly blossoming acoustic singalong, but she peppers it with "motherfuckers" and "assholes" as she would have with any given song five years ago. She goes full cowpunk on the love-crazed "Hunt You Down," but harkens back to her old "Cannibal" shtick by saying, cheekily, that she probably won't murder a guy who cheats on her.
Somewhat stripped down as Kesha is here, you get a clear sense of what made her musically distinct all along. It's that voice, sharp and nasal and highly conversational, earning cringes from skeptics but a strong sense of kinship from fans. She can also belt with soul, and she cares about articulation—no lyrics sheet required to follow along. With a writing credit on all but two songs (both of which are cowritten by her mom, Pebe Sebert, including a 1980 Dolly Parton cut updated here with Parton's participation), it's also as obvious as ever that Kesha is accomplished in the art of pop songcraft. The title ballad in particular, reportedly written while she was in rehab for an eating disorder, captures the sense of "falling right back in love with being alive" with remarkable finesse. Dense with syllables but also graceful, it could be a showstopper in Disney's follow-up to Frozen or Moana—no small feat.
That track and the single "Praying" both stand out for their reconciliation of the limits of the radio-pop form with walloping trauma and emotion. "Praying" in particular just gets more brutal with each listen, both because of her vocal performance and because of the tricky way it threads the line between condemnation and acceptance. A slightly more uptempo single, "Learn to Let Go," makes for a competent empowerment anthem in line with current radio trends (islands lilt? check). It also shows some nice self-awareness: "I know I'm always, like, telling everybody you don't got to be a victim … I think it's time to practice what I preach." The track's currently sitting at the low end of the Hot 100, but just one good TV-drama soundtrack deployment could turn it into a hit.
Elsewhere, she determinedly signals that her old party-animal ways aren't gone. "Woman," a straightforward feminist cry with sax touches from the Dap Kings, is laced with snippets of laughter—a winning, if not altogether convincing, touch. "Boogie Feet," featuring the Eagles of Death Metal, has her screaming like a member of Sleater-Kinney before delivering her vintage so-dumb-it's-fabulous rapping: "Some people they got the big brains / They make all the computer games." The engines of the fast songs are purring guitars and live drums, and while the results are catchy and charmingly brash, they're also a challenge to a pop-radio landscape that has mostly exiled rock.
Even on such highlights, though, there's a sense of tentative-ness that blunts the material's impact. For all the profanity she threads in, her account of the healing process doesn't quite transcend the generic; if only she were able to make like, say, Alanis Morissette, and use her sailor's mouth for tarter, smarter poetry. "Don't let the assholes wear you out / Don't let the mean girls take the crown / Don't let the scumbags screw you 'round / Don't the bastards take you down," she sings on the opener, "Bastards," letting common teenage disses do most of the descriptive work.
There is one memorably unique through line, though, and it's about religion. On songs like "Hymn," "Finding You," and "Spaceship," she seems to be inventing her own faith, insisting on an afterlife of aliens and energy while noticeably avoiding Christian iconography: "Lord knows this planet feels like a hopeless place," she sings on the closer. "Thank God I'm going back home to outer space." This cheeky new-age kick is also the direction hinted at in her trippy album art, but Rainbow itself is so caught up reacting to Kesha's recent real-world narrative that it never fully develops its dreamscape. As she continues to rebuild her career, she might do well to find a way back to wild, uplifting fantasy—which she can, one hopes, now control more fully.