The Urgent Message of M.I.A.'s Kala at 10
In sound and in message, the rapper's brilliant second album attacked the concept of borders between peoples.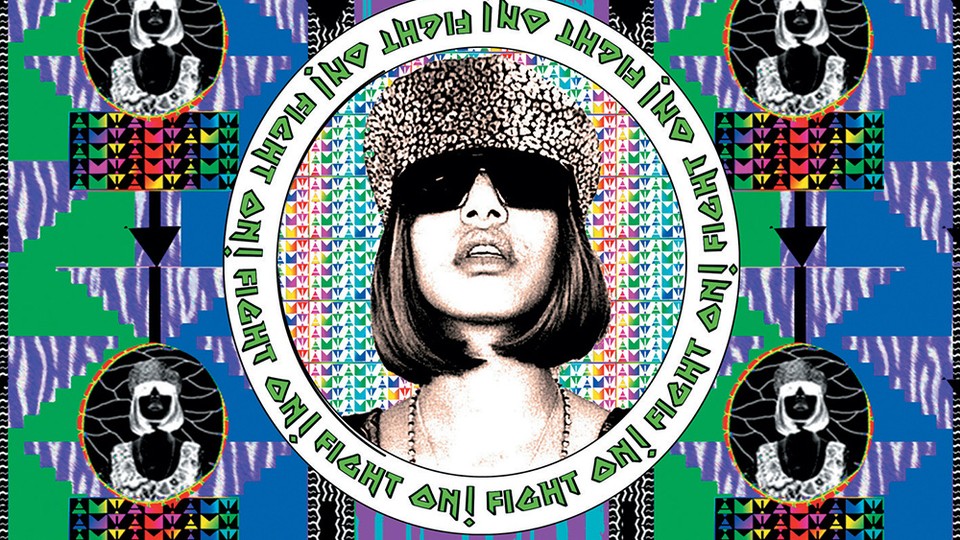 The story of M.I.A.'s Kala is one of being locked out of somewhere and having a great time anyways. The London rapper Maya Arulpragasam had planned to record the follow-up to her acclaimed 2005 debut Arular in the United States largely with the legendary producer Timbaland, but she said that immigration authorities prevented her entry. It's hard to verify why that was the case—she'd been to America before, and she'd come again—but M.I.A. has maintained it was her lyrics: "'Oh no, she said the word 'P.L.O.' in a song!'" she summarized to Rolling Stone. So she traveled the globe for collaborators and venues to work in.
The tale fits all too well with the sound and the message of the album, one of the best of the new millennium. The creativity and diversity of sources across Kala, which turns 10 on August 8, not only made for an addictively fun listen that spawned a sui generis smash ("Paper Planes"). It also embraced the much-hyped rise of globalization and digital communitarianism only to execute a clever political flip, tweaking the West not as culturally supreme but rather as tragically provincial. A decade later, her all-out razzing of the concept of borders has never been more relevant.
A childhood refugee from Sri Lanka who spent her adolescence in the U.K., M.I.A. first drew buzz with the rave-influenced, DIY austerity of Arular. "You've never heard anything like M.I.A.—the sound of jump-rope rhymes in a war zone," wrote Rob Sheffield in his Rolling Stone review of that album. For a lot of Americans, discussing M.I.A. without echoing tropes of exoticism can be tricky, and it's hard to miss that the "you" of that sentence is decidedly specific: the listener of the West, not steeped in the gaana and Bollywood and dancehall and other styles M.I.A had grown up with or immersed herself in. But it's crucial to note that M.I.A., too, tends to use the second-person pronoun to address the West. In her songs there's "we"—huge swaths of the world that are often reduced to an asterisk in the American consciousness—and there's "you." Focusing on the "we" serves an obvious political purpose, but also an aesthetic one, allowing for musical freshness and lyrical subversion. As she says on "20 Dollar," "Talking about you's such a bore, I'd rather talk about moi."
You could hear this confrontational, cliché-conscious mindset most gloriously on the opener to Kala, "Bamboo Banga." Over an ominous thrum of cut-up static, vehicle zooming, and hammering drums, M.I.A. coolly defined her constituency and her genre: "Somalia, Angola, Ghana, Ghana, Ghana, India, Sri Lanka, Burma, bamboo banga / This the bamboo banga." What was so ingenious about the track was the subtle way it blossomed from deadpan manifesto to party: Her go-to producer Switch added in just a smidge of bass syncopation and the mix frothed over with sing-song samples from the Indian film composer Ilaiyaraaja. "I'm knockin' on the doors of your hummer," M.I.A. said, and the listener had to decide whether to open up.
Because from there, the album only got headier and more surprising as M.I.A. drew connections between cultures and identities with her own individual sense of play. The second and third tracks, "Bird Flu" and "Boyz," were particularly brazen experiments built on thunderous, multi-sourced drum patterns and high, taunting chants: "na, na, na." Such chants are (among other things) the verbal weapons of children, perhaps more specifically girls, and the big target of both songs were men—both rich music-industry types and slum dwellers turning in desperation to violence: "How many no-money boys are rowdy? How many start a war?" M.I.A.'s gaze was wide, and she was making an argument about how similar power dynamics exist in vastly different places and situations.
As she was making Kala, M.I.A. was so in her own headspace that she reportedly believed the frenetic "Bird Flu" and "Boyz" could be the big hits of the album rather than the bubblegummier "Paper Planes." What those songs really turned out to be were the purest displays of her polyglot approach. "Every record I make is about equal appreciation of all cultures, unified and layered so they co-exist," she told Fader in 2016. She added that this was why on "Boyz" she took "a 2,000 year old drum beat, which is called 'dupping' … to Jamaica," and then to other countries, for musical cross-pollination. The point was peace, as she'd reiterate with the motto for her recent album A.I.M.: "Uniting People Since 2003."
But unity, the rapper has always insisted, does not mean homogeneity, as seen in the diverse set of songwriting approaches across the album. "Jimmy" recreated a Bollywood standby with slicker production and new lyrics about a love affair with a white journalist on a "genocide tour." "Mango Pickle Down River" remixed a novelty rap song by aboriginal children, retaining the adorability of the original but adding in a quick line about the meth problem in rural Australia—which is as, Americans know, not limited to rural Australia. The U.S. and U.K.'s enormous cultural influences were stitched in as well, with clever interpolations of indie-rock touchstones (The Clash, the Pixies, New Order, The Modern Lovers) and references to rappers like T.I. Never were the underlying politics expressed with pedantry or sentimentality—almost everything was danceable.
Could the album be made today? In 2007, "cultural appropriation" was not nearly as ubiquitous a term as it is now, and M.I.A. would soon after be at the forefront of debates of what constitutes exploitation in artistic culture-hopping: A New York Times profile would paint her as privileged tourist; a music video would be nixed by her label for parachuting into Côte d'Ivoire. Kala, though, shows she was always savvy about this subject: She gave credit where it was due, offered guests a chance to speak about their own lives, and engineered musical alliances out of an activist spirit. On "Hussel," for example, she featured the rapper Afrikan Boy talking about the stresses of living as an undocumented immigrant: "Police, I try to avoid them / They catch me hustling they say, 'Deport them!'"
That was by no means the only place Kala reworked rap tropes of striving and struggle for a global context. There's something cosmically perfect about the fact that it was "Paper Planes," of all songs, that broke out, bringing M.I.A. a top-10 hit in the U.S. and a remarkable performance on the Grammys stage while she was nine months pregnant. The verses were about hustling to forge immigration paperwork—relevant, given Kala's creation story. Moreover, it was a cheeky tour through stereotypes about immigration and poor people. The children's choir singing that all they want to do is bang, bang, bang and take your money was so innocent-sounding, and the persona M.I.A. inhabited was so clearly a riff on gangsta rap, that it's hard to imagine anyone missing the joke. But the gunshots got censored, some listeners were offended, and, in the way of great disruptive earworms, it entered longterm radio rotation.
On its 10th birthday, Kala feels newly relevant amid global political currents trending toward isolationism—and due to enduring refugee crises in many of the places that M.I.A. continues to represent in her music. The total entertainment value of the album attests to the vibrancy and humanity of what M.I.A. termed, in one standout track, the "World Town" that travel bans and border walls seek to shut out. As importantly, Kala's loud celebration of people that have been categorized as "other" spoke up for values that the West likes to think aren't actually foreign to it. In the acknowledgements to Kala, M.I.A. wrote, "I'd especially like to thank who ever said 'I'm a citizen of the world and my religion is to do good.'" The person she was paraphrasing was Thomas Paine.