Justin Bieber Has Another Question for the Pop World
His shimmery new single "Friends" comes off as a gift to long-suffering fans—and an attempt to further his hot streak.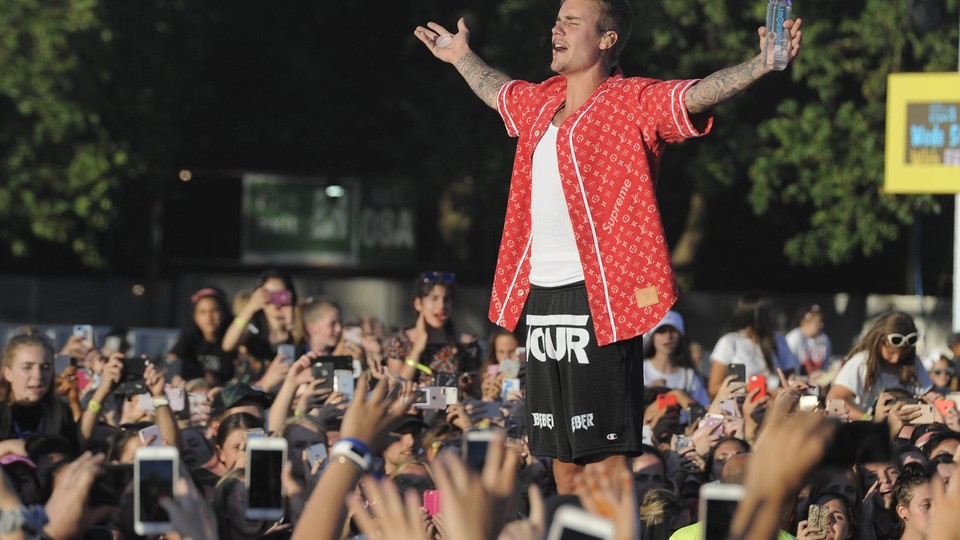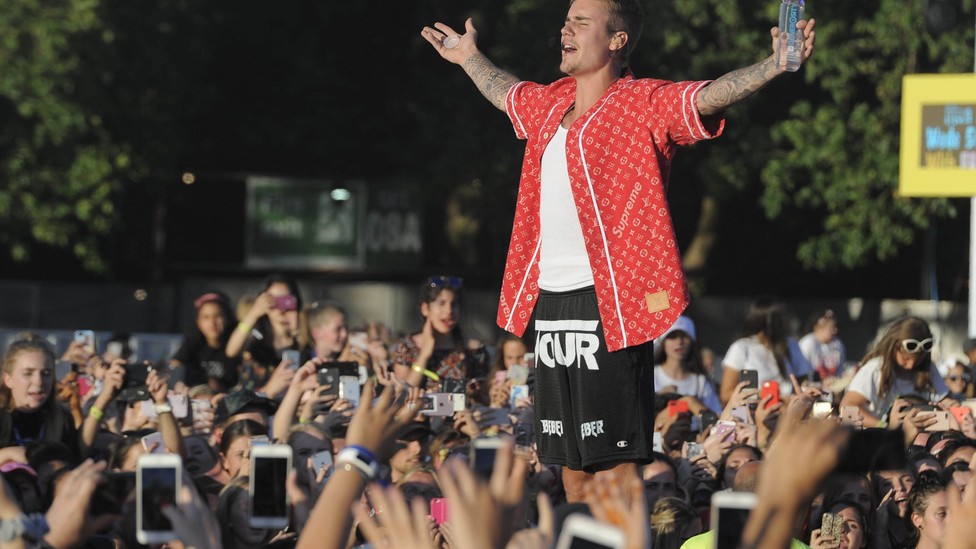 Justin Bieber just wants to ask you a question, again. Owing either to marketing efforts or issues that can only be determined in a therapy session, the signature hits of the Canadian child star's adult career have boasted choruses as interrogatives. When he transitioned to semi-adventurous dance-pop: "Where are you now that I need you?" Amid metronome and burbling keys: "What do you mean?" Over skeletal dancehall: "Is it too late to say sorry?" Now, he's got a sunny new single and a hopeful new question: "Can we still be friends?"
In all cases, he and his team have executed a songwriting/brand-management trick. The lyrics literally address a lover—but allegorically it's clear he's talking to his famously devoted, famously long-suffering fans. Amid bucket-peeing scandals, and concert-stage surliness, and rants about the burden of giving autographs, he has repeatedly sought amends and checked on his followers' loyalty. Asking, asking, asking: We cool? The plaintive stance is an easy match for Bieber's musical and meta-musical identities—hangdog yet angelic, an eternal choirboy struggling with life in the spotlight.
The new single, "Friends," is sleek electro—the zillionth child of the Eurythmics's "Sweet Dreams (Are Made of This)" to approach the public in the past three decades. It's a collaboration with Blood Pop, one of the trendy producers of the moment and the leading musical architect of this phase of Bieber's career. His signature is to bedazzle otherwise pro-forma pop with fidgety rhythmic details and snippets of manipulated vocals that evoke the image of an all-Pokemon backing choir.
As usual with Blood Pop's work, though, all the busy-ness seems secondary, a cosmetic chassis for the real engine of the song—in this case, an insistent beat, a tight verse-prechorus-chorus structure, an on-trend wordless hook, and Bieber's melody. The singer here portrays himself as a nice guy earnestly wondering how an ex and her mom are doing. He's got no "ulterior motive" other than, we learn in the second verse, wanting to know if she's replaced him. (Yes, this is possibly all a way of explaining his continued public attention to his ex, Selena Gomez.)
The fan-management angle that will be applied to the question "Can we still be friends?" is obvious. Bieber abruptly called quits on his world tour in July, citing only "unforeseen circumstances." Rumors circulated he'd done so out of some sort of Christian-faith renewal (was he going to start a new church?), but it also seemed plausible that he'd just gotten sick of the touring behind his 2015 album Purpose. From the start, concert reviews made clear, he wasn't overly enthused to be at the center of arenas each night. But now he's back with one of the most straightforwardly pleasurable singles of his career. Fans peeved at his behavior of late may, after everything, remain his friends.
The single also arrives during a remarkable hot streak for Bieber as a hitmaker. Through some savvy (and mercenary) collaborations, he has dominated the season's airwaves, most notably by hopping on Luis Fonsi and Daddy Yankee's Latin-world smash "Despacito" and turning it into the U.S.'s song of the summer as well as the most-streamed song of all time. This week, the tune hit 14 weeks in the No. 1 spot—tying "Macarena" for the longest-running U.S. chart-topper sung mostly in a non-English language. The song preceding it in lead position was also Bieber-centric, the DJ Khaled crew-rap "I'm the One." Can "Friends"  give Bieber three consecutive No. 1s and total ownership of summer 2017 radio? It's a long shot, but that question is, no doubt, the most interesting one the song is asking.