Icarus: A Doping House of Cards Tumbles Down
In the new Netflix documentary, a filmmaker accidentally captures how one of the biggest scandals in sporting history came to light.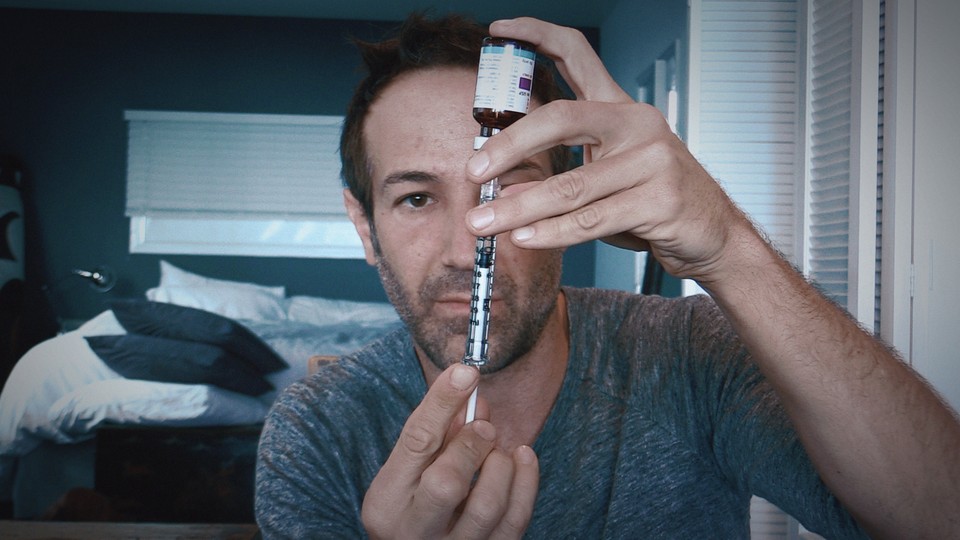 When he set out to make Icarus, the playwright and actor Bryan Fogel had one goal: to examine how easy it is to get away with doping in professional sport. An enthusiastic amateur cyclist, he was disturbed by the fact that someone like Lance Armstrong could cheat for so many years and never fail a single drug test. "Originally," he explains in the film, "the idea I had was to prove the system in place to test athletes was bullshit."
What actually happened was a bit like tugging on an errant thread and having the entire clothing industry unravel right on top of you. Fogel, while conducting a human guinea-pig experiment in which he took performance-enhancing drugs to prepare for a race, was connected with a Russian doctor who ended up blowing the whistle on a state-sponsored doping scheme that had been ongoing in Russia for decades. Icarus, initially intended as a Super Size Me–style effort to poke holes in the anti-doping system, ended up capturing the maelstrom of one of the biggest scandals in sporting history, while former anti-doping officials were dying under mysterious circumstances and the IOC was pondering whether Russia should be banned outright from the 2016 Rio Olympics.
It's fair, then, to call Icarus a coup for a first-time documentarian, the product of both dumb luck and a strange rapport between Fogel and Dr. Grigory Rodchenkov, who is the director of Moscow's anti-doping center when Fogel first meets him via Skype in 2014. The first 40 minutes of the film—released on Netflix on Friday—focus on Fogel's efforts to game the system while competing in the Haute Route, an annual event in that Alps that he describes as "the single hardest amateur bike race in the world." The first time he competed, drug-free, he came in 14th out of 440. This time he wants to do better, using the race to prove that if "I could get away with it, that would mean that pretty much any athlete could do it and get away with it."
An anti-doping scientist at UCLA introduces Fogel to Rodchenkov, an instantly endearing and offbeat character who croons at Fogel's dog over Skype and has a strangely encyclopedic grasp of doping itself—what Fogel should take, and how he'll feel as he starts his new regime. It  involves prescription steroids and hormones issued by an anti-aging doctor, and fairly graphic footage of Fogel injecting himself daily. Rodchenkov is a cheerfully game accomplice, and at some point Fogel starts to wonder—why is a lab director in charge of anti-doping efforts for the Sochi Olympics showing a relative stranger how to take performance-enhancing drugs and get away with it?
The answer comes in November 2015, when Rodchenkov is heavily implicated in a report by the World Anti-Doping Agency that ties him to state-sponsored doping efforts in Russia. "Bryan, it's a disaster, they're killing people, cutting heads," he tells Fogel over Skype. And just like that, the movie switches course, following Rodchenkov's efforts to travel to the United States and blow the whistle on his involvement in what the movie paints as staggering, systemic corruption.
Rodchenkov is a dream subject—eccentric, garrulous, frequently shirtless, and immensely charming—and the movie's most obvious flaw is that it fails to fully parse his motivations. Is he sacrificing his life in Russia and his family left back home to bravely expose a system he's worked within his whole life? (In one scene, offhand, he tells Fogel his mother used to inject him with stanozolol when he was a professional runner.) Or, after being named and shamed so publicly by WADA, is he simply out of options? Fogel uses George Orwell's Nineteen Eighty-Four as a framing device to argue that it's the former—Rodchenkov recalls reading the book in his 30s after it was no longer banned in Russia, and being struck by its scenes of government-sanctioned destruction of truth.
But Fogel, too, is an intriguing character in his own film, who says he wants to cheat to highlight cheating itself, but who clearly has some of the professional athlete's compulsion to win at all costs. And as Rodchenkov wrangles the FBI, the Russian FSB, and the media, Fogel doesn't just capture the action. He becomes Rodchenkov's advocate and defender, meeting with lawyers, finding him housing, and enabling the Russian's efforts to disperse the significant evidence he's gathered.
The scale of the cheating Rodchenkov helps expose is clearest when Fogel meets with scientists and officials at WADA in 2016, and explains that they have spreadsheets detailing every athlete on the state-mandated doping protocol at the London Olympics, and how many of them were implicated. The faces around the table are dumbstruck: a perfect symphony of horror, anger, and glum acceptance. "And he's sorry? Grigory?" one of the WADA officials asks. It's a question that neither Fogel nor Icarus really ever answers. The larger point, they emphasize, is that none of this would have ever come to light without him.