How Logan Lucky Can Bring Back the Mid-Budget Movie
Steven Soderbergh's new crime caper is being released and marketed without the help of big studios—and it could change the way Hollywood works.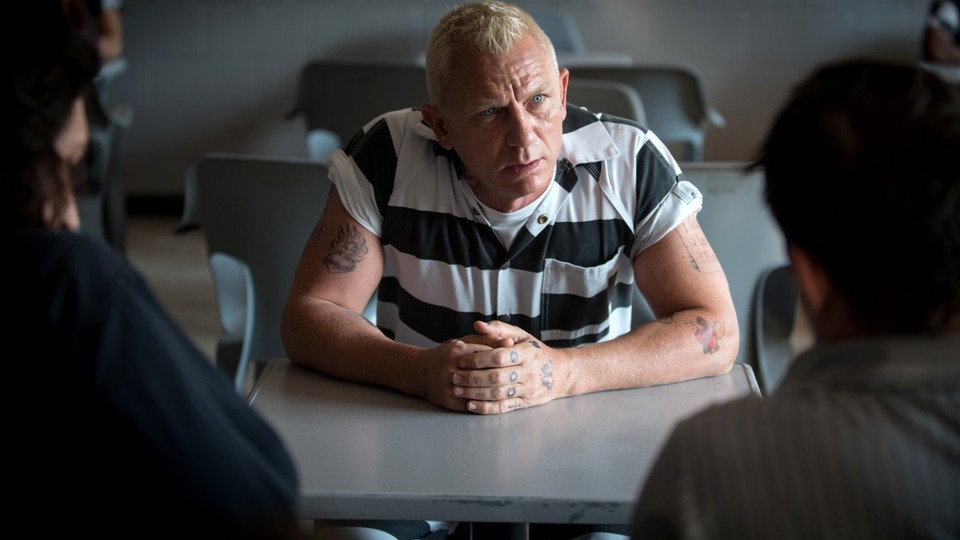 Upending the major-studio model of theatrical film releases is easier said than done. Even with streaming juggernauts like Netflix and Amazon muscling their way into the industry, there's still really only one way to debut your movie nationwide in thousands of theaters, along with the kind of expensive marketing push needed to draw in audiences. And that's with the help of a company like Warner Bros., 20th Century Fox, Disney, Universal, Paramount, or Sony, who have the apparatus necessary for such a rollout but demand the kind of creative control and marketing strategy that suits their bottom line.
It's this system that supposedly drove the Oscar-winning director Steven Soderbergh (Traffic, Ocean's Eleven, Erin Brockovich) away from making films for four years—in 2013, he announced Side Effects would be his last movie and that he was retiring from filmmaking. But after spending some time dabbling in TV with projects like Behind the Candelabra and The Knick, Soderbergh is back with a new heist comedy, Logan Lucky, and with it he's trying to find a way around the big businesses that frustrated him so much in the past.
His strategy is fascinatingly laid out in a New York Times piece from Brooks Barnes about the production of Logan Lucky, a charming, shaggy caper about a West Virginia family (played by Channing Tatum, Adam Driver, and Riley Keough) who rob the Charlotte Motor Speedway with the help of an inveterate safe-cracker named Joe Bang (Daniel Craig). Due for release on August 18, the film is getting the kind of wide rollout usually reserved for big studio movies, but the manner of its production and its release could offer an intriguing model for the future.
Logan Lucky cost a relatively modest $29 million—thanks in part to Soderbergh's allure as an Academy Award-winning filmmaker, which means the all-star cast was willing to work for scale rather than demand their normal salaries. Hollywood is increasingly shying away from making such smaller-budget movies, as multi-year franchises have become the financial norm for multi-national conglomerates looking to move the stock-market needle with each big release. But producing a film for $29 million is a lot easier than distributing it wide; the latter usually requires the participation of a major studio, to the chagrin of many artists like Soderbergh.
The director has previously noted his fury at the marketing of his 2002 sci-fi drama Solaris, a mid-budget film that was pitched to audiences as a steamy romance (a bizarre poster focused on stars George Clooney and Natascha McElhone mid-kiss). The film bombed. When Soderbergh announced his retirement in 2013, he said directors had been robbed of all the creative freedom they once enjoyed, in the name of profit. "It's become absolutely horrible the way the people with the money decide they can fart in the kitchen, to put it bluntly," he said.
Had Soderbergh gone to a major studio with Logan Lucky, it would have exercised total control over marketing (spending an additional tens of millions of dollars) in exchange for 15 percent of ticket sales and all other expenses, with any remaining profits going to the film's owners. Instead, Soderbergh raised $20 million in marketing money by selling the movie's non-theatrical rights (Amazon bought the streaming rights), then cut a deal with the smaller distributor Bleecker Street Media to market the film for only $1 million in exchange for a much smaller slice of profits.
This means Logan Lucky doesn't have to aim for the kind of inflated opening weekends that major studios crave, which require an intense promotional blitz and a fairly homogenous, and costly, creative strategy. Soderbergh created the film's trailer himself and never tested it with audiences (usually, trailers are created by marketing firms and intensely focused-grouped). He has also concentrated billboard advertising in the South and Midwest, where he thinks the movie could have mass appeal (usually, advertising is centered on the country's biggest cities).
It's a fascinating effort worthy of a director who has worked in every level of the industry, making pricy star vehicles like Ocean's Eleven and tiny experimental features like 2005's Bubble, which was released in theaters and on television simultaneously (years before Netflix adopted a similar strategy). Soderbergh's approach does away with the need for massive grosses—a modest $15 million opening weekend, which would usually be seen as disappointing for most wide releases, is more than enough (according to the Times's reporting) to satisfy everyone's financial commitments in the case of Logan Lucky.
Of course, Soderbergh has the advantage of being a director who can recruit big names to his movies without much fuss. But he's also the kind of figure who seems less and less welcome in Hollywood these days—a director who demands creative control and has the experience needed to resist pressure from executives. Studios appear to be growing wary of this approach: Warner Bros. reportedly doesn't want to work with "auteur" directors who demand final cuts of their films anymore, except for proven profit-makers Christopher Nolan and Clint Eastwood. Meanwhile, Disney keeps running into problems with the creators of its franchise entries, with Gareth Edwards's Rogue One being subject to major reshoots and Philip Lord and Christopher Miller being fired from the upcoming Han Solo movie for not agreeing with producer Kathleen Kennedy's vision of the film.
Netflix has, in recent years, presented itself as the most attractive option for great directors requiring full creative control. Martin Scorsese—about as well-regarded a director as Hollywood has—took his gangster film The Irishman to Netflix, since studios apparently balked at its $100 million-plus budget. But Netflix has yet to prove that its streaming model is remotely profitable. Recent figures put the company at $20 billion in long-term debt, and Netflix expects to continue to deficit spend in the short term. Investors don't care right now—it's the same spend-money-to-make-money model that made Amazon such a success—but it's a bubble that could still burst down the road.
Soderbergh's strategy is more focused on immediate profitability for everyone involved, and if it works, it could be something moviegoers see more of as directors grow frustrated with the strictures of the studio system. As television has expanded its reach and theater-ticket sales have plateaued, the mid-budget movie has dwindled in recent years. Logan Lucky is the kind of film that used to be Hollywood's bread and butter, and with Soderbergh's help, it could be again.