Four Ways of Looking at Mayweather vs. McGregor
Critics have dismissed the fight as a farce. So why are so many people still paying such close attention?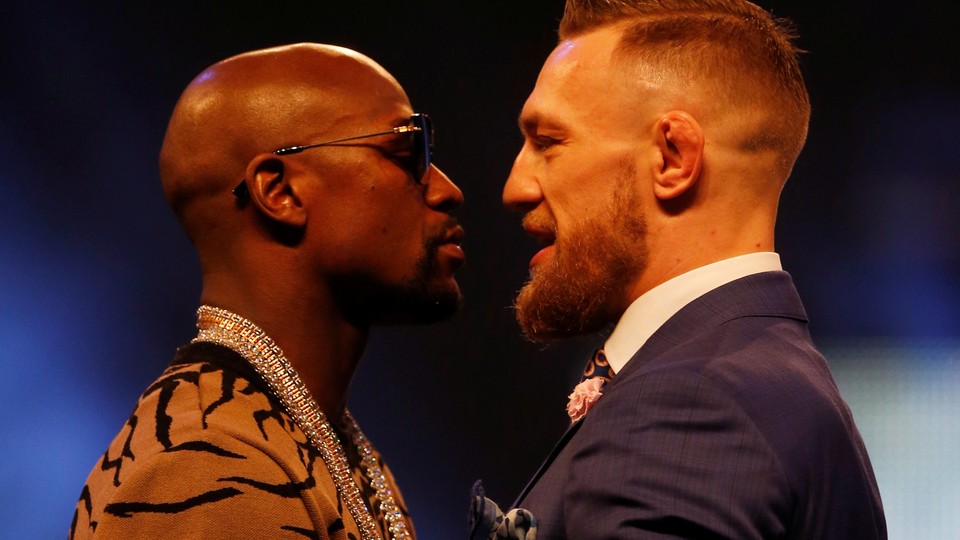 On Saturday night in Las Vegas, Conor McGregor will face off against Floyd Mayweather Jr. in what is being billed as "the biggest fight in combat-sports history." Mayweather is undefeated as a professional boxer and just one victory away from beating Rocky Marciano's all-time record of 49-0. McGregor, meanwhile, has never professionally boxed: He's a mixed-martial artist who in four short years has become the most popular fighter in the Ultimate Fighting Championship, or UFC.
Much of the traditional sports media and boxing establishment has denounced this fight. The HBO boxing color commentator Max Kellerman predicted McGregor "will not land one punch." The former boxer and current promoter Oscar De La Hoya called the event a cash grab by both fighters: "It's a win-win for them. It's a lose-lose for [fans]." The sports journalist Jeremy Schaap said similarly, "In the end, the joke will be on us."
And yet, even critics have had to acknowledge the overwhelming fan enthusiasm. The New York Post's George Willis wrote that the fight "will be a huge financial success, even if most people think it will be one-sided." Though some (very expensive) tickets to the Vegas event remain up for grabs, promoters still predict the bout will exceed the live gate record of $72 million set by Mayweather's fight against Manny Pacquiao in 2015.
This past spring, I taught a course on the history and literature of boxing and combat sports: My class studied accounts of famous bouts and relevant works from Homer's The Iliad to Martin Scorsese's Raging Bull. A theme that runs through much of the writing about fighting, as the French philosopher and amateur middleweight Albert Camus once noted, is that "there is good and evil, the winner and the loser." Still, the public cares about more than just a fight's outcome; the build-up and the aftermath are part of the story, too. Whether Mayweather vs. McGregor ends as a mockery, stunning upset, or somewhere in between, here are four narratives that can help devoted fight fans and casual viewers understand the match.
The fight is about the future of boxing and mixed martial arts.
Both boxing and the UFC have their pride and future at stake in this fight. Boxing has a rich history, but it's always had its critics, some of whom have been declaring the sport near-dead for decades. In 1913, The Los Angeles Times proclaimed, "Professional Boxing Is Dying a Natural Death," because of poorly trained younger fighters who lacked "class," well before any of the historic fights fans now remember. Actual deaths in the ring, most notably Benny Paret in 1962 and Kim Duk Koo in 1982, both on live television, caused temporary public retreats. The aftermath of the 1997 Mike Tyson-Evander Holyfield rematch, which was stopped when Tyson twice bit Holyfield's ears, also left fans looking elsewhere. Nevertheless, De La Hoya and Mayweather used their Olympic boxing success and savvy promotion to become contemporary stars. Mayweather has been the most successful, beating De La Hoya, remaining undefeated, and headlining the most popular pay-per-view boxing events of all time.
In contrast, the UFC has only been around since 1993. Mixed martial arts (MMA) fans often feel disrespected by boxing fans, who sometimes view the UFC as too wild, unpredictable, and inferior to the so-called "sweet science" of boxing. The UFC has made recent gains in popularity and mainstream acceptance with megastars like Ronda Rousey and now McGregor. The sale of the UFC for $4 billion in 2016 dominated headlines and made it appear to some sports analysts that MMA was positioned to leave boxing behind.
This year is turning out to be a pivotal moment for both sports. Rousey is all but retired after a second loss at the end of 2016, and McGregor hasn't fought since November 2016. Without its stars, the UFC has struggled to draw the same numbers. At the same time, boxing is having what may be remembered as a renaissance year. The heavyweight Anthony Joshua defeated Wladimir Klitschko in front of 90,000 fans in London in April. Canelo Alvarez beat Julio Cesar Chavez Jr. in May in a fight that drew more than one million pay-per-view buys and set up a much anticipated match-up between Alvarez and Gennady Golovkin on September 16.
Mayweather vs. McGregor pits both sports against each other. If McGregor wins against an undefeated champion, boxing as a sport may be humiliated, and its rules and traditions may appear outdated. On the other hand, if Mayweather trounces McGregor, the UFC star may suffer a significant blow to his reputation and see his sport's second-class status further entrenched.
The fight is about the supremacy of marketing and social-media hype.
Promotion has long been integral to prizefighting. In the late 1880s and early 1900s, promoters used print outlets, such as the celebrity magazine the Police Gazette, to publicize fights and capitalize on gambling interests.The rise of radio and television later transformed boxing into a mainstream spectator sport in the 20th century. Today, Mayweather and McGregor are using social media at a level unprecedented in previous boxing matches or other sporting events. The fighters initially teased the matchup on Twitter and Instagram as an apparent joke in the spring of 2016. Dana White, the president of the UFC, first dismissed the prospect, but the fan excitement eventually prompted him, as well as Mayweather and his team, to embrace the idea.
The fact that fan interest was enough to convince promoters to stage the fight—and disregard criticism from journalists and other experts—may have fueled the media pushback. Furthermore, as the public cuts down on cable and satellite services, combat sports may need to further investigate distributing content via social media (following the NFL's recent experimental deal with Amazon). If the fight turns out to be the boring mismatch that has been predicted, the critics will be vindicated. The ultimate numbers drawn by the fight in sales and pay-per-view buys will be a referendum on the utility of social media to construct and promote events like this.
The fight is about who Mayweather and McGregor are—and where they come from.
A significant part of the promotion and story of any bout is the fighters' backgrounds. During part of my course, students examined texts that delve into the appeal of the hometown hero. In his book Cinderella Man, a chronicle of the Irish American fighter James Braddock, Jeremy Schaap describes how boxing "was rooted in its ethnic and racial rivalries, which were exploited by promoters and relished by fans, many of whom were immigrants or first-generation Americans."
In the 1930s, Max Schmeling—a German who wasn't himself a Nazi but whose talent made him a favorite of Adolf Hitler's regime—came to be symbol of Nazism for many Americans. Max Baer, who faced Schmeling in 1933, wore a Star of David on his shorts to emphasize his Jewishness (even though his actual heritage was uncertain). Schmeling's later fights with the African American boxer Joe Louis were also promoted as a challenge to Nazism, with some sources saying Franklin Roosevelt told Louis before his rematch with Schmeling in 1938, "Joe, we're depending on those muscles for America."
Both Mayweather and McGregor have origin stories with broad resonance and appeal. Mayweather grew up in a boxing family in a poor neighborhood in Michigan where drugs were prevalent, only to go on to form his own promotion company and become the most lucrative pay-per-view attraction of all time. That rise, however, has been tarnished by repeated convictions for domestic violence, including time spent in jail after multiple plea bargains and suspended sentences. Mayweather travels with a large entourage and spends lavishly. His luxury goods and stacks of cash project an Instagram image of modern American success.
McGregor also grew up in a working-class neighborhood—in Dublin, Ireland. He started out boxing at age 12 and then transitioned to MMA. He was receiving welfare payments in Ireland as recently as four years ago before joining the UFC and winning the featherweight and lightweight championships. (He named a boat he purchased the "188" after the amount of his weekly welfare checks.) McGregor's narrative has deep ties to his home country. Many of the fans who follow and cheer him in the stands are of Irish descent or from Ireland—a place with a storied history of professional fighting champions, such as John L. Sullivan, Barry McGuigan, and "Irish" Micky Ward. These fighters also came to be symbols of unity and pride for an island that had suffered civil unrest, invasions, famines, and financial crises.
The arcs of Mayweather and McGregor are inspiring to a certain extent, but the dueling backstories and accompanying trash talk have also led to accusations of racism. At an event in early July, McGregor taunted Mayweather with the phrase "dance for me, boy." When criticized for racial insensitivity, McGregor declared himself "black from the belly button down" while performing a lurid dance. (McGregor claimed he meant to mock the idea of racism and show his love for all people.) Regardless of intention, these taunts exposed the racial stereotypes that still run through boxing. The exchanges evoked past promotional efforts such as James Jeffries being described as "the Great White Hope" in a 1910 fight with Jack Johnson, the first black heavyweight champion, as well as Muhammad Ali's boast that he would beat the "gorilla" Joe Frazier in the "Thrilla in Manila." These stories all demonstrate how often promotional narratives in boxing leverage racial and national identity—however ugly the effect—to create tension around a fight.
The fight is about an underdog facing an icon looking to secure his legacy.
Both Mayweather and McGregor have made nods to the iconic 1976 film Rocky and its sequels ahead of the fight. In July, John Kavanagh, McGregor's coach, tweeted an ode to Rocky II, the sequel when Rocky Balboa finally defeats Apollo Creed: "49-0 until he faced a tough southpaw that nobody gave a chance to." McGregor followed with a film clip of himself on a stationary bike while monitored by medical staff. The video was captioned "If he dies. He dies."—a clear nod to Ivan Drago, the Russian super-athlete who kills Apollo by knockout in Rocky IV.
For his part, Mayweather has willingly adopted the Apollo Creed persona, wearing a red, white, and blue "48" hat to the first press conference, referencing Apollo's undefeated record before the first movie in which Apollo won. The allusions suggest Mayweather and McGregor are aware of their respective characters in this story and, while each may have a different view of the likelihood of the underdog prevailing, both recognize this narrative's power to sell the fight.
In the end, McGregor's long odds haven't deterred many spectators from betting on a victory for the Irishman—far from it. The lead-up to the fight has been filled with stories about Las Vegas sports-book operators worrying about the prospect of a Mayweather upset, given the surprisingly disproportionate number of bets placed for McGregor. As ESPN's Doug Kezirian reported, "not a single sports-book operator I spoke with anticipated the historic one-sided betting action they've seen on the fight," with many predicting massive losses if McGregor succeeds.
It's this power of possibility that may be the most universal aspect of the event. As Joyce Carol Oates wrote in the title essay to her 1987 book On Boxing, "If a boxing match is a story it is an always wayward story, one in which anything can happen." How this fight plays out will determine whether "anything can happen" is a romantic, hopeful refrain about the sport, or merely an empty promotional line. When McGregor finally steps into the ring with Mayweather, the audience will either be witnesses to greatness or mere revenue sources. Either way, they'll be a part of combat sports history.