Will Hollywood Learn a Lesson About Whitewashing?
After the immediate backlash to his casting, the actor Ed Skrein stepped down from playing a character in the Hellboy reboot who was originally written as Asian American.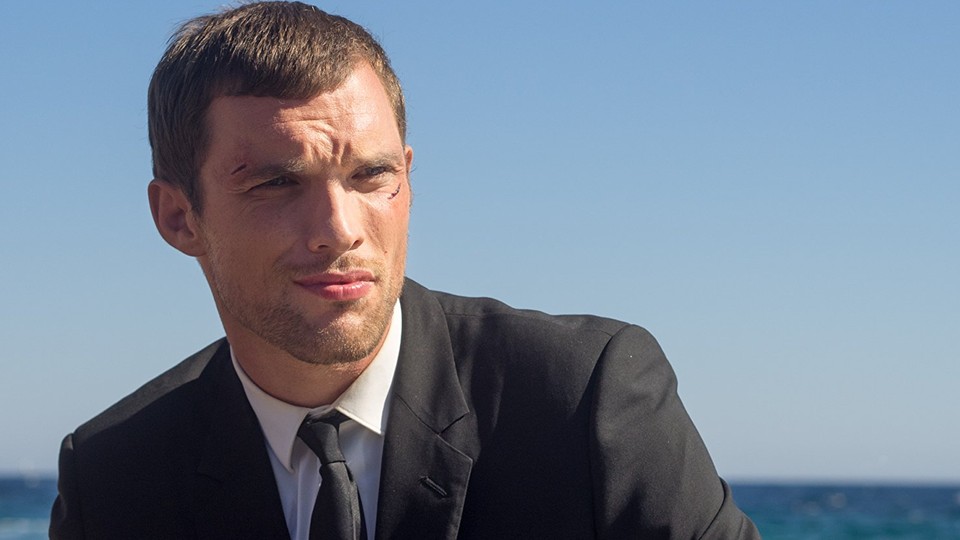 Last week's announcement that the actor Ed Skrein had been cast as the supporting character Ben Daimio in an upcoming reboot of the film series Hellboy was, in many ways, unsurprising. Skrein, a white Englishman, is best known for his work in the third season of Game of Thrones and as the villain in Deadpool. That genre cred, it seems, was enough to land him a role playing someone explicitly written as Japanese American in the original Hellboy comics.
Skrein's casting was hard to justify from even the most cynical angle. Daimio is a supporting role, and Skrein is not the kind of star who guarantees big box-office sales (the usual reason cited for such casting)—and yet the move was another in a long line of "whitewashing" incidents, where white actors are cast in roles originally written for, or obviously intended as, people of color. Studios have done little to address this issue in recent years. But criticism from fans, activists, and Asian American actors made at least one person on the project take notice: Skrein himself, who announced within days that he'd be leaving the movie. "I accepted the role unaware that the character in the original comics was of mixed Asian heritage," Skrein said. "There has been intense conversation and understandable upset since that announcement, and I must do what I feel is right."
Beyond Skrein's quick response to the Hellboy backlash, the detail he went into in his statement was notable. "Representation of ethnic diversity is important, especially to me as I have a mixed heritage family," he said (Skrein is of Austrian-Jewish and English descent). "It is our responsibility to make moral decisions in difficult times and give voice to inclusivity." His acceptance of that responsibility as an artist was clear, as was the effectiveness of the pushback from fans that helped him realize it. The creator of the original comics, Mike Mignola, thanked him for his decision, tweeting, "very nicely done." But the buck shouldn't stop with Skrein; he shouldn't have been in this position in the first place.
Lionsgate, the studio behind Hellboy: Rise of the Blood Queen (which will star Stranger Things's David Harbour), and the film's producers Larry Gordon and Lloyd Levin said in a statement that the decision to quit was Skrein's. "Ed came to us and felt very strongly about this. We fully support his unselfish decision," they said. "It was not our intent to be insensitive to issues of authenticity and ethnicity, and we will look to recast the part with an actor more consistent with the character in the source material." They haven't, however, answered the question of why Skrein was chosen to begin with; if anything, his casting came off as a symptom of institutional lethargy in Hollywood around this issue.
There have been plenty of flashpoints over whitewashing in Hollywood's history. Decades ago, white actors would routinely play characters of color, often sporting offensive makeup; classic films like Breakfast at Tiffany's or Lawrence of Arabia feature performances from Mickey Rooney and Alec Guinness that are horrifying racial stereotypes. While such blatant failures happen less often, subtler ones are commonplace today, including in movies where white actors play real-life people of color: The Social Network (Max Minghella's character is Indian in reality), or 21 (where the Asian American card players at the center of the real story were made into white characters in the film).
And then there are obviously clunky moves, like having Emma Stone play an (entirely fictional) character named Allison Ng in Aloha who proudly describes herself as a quarter Hawaiian and a quarter Chinese. For most of Hollywood's history, audiences might have been generally unaware of off-screen changes, especially if the real-life figures being portrayed were less well known. But modern online activism and the wave of bad publicity that comes with it (which can drive ticket sales down) have begun to spur meaningful change, with one example being Skrein's prompt response.
The most prominent whitewashing controversy in the immediate lead-up to Skrein's casting centered on Scarlett Johansson playing Motoko Kusanagi in the live-action remake of the classic Japanese anime Ghost in the Shell. That film tried, through complicated plot mechanics, to explain why Motoko's brain had been put into the body (or "shell") of a white woman, a half-hearted measure that ended up enraging fans and confuse casual viewers. (One particularly jarring scene saw Motoko mourning the death of her old body with her Japanese mother, an attempt at heartfelt drama that came too suddenly, and ended too quickly, to feel remotely earned.) The studio, Paramount, blamed the film's financial failure on the whitewashing debate and bad reviews, which was especially ironic since the industry defense of Johansson's casting was that she had global box-office appeal.
Even more recently, Adam Wingard's critically reviled Netflix remake of the Japanese manga Death Note prompted another fan outcry online over its mostly white casting. Remakes are, of course, slightly trickier territory than straight adaptations, but much as with Ghost in the Shell, Doctor Strange, and many other prior examples (like M. Night Shyamalan's The Last Airbender, the ancient Egyptian epics Exodus and Gods of Egypt, or the Jake Gyllenhaal vehicle Prince of Persia), Death Note retained the specific character names of its source material.
The go-to excuse for Hollywood executives defending questionable casting is that producers want to hire actors who have proven pull at the box office (and who are usually white). It's an easily dismissed justification, not least because vehicles with white stars fail all the time without hurting the performers' careers. Many of these parts, like the one Skrein landed, are supporting roles that hardly make or break ticket sales but that could help a new or rising performer of color gain the kind of exposure to eventually be seen as a global draw. Still, Hollywood is not nearly as star-driven as it once was; one of the most successful films of 2017 so far was Get Out, which starred the relative unknown Daniel Kaluuya, while another was Dunkirk, featuring the total unknown Fionn Whitehead.
More importantly, films like Gods of Egypt and Ghost in the Shell have flopped in part because of the negative publicity generated by their casting—a pattern that should worry executives who are genuinely interested in the bottom line. Fan communities, activists, and performers have been speaking out about diversity and representation for many years, and their critiques had a direct impact in Skrein's case. His decision to stand aside is a rare one and might signal a growing awareness among white actors about what they can do to help address a longstanding issue. Of course, this could also be a blip—one instance where a performer walked away from a paycheck and a studio agreed because the role wasn't too central to its project. But if (or, likely, when) another misguided casting decision is made, the performer in question should find it harder to ignore both Skrein's precedent and the bad buzz that will surely follow.