Basket of Deplorables Riffs on Trump's America
A new collection of short stories by Tom Rachman considers privacy and cultural bubbles in a post-truth era.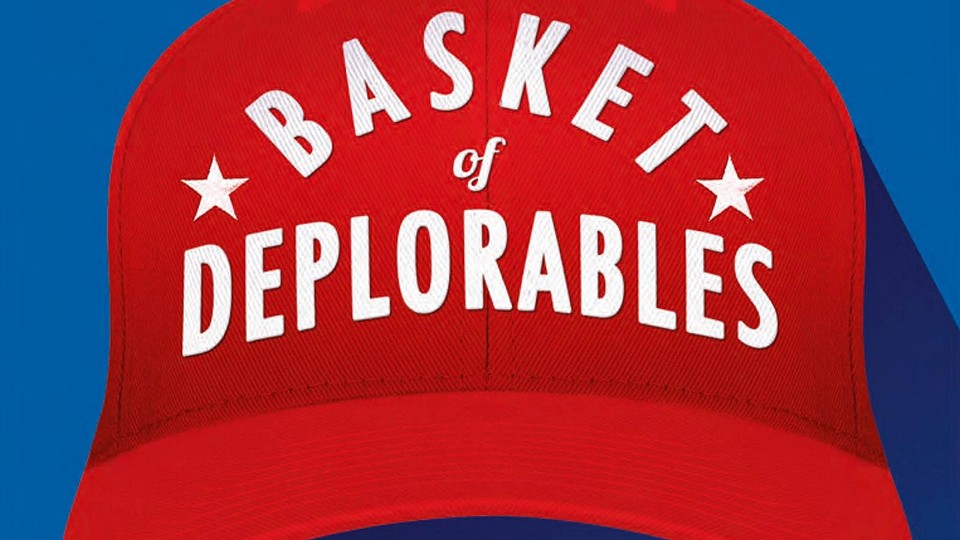 The first sentence of Basket of Deplorables announces, "You can't see me right now. Then again, I can't see you either." You can take the narrator, Georgina, literally: A recent head injury has left her blind, and adrift at a buzzing election-night party at a Tribeca loft where she feels increasingly alienated from the intellectuals, musicians, and n+1 editors in her social circle. But her statement applies to all five of Tom Rachman's new stories, released on Audible in the U.S. and in book form in Britain and Australia. Set consciously in the current moment and a few years from now, the darkly satirical tales consider a broader kind of cultural myopia—one that afflicts conservatives and liberals alike.
There's something inevitable, if not rote, in the first wave of cultural works responding to the Trump presidency. Most seem sprung from outrage or sheer incomprehension: "The nightmare is in high gear," is how the playwright Tony Kushner described his in-progress play about Donald Trump to The Daily Beast. But even in this early phase, it's apparent that the 45th president is as difficult a subject as he is irresistible. Neither satire nor fiction can adequately capture him. So writers might be wise to consider him obliquely, as Rachman does: as a presence in the room, not a focal point. Basket of Deplorables is less interested in Trump than in the people and factors that enabled his presidency, and sometimes not even in those. Its point is that Americans' increasing polarization and suspicion of each other is leading to a place that could make even 2017 seem like halcyon days for humanity by comparison.
The world of the five stories is an intricate, interconnected one, with many of the various connections and hints only emerging on a second read. The first tale, from which the collection gets its name, is set on November 8, 2016, at a prototypically dazzling Manhattan soiree, where fashion designers mingle with cultural theory professors and Salvadoran waiters serve sumac-spiced appetizers raided from "the pages of Ottolenghi." Georgina, the narrator, is a former photographer known for her caustic images of rock stars and artists; her good-natured partner, Roger, is a publisher who prides himself on his parties, where Henry Kissinger and Britney Spears might both be proffered as cultural curiosities for the left-leaning "hothouse intellectuals" in attendance.
Rachman's portrait of how the evening unfolds could seem unsettlingly familiar. At first, the guests chat blithely about other things, safe in their shared knowledge that The New York Times's website gives Hillary Clinton an 85-percent chance of victory. CNN is on in another room, since cable news is "too excruciatingly IQ-melting." But as the news ekes out that Trump has won Ohio, then Wisconsin, then Pennsylvania, the mood in the room darkens. There are comments that Bernie Sanders would have won, or that Americans feel left behind, or that a large portion of the nation is simply "godawful." But the twist in the story's ending isn't about Trump at all—it's a revelation from Georgina that throws both her relationship and her liberal bona fides into question.
It's a strange and unsatisfactory ending, at least until it's expanded on a few stories later. Each primary character is revisited at least once, giving readers the sense of a world that's increasingly claustrophobic and incestuous, where no two individuals can be unconnected. The story "Leakzilla," set in Portland, imagines a hack of all the major email servers that publishes every private message ever sent. In this new landscape, the only unscathed citizens are the very old, the very young, the very poor, and the extremely paranoid. Amid this massive invasion of privacy, a new dating service has been established, HonrDate, where people commit to going out with each other without revealing their names, so no awkward revelations can be excavated before a first in-person encounter.
The premise is a terrific one, but it's slightly undermined by the story itself, in which the narrator, Tim, pretends to be a Trump voter to impress his date, whose identity he's figured out and whose personal emails he's scoured. The meeting unfolds like a strange pas de deux, where neither seems willing, or able, to be honest about what they really believe. "Don't you think," Tim's date asks, "privacy is actually the right to be different in different situations?" People, she observes, were nicer before the hack, maybe because "a little bit of fake is what's required to be decent." But once again, the encounter gains more dimension with a revelation in a later story, "How the End Begins," in which Tim's date's sister stumbles upon a website that lists the future cause of death for all humans on Earth and seems to uncover a horrifying impending event.
Like most good speculative writers, Rachman seems nervous at the path technology is laying out for mankind. It's a theme in the book that's largely removed from the subject of Trump: Although the stories casually mention right-wing content farms, and oddballs " in Kalamazoo or some such place blogging about how the Clintons molest baby pandas," the more dire threats are bipartisan. After Leakzilla, Tim notes, each time a friend ghosts, you wonder, "Was it something I emailed?" And yet, it's impossible to isolate the political ascendance of Trump, Rachman appears to argue, from an online climate that has rendered Americans' worst impulses in more vivid clarity, while making them somehow more blinkered than ever.
The collection's moral lessons are sometimes so subtle that you might miss them, and the ending of one story in particular is maddeningly opaque. But Rachman's deft cultural references and his acute skewering of American culture make for uncomfortably precise satire. Sean Hannity pops up, leading a bombastic campaign to free an American arms dealer who fakes his own death; there are references to Alec Baldwin on Saturday Night Live, and "niche-huge" Netflix sitcoms, and the found poetry in auto-filled Google searches. The lone unconvincing voice in the five stories is that of a Wharton MBA grad and a horrendous bully who overuses "terrific" and "fantastic" and brags about how popular he is. Somehow, in fiction, the cadences are just too absurd to be true.