Ava DuVernay on Queen Sugar and Her Hollywood Journey
The director discusses the show's midseason finale, the importance of telling black stories, and her secret to navigating the film and TV industry.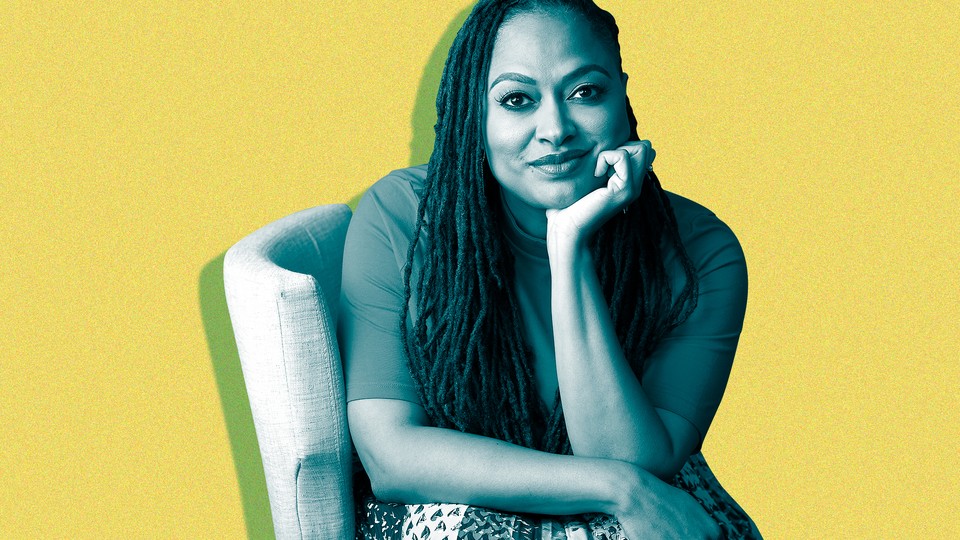 It's been a busy five years for Ava DuVernay. Since winning the Best Director Award at Sundance Film Festival in 2012, she has accrued many "firsts": becoming the first black female director to have a movie (Selma) nominated for a Best Picture Oscar, to be nominated for a Golden Globe Award, and now to helm a film with a $100 million budget (Disney's A Wrinkle in Time). DuVernay's work goes beyond feature movies, to include 13th, the award-winning documentary on mass incarceration, a forthcoming Netflix limited series about the Central Park Five, and a TV and digital-media deal with Oprah Winfrey's Harpo Films.
Though DuVernay is juggling projects across different platforms, she tends to focus on history and injustice. Perhaps none of her works better melds experimentation and realism than the television drama Queen Sugar, which aired its emotional mid-season finale on Wednesday. The Louisiana-set series follows the Bordelon siblings—Nova, Charley, and Ralph Angel—as they work to take care of the sugarcane farm they inherited from their father and debate whether the land is more of a burden or a chance for a fresh start. The show also touches on issues such as incarceration, police abuse, class, and the legacy of slavery as it persists in the South. In the latest episode "Freedom's Plow," the siblings are still reeling from the recent discovery that their father bequeathed the farm solely to Ralph Angel, instead of all three children. In subtle ways, the Bordelons are testing whether they can overcome the fractures in their relationships—or whether those divides will calcify in the absence of a common goal.
As her works have garnered buzz and critical acclaim, DuVernay has used her spotlight to call attention to the dearth of opportunities for women and people of color in the entertainment industry. "Of the 900 top-grossing films that hit screens in the last 9 years, only 34 women held the directing position," she tweeted this week on Black Women's Equal Pay Day. She also tweeted that just three black women directed a top-grossing film between 2007 and 2016, adding, "Being one of these doesn't make me proud. It upsets me." DuVernay herself has made it a point to include women and people of color in front of and behind the camera; for example, she hired all female directors for both seasons of Queen Sugar, many of whom were women of color.
While it appears that DuVernay's ascendance as a director was swift, the beginning of her career was somewhat untraditional. She studied African American history, not film, at UCLA, and didn't direct her first short film until the age of 32. I spoke with DuVernay about the plot twists in this season of Queen Sugar, her secret to finding success in Hollywood, and why black stories are timeless. Our interview has been edited for length and clarity.
---
Adrienne Green: This week's mid-season finale of Queen Sugar was such a rollercoaster. What did you learn from the transition between the first and second season, and how are you looking forward to the third?
Ava DuVernay: We're on our 40th hour if you consider both seasons, and shooting the finale of Season 2 right now. That's a lot of time thinking about these characters, and you learn about them the more you're with them. It's just like a friend: You know them on the surface, and then you get to know them better. The cool thing is, I get to make my friends do what I want them to do in the show. It's been fun to pit them against each other and move them around and figure out how their lives intersect and diverge. It's been a learning process with this Bordelon family.
Green: What I appreciate most about this season is that it really continues to unpack the complexities of each of the Bordelon siblings. It was interesting that the family was forced to project this image of control even as everything was falling apart, because a reporter was profiling them for a magazine story. Did you start with that conflict in mind?
DuVernay: Yes. Looking at the facade and trying to challenge the facade, that's what [the show] is about. Queen Sugar is about identity. It's about who we tell ourselves we are and who we really are. It's who we are to the public, who we are within our families, and who we are within our own minds. The writers and I are constantly challenging that and putting these characters in situations where they have to face that. I've faced that myself. There's nothing more startling than having a real conversation with your brother where you're talking about [serious] stuff, and then you have to go and walk a red carpet.
It's not much different from someone who doesn't have a carpet to walk. It's Paul Laurence Dunbar's poem, "We Wear the Mask." It's the duality that we all face in terms of the way we are with different people and in different spaces. But with [the middle sibling] Charley, and the press, and her public persona, and the rising public persona of [the eldest sibling] Nova, it allows us to juxtapose those public and private spaces in a way that's much more apparent to the narrative.
Green: I'm so glad you mentioned Nova. She's a character of your own creation (she wasn't in the novel that Queen Sugar is based on). Where did you find your inspiration for her?
DuVernay: There is a bit of me in both Charley and Nova. So in thinking about who Charley and Ralph Angel were going to be, it seemed like there needed to be another voice there that included some of the things that were important to me. Nova has been a conduit for a connection to the community and to a lot of social issues, whereas with Ralph Angel, we comment on those things in a more interior way: If the writers want to talk about criminal justice and incarceration through Ralph Angel and his story, it's powerful because we see him living it. Whereas we're able to make Nova's character more forward-facing, with the information that she's able to relay to viewers through her community activism and her journalism.
I also wanted to integrate the other parts of New Orleans into the show. And so having someone [like Nova] who is connected to the Ninth Ward, allows there to be a through line between the black families in rural communities in Louisiana and the black families and black people in the more urban areas, which was important to me in constructing the world of Queen Sugar. I didn't just want it to be a "black farm show." It was about expanding the idea of this black family out into other spaces. Nova as a character serves a number of purposes, and obviously there is a juxtaposition between different kinds of femininity and black womanhood in Charley and Nova—neither one being better than the other, just different in the way that they look, act, and their priorities.
DuVernay: We've had different changes to the writer's room, and I'm always bringing in new directors, so it's important for me to keep a through line for what my intention for the show is. And my intention is to say something every week, but to find a way where it doesn't feel like a "very special episode" of Queen Sugar about this topic. So that could be Blue's doll, Kenya, or the fluidity of Nova, or financial freedom and the patriarchal infrastructure that Charley is facing, or the horrible way this country treats formerly incarcerated people with Ralph Angel, or even the issues of Aunt Vi. We're trying to put all of those things into a stew where we are saying something, but also you're just watching a family going through it and it doesn't feel like medicine.
Green: You mentioned the characters dealing with a wealth of social issues that come up today. (Charley's son Micah is still dealing with the emotional fallout of his encounter with an aggressive police officer. Nova and her love interest Dr. Robert Dubois speak often of how to secure meaningful change for the black community, and chafed against a Trump supporter while attending a dinner party. Even Ralph Angel is pressed to make sure he's still on the payroll at the farm to comply with his parole.) How do you straddle the timeliness of these issues with the larger history and legacy of the show's characters and setting?
DuVernay: The sad thing is these stories are not timely to the black community; they're timeless. A young black man or a black man of any age fearing or having challenges with law enforcement is not something that is timely; it is unfortunately an ongoing issue that we have to deal with.
If I'm reading a script and someone is going to put a trendy word in the script, I might say, "That won't read well here." But overall in terms of our storyline and the issues, I feel like there's never a challenge where we're trying to fit something in because it fits the time.
Green: As we look ahead, what should we expect from the rest of the season? How are these characters going to deal with all the hurt that's been unearthed in the last couple of episodes?
DuVernay: What you'll see is there are parts of the characters' drama that dissipate and just go away because they have to keep dealing with each other. And there are probably unexpected parts of that tension that grow and grow until they're so big that the characters can't get around them. Also, there are a couple of big doozies in the second half of the season. There are going to be a couple things that take people off guard and really shock folks. I think it's important to do that and keep people on their toes if they watch the show, because that is what life is. Nothing is expected. It's just about the ability to be prepared, and the best preparation is to be strong with other people, and that's what this family needs to do.
Green: I want to talk to you more about your experience as a businesswoman. You described yourself as a "weekend warrior," when you were first starting out in filmmaking and didn't attend film school. What do you hope that people take away from your experience when they think about the entertainment industry at large?
DuVernay: Just that the most important thing is the "thing," not all the stuff around the thing. If you say you're a filmmaker, then focus on your story and your filmmaking as opposed to the industry. When I started I wasn't focused on the industry, and I wanted to make my thing, and I wanted to get it out in any way that I could. Yes, I would work and I would write on the weekends. I made my own little films with my own money that I pieced together. I would distribute my work on my own and go around to DVD stores and record stores and sell my own DVDs like E-40 out of the trunk of his car. It wasn't really dissimilar. It was like trying to hustle these movies and play these tapes. The joy that I got by showing my films at a small black film festival in North Carolina or Seattle is the same joy that I get—I can't convince people of this, but I know it's true in my heart—when I show it at Sundance or Toronto or Venice.
Walking into a theater and seeing people watch my first film I Will Follow is the same feeling that I get seeing people watch Selma or 13th. The conversation around Queen Sugar on social media is a completely new phenomenon, and it shows me that there are always new ways to reach people and share my stories. If there's anything my path can help people understand, it's that you can have joy in the work, as opposed to, "I need an agent, I want to walk the carpets, I want the magazines, I want to be Issa Rae, I want to be Donald Glover, I want to be Ava." None of that [success] happened to them because they wanted to be anyone else. It all happened because we were focused and enjoyed the process.
It doesn't work for everyone. But let's say no one ever wants to see anything you made, sang, painted, wrote, directed. If no one wanted to eat the food you made, but you had an amazing time in the kitchen making it, you loved it, you were tasting your own sauce, and you were chopping up the onions, and you got the chop down just right, and you enjoyed the meal ... wasn't it worth it? I just see so many people on the grind for the wrong thing. Don't be on the grind for the fame. That's fleeting; who cares. Be on the grind for the joy.
Green: I want to return to you hustling out of your car like E-40. You've made so many different kinds of work: a network television show, independent films, a documentary, multiple feature films, one of which, A Wrinkle in Time, has a $100 million dollar budget. How has navigating the business sides of these projects changed with their scale and exposure?
DuVernay: I've done feature films, narratives, or documentaries, a series on traditional linear television, a series on streaming platforms. There's a film I did for the Smithsonian that you can only see when you walk in there. The beautiful thing is that I'm able to make my work at a time when the traditional walls have collapsed and everything is open and changing. You have Ron Howard who is across the pond shooting Star Wars, but he also shot a documentary and a documentary series that are both nominated for Emmys. He's one of the biggest filmmakers, and yet he can go make a documentary series for television and no one blinks.
Twenty years ago, you couldn't do that. Documentarians made docs, and TV people made TV, film people did film, and it was all segregated. People looked down on you when you crossed. Now, what a blessing that we're in a world where literally I can make a movie of a certain price point at Disney and then my next project, Central Park Five, is for a streaming platform and it's in five parts. A lot of the black women who came before me did not enjoy that flexibility. We're at a time where there are no boxes. Martin Scorsese can do a commercial. A director of a television show can make an indie and be nominated for an Academy Award. I just feel fortunate, and I'm trying to step into the moment and take advantage of it.
Green: We know how giving women the opportunity to direct is shaping the industry at large, and some of the women from the last season of Queen Sugar have gone on to other great opportunities on TV. But how do you think specifically it has shaped your work life having women in decision-making positions all around you?
DuVernay: I grew up in a matriarchy, in a family of all women. I don't understand a structure where women aren't making decisions; that's a foreign thing for me. Not that you can't work with men, but the fact that there would be such an imbalance to any kind of process, whether government or industry, is uncomfortable for me. When I was able to dictate what my space would be and who I would be around and who would be around me, I was just striving for balance.
With Queen Sugar I felt like it was necessary to overcorrect for the abominable statistics in that space in television. But, in general, I'm just looking for there to be a little bit of everybody. I don't think that should be a radical idea. I don't think about it much, I just make it so.
---
Related Video