Will Is Flagrantly Silly, Glam-Rock Shakespeare
The new TNT show reinvents 16th-century London as a bacchanal of sex, drugs, and steampunk.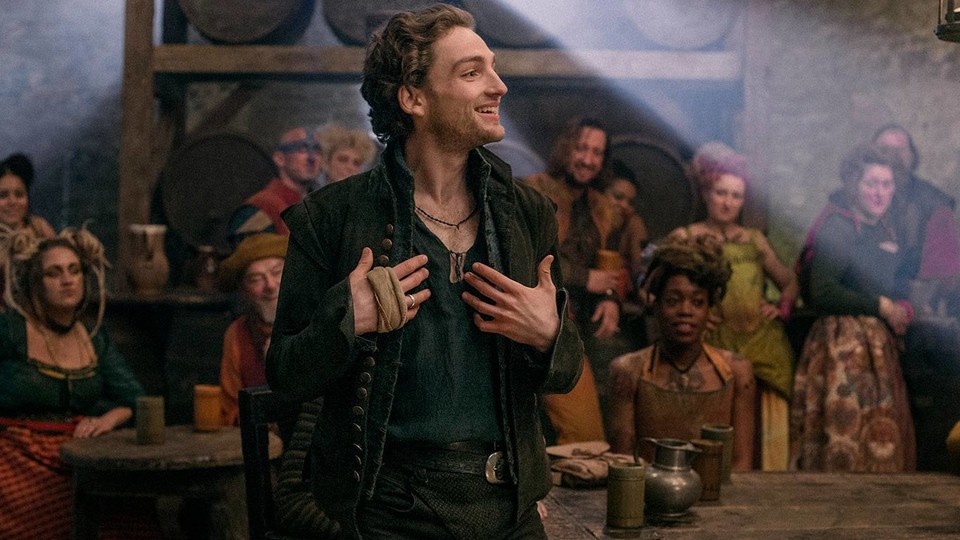 The question, "What if William Shakespeare were actually really good looking?" has already been definitively answered by the Oscar-winning 1998 movie Shakespeare in Love. So Will, debuting on TNT Monday night, goes a few steps further. What if Shakespeare were actually really good looking and a secret Catholic spy and a prototypical glam-rock icon and suffering from PTSD sparked by watching his uncle get publicly disemboweled? And what if all this were happening in a kind of hallucinogenic steampunk Baz Luhrmann fever dream of 16th-century London, where tattooed tavern wenches have fuchsia dreadlocks and revelers break into renditions of Lou Reed's "Perfect Day"?
There's a lot going on. And yet all the excess and frenetic energy can't carry a plot that gets totally lost in a secondary storyline about the Reformation, and how the Protestant enforcer Richard Topcliffe (played in weaselly style here by Trainspotting's Ewen Bremner) hunted and tortured Catholics. Will is created by Craig Pearce, a Luhrmann collaborator who co-wrote Romeo + Juliet, Moulin Rouge!, and The Great Gatsby with the director. Many of Luhrmann's hallmarks—vibrant, gaudy color; huge theatrical setpieces; anachronistic music—give the 10-part series a distinctive sense of style. Crucially, though, Will doesn't seem that interested in Shakespeare as a playwright. And the resulting attempts to shoehorn him into other roles—sultry lover, newly minted celebrity, reluctant renegade—make for a frequently befuddling viewing experience.
In the first episode, Will (played earnestly by the newcomer Laurie Davidson) is a glove-maker who abandons his wife and three children in Stratford-upon-Avon to seek his fortune as a playwright. The city he arrives in, in that most well-worn of overwhelmed-country-mouse TV tropes, is London by way of Pirates of the Caribbean: green-screened and teeming with vice. There are pickpockets, eels, public acts of dentistry, an aggressive neon color palette, and even an errant camel. Master Shakespeare, completely out of his league, is preyed upon by a young street urchin (Lukas Rolfe), who filches not only his victim's purse, but also a damning letter outing Will as a Catholic.
The facts about Shakespeare's life are so nebulous that it's justifiable for Pearce to take liberties with his biography. But the religious-conflict subplot isn't just tedious—it also feels like a transparent attempt to inject some Game of Thrones–style ritualized violence and sadism into the proceedings. Far more entertaining are the scenes where Will, almost by chance, finds his new tribe at a theater run by James Burbage (Colm Meaney). These include Burbage's children, Richard (Mattias Inwood), a preening actor, and Alice (Olivia DeJonge), who helps Will structure and transcribe his plays, and whose winsome charm helps him move on ever faster from the family he's left behind.
There's also Christopher Marlowe, requisite in any Shakespeare biopic, interpreted here by Jamie Campbell Bower as a Marc Bolan-esque idol who treats his writer's block with orgies in which he's tended to by fleets of naked male models. Marlowe is Will's escort into the depraved underbelly of Elizabethan London, and the silliest scenes in the show—namely an opium-fueled bacchanal hosted by Sir Francis Bacon, introduced as "our host, a notorious sodomite." Bower has the cheekbones and the disdain to pull off the character, but his flagrant, animalistic appetites leave Davidson's Will seeming rather dreary by comparison, wide-eyed and cribbing all his best future lines from things people say at parties. These insta-quotes about brave new worlds and the play being the thing pop up frequently, but they can't elevate the rest of the script, which is filled with insipidness. Catholic tracts, Will is told, must penetrate their readers' souls like "a bullet shot from the deadly level of a gun," but only when they're not thawing people's hearts "like spring thaws a mighty river."
The odd thing is that when Will focuses on its hero's artistic process, it's not bad at all. A makeshift rap battle in the first episode, performed in iambic pentameter, seems inspired by Hamilton but allows the show to tap into its main character's most interesting qualities. Perhaps, in declining to focus much on how Shakespeare's plays were born, the show wanted to avoid being too similar to Shakespeare in Love, although the scenes of inky black pens scratching on parchment and fevered trysts beneath the stage imply not. Will can be forgiven for reinventing the greatest playwright in history as a dope-smoking, glam-rock superstar. But not, unfortunately, for relegating his unquestionable genius to an auxiliary plotline.