Tour de Pharmacy's Insane, Riotous Ride
The HBO special by Andy Samberg and Murray Miller is a bonkers, star-studded pastiche of cycling's doping problem.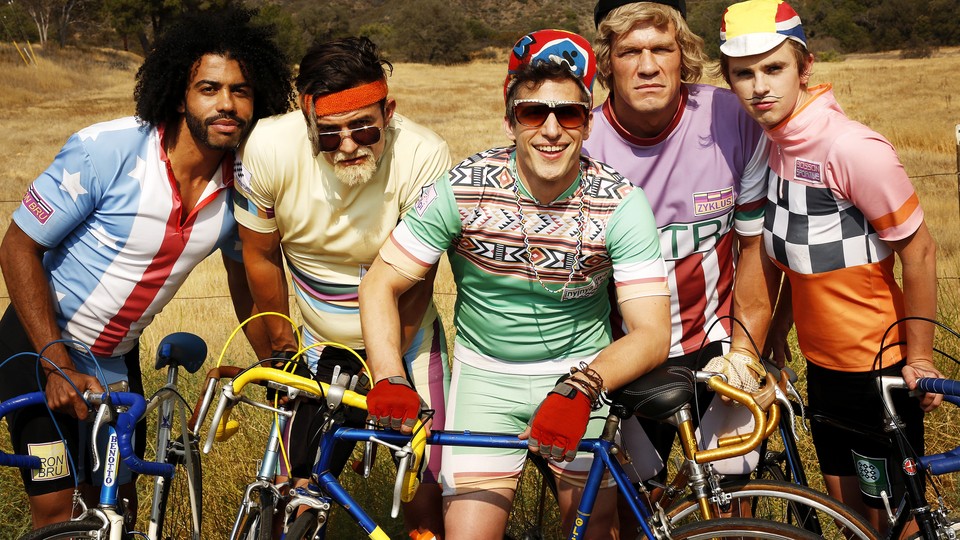 Tour de Pharmacy, a new mockumentary by Andy Samberg and Murray Miller, starts as it means to go on: with Orlando Bloom, in lycra and sporting two-tone facial hair, hurtling down a mountain having a drug-induced heart attack while his penis dangles woefully to the side. The 38-minute special, a good-natured play on reverent sports docs like ESPN's 30 for 30 series, is absurd. It takes the thorny subject of doping in professional cycling and turns it into pure, gleeful mayhem, complete with animated guides to red-blood cells, artistic renderings of bear fellatio, and Lance Armstrong wearing a white fur coat, texting his lawyer.
The HBO special is a follow-up of sorts to 2015's 7 Days in Hell, also written by Miller and directed by Jake Szymanski, which starred Samberg and Kit Harington as two professional tennis players participating in the longest and most controversial match in sports lore. Like its predecessor, Tour de Pharmacy turns a satirical eye to the more ridiculous excesses of professional sport—in this case the history of drug-fueled athletes at the Tour de France. If you're not quite ready to laugh at Armstrong's self-owns regarding his record of humiliating TV appearances, it's hard not to snicker when John Cena shows up in typical Herculean form as the German athlete Gustav Ditters, roid-raging at any suggestions that he might have had chemical assistance in bulking up.
Cena is only one of an eclectic array of stars. Jon Hamm returns as the perfectly grave narrator. From the sporting world, there are Armstrong, Mike Tyson, Joe Buck, and Chris Webber as faux-earnest talking heads. But the plot focuses mainly on the five cyclists who supposedly faced off in the 1982 Tour de France: Bloom's Italian stallion Juju Peppi (visibly inspired by the late Marco Pantani); Cena's Ditters; Samberg's white Nigerian frat boy Marty Hass; Freddie Highmore's Frenchwoman-in-disguise Adrian Baton; and Daveed Diggs's American trailblazer Slim Robinson, Jackie Robinson's "nephew," with a history book-sized chip on his shoulder.
Miller and Samberg apparently became friends when both were summer-camp counselors who'd satirize the talent shows the staff would perform each year. Appropriately, Tour de Pharmacy has the attention span of a 15-year-old boy, whooshing from "historical footage" to video interludes to obscene Finnish credit-card commercials to Phylicia Rashad as an animator kicked off Sesame Street for creating a Black Panther puppet. In a longer movie, it might provoke whiplash. Here, though, the pace is frenetic enough that it works. And the special is sneakily well-informed when it comes to the story of doping in cycling, from the pharmacopeia of drugs athletes have historically ingested to get through races to the corrupt figures who turn a blind eye (a bewigged Kevin Bacon pops up as a Finnish anti-doping official who demands bribes to pay off his mountain of debt).
But wait: There's more. Like James Marsden as a plummy BBC presenter riding alongside the cyclists. And Jeff Goldblum, Danny Glover, Dolph Lundgren, and Julia Ormond as the present-day Hass, Robinson, Ditters, and Baton. And J.J. Abrams, inexplicably. At this point in his career, Samberg apparently has the network of friends and the stored-up goodwill to get anyone and everyone he wants to participate in what's essentially a high-concept teenage showreel. Luckily for all involved, the end result is insane, filthy, and totally fun.