The Joy of The Incredible Jessica James
James C. Strouse's movie is a predictable romantic comedy elevated by an incandescent star.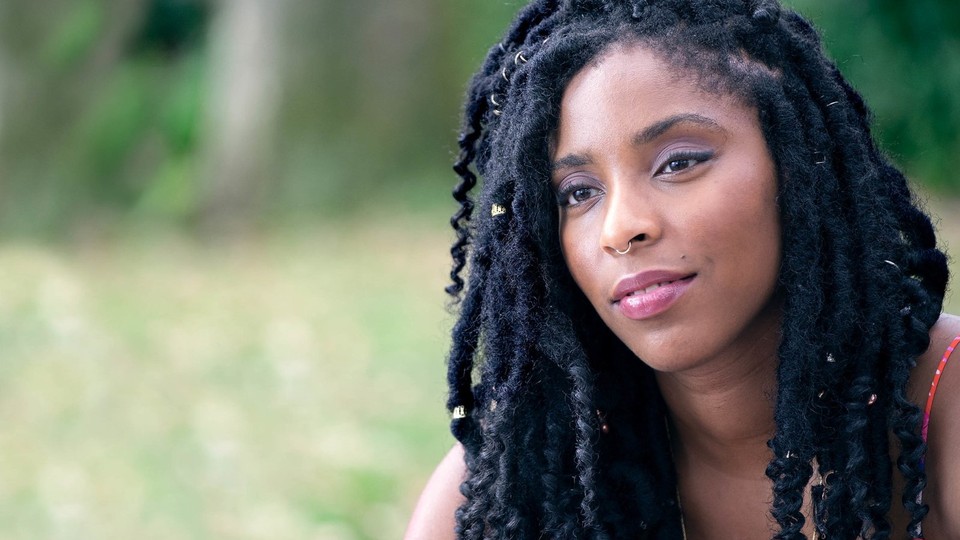 The Incredible Jessica James, which debuted Friday on Netflix, has a title that feels better suited to a Marvel drama than a romantic comedy. And Jessica (Jessica Williams) would make an extremely compelling superhero, endowed as she is with mighty powers of snark, bravado, and withering disdain. Within the movie's spry 85 minutes, she vanquishes a manspreader on the subway with barely the tilt of an eyebrow, crushes an ex with a piano (in a dream sequence, but even so), and reduces a Tinder date to a puddle of shame and self-loathing. ("I would literally rather have my period nonstop for a thousand years than have this portion of the conversation," is one of her gentler comebacks.)
In the hands of a less charismatic actress, Jessica could easily be intolerable. But Williams, the 27-year-old former Daily Show correspondent and co-host of the podcast 2 Dope Queens, is so charming that she elevates a perfectly predictable rom-com into a blast. Written and directed by James C. Strouse, who devised the project explicitly for Williams after working with her on 2015's People Places Things, the movie is gentle and surprisingly sweet, relying on its star's undeniable magnetism and rhetorical ingenuity. Between the bold, cartoon-typeface title cards, the one-woman dance parties, and the elaborately staged daydreams, there are times when it feels like a raunchy Lizzie McGuire update, only with a much more compelling character at the helm.
At the beginning of the movie, Jessica, a frustrated playwright, is living in "deepest Bushwick," recovering from a breakup with Damon (Lakeith Stanfield), and attempting to get her work staged by any theater in New York that will consider it (every rejection letter gets taped neatly on her wall). After a less than enticing date with a Tinder prospect who mimics her vernacular ("totes preesh"), her best friend, Tasha (Noël Wells) sets her up with Boone (Chris O'Dowd), a shuffling sadsack of a divorcé who initially seems like sexual Kryptonite. Jessica goes home with him anyway. And what starts as a mutual breakup affirmation society (they unfollow their exes together but follow each other's so they can keep abreast of updates) turns into a strangely satisfying relationship.
The movie's energy goes up and down, and there are times when it feels like scenes could have used an extra take or two. But Williams is a gifted enough actress to poke holes in Jessica's swagger so her insecurities peek through. She refers to herself as a "unicorn," insists to a roomful of women at a baby shower that they have to subvert the patriarchal paradigm, and tells Boone that she's "frigging dope." But she's also creatively frustrated, teaching theater writing to a group of admittedly adorable kids in Hell's Kitchen and squealing over a rejection simply because the correspondent bothered to read one of her plays. "This is theater, Shandra," she tells one of her students in a faux-plummy baritone. "We don't have to do any of this. We do it simply because we must."
This isn't to say Williams can carry the movie entirely by herself. Her chemistry with Boone is intermittent at best, and his lackadaisical appeal owes more to O'Dowd's reliable congeniality than to Boone's depth as a character. The movie's twists and turns often feel extracted from Screenwriting for Dummies. Jessica's angst isn't entirely persuasive, although the movie makes a little effort to explore her childhood and how she feels like an oddball among her more conventional family members. But The Incredible Jessica James's frequent, zingy quips and its understated, realistic portrayal of 21st-century romance make it an engaging way to spend an hour and a half. If nothing else, it's a real pleasure just to spend so much time in Williams's company, and watch her star rightfully ascend.