The Bold Type and the Enduring Appeal of the Women's Magazine
The Freeform show celebrates "stealth feminism." So does the publication it portrays.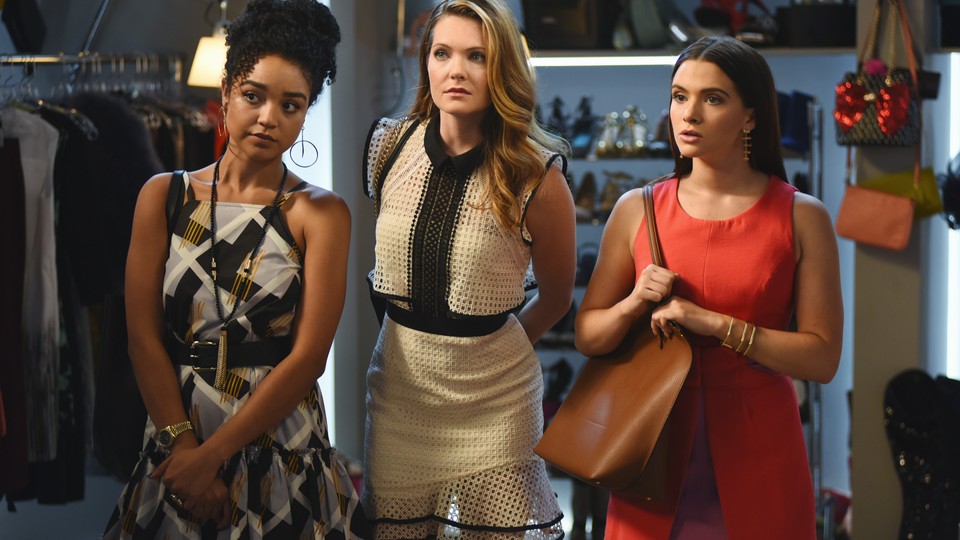 In the pilot episode of The Bold Type, the dramedy that premiered this month on Freeform, Kat Edison, the social media director for the women's magazine Scarlet, tries to convince an edgy artist to participate in a story highlighting her work. The artist, Adena El-Amin, is also a feminist, and she initially scoffs at the idea of collaborating with the Cosmo-esque publication: Adena has no interest, she tells Kat, in having her work featured in an outlet devoted to informing women "about clothes and makeup and how to get boys."
Kat nods knowingly. She's heard this objection before. And she knows exactly what to say in reply to this "common misconception." When Jacqueline, the magazine's current editor-in-chief, took over its leadership, Kat tells Adena, "she shifted the magazine" in its focus and, indeed, in its feminism. "It's no longer about how to please your man—or woman—in bed," Kat insists. "It's about how to please yourself." Scarlet, she explains, despite and because of its reputation, embraces what Jacqueline calls "stealth feminism."
This is one of the many ideas The Bold Type and its vaguely fictionalized lady-mag have ported, wholesale, from the world of actual magazines and actual politics. "Stealth feminism," of course, was not coined by a fictional person atop a fictional masthead; it has long been a topic of conversation—and controversy—both within and about the very types of publications Scarlet magazine is meant to evoke: magazines aimed at women in general and at Millennial women in particular. Magazines that sell, on the whole, a very particular brand of commercialized "empowerment." Magazines in whose pages, paper or digital, the logic of feminism often chafes against the logic of capitalism: You go, girl, but you'd probably go a little harder if you were wearing a bold shade of CoverGirl Outlast All-Day Lip Color.
Jacqueline's feminism-via-furtiveness, similarly, suggests an approach that is simultaneously bold and bashful—a political movement that, shifty as it is about its own purpose, cannot fully be a movement at all. It's fitting: The Bold Type reflects Cosmopolitan, and the women's magazine as a genre, not just as a setting—iMacs! fashion closets! work stilettos!—but also as a kind of philosophy. The show is, like the magazine, slightly anxious about its place in the world. And that's in part because American feminism itself, in the era of Lean In and Gamergate and "grab 'em by the pussy," is itself, once again, finding its future.
* * *
Cosmo, née The Cosmopolitan, was founded in 1886. It began as a family magazine: It focused on literature, for parents and children alike, with additional advice about the cultivation of a happy home. The magazine's fiction pages soon came to attract writers like Willa Cather, Mark Twain, and H.G. Wells—a fecund literary period that lasted until it was purchased, in 1905, by William Randolph Hearst, who re-shaped it as a journalistic outfit (or, well, "journalistic": The magazine generally catered to Hearst's opinions and ambitions). After a period, beginning in the 1920s and '30s, that found the magazine returned once again to its literary roots—Cosmopolitan published work, at this point, from Sinclair Lewis, W. Somerset Maugham, and others—it faltered.
By the 1960s, the magazine was teetering on the brink of dissolution. A new editor, a woman who had never been an editor before, proposed a new vision for Cosmo—the vision that still informs the magazine's current array of sex tips and fashion advice and political reporting. Helen Gurley Brown, the businesswoman and the author of Sex and the Single Girl, made Cosmo over, and largely in her own image. Under Brown's leadership, the former literary magazine became cheerfully radical: Here was frank talk about sex. Here was journalism myopically concerned with the perspectives and cares and lives of women. Here was a magazine that became, in many ways, synonymous with the women's movement itself.
Through the decades afterward, Cosmo was a source of empowerment and a source of controversy: The magazine celebrated women, but tended as well to focus its celebrations on only one very particular type of woman. The magazine that paid homage to the Fun(!) Fearless(!) Female(!) could also, through its fairly narrow definition of fun and fearlessness, alienate. Cosmo could be narrow-minded. It could be a little judge-y.
But The Bold Type, in patterning Scarlet so thoroughly, and so recognizably, after Cosmo, seems keenly aware of all that. It revels in the complexity, and the contradiction, that the Cosmo of 2017 in so many ways represents. Scarlet's offices host many conversations like the one Kat had with Adena—about double standards, about sexism, about feminism. The publishing company that owns Scarlet is named not Hearst, but rather, yep, Steinem. And in one episode, Jane Sloan, an up-and-coming writer at Scarlet, reveals to Jacqueline that, though she grew up with Scarlet—though she regarded it almost like "an older sister"—she sometimes also felt shamed by the magazine, unable to live up to its lofty vision of effortless feminine perfection. Jacqueline nods. She's heard it before.
Jacqueline is a lightly fictionalized version of Joanna Coles, who was until 2016 the real-world editor of Cosmo and who currently serves as The Bold Type's executive producer. The show's writers and producers apparently spent time, during the creation process, at the actual Cosmo offices in Manhattan, getting a feel for the place and its people and its rhythms. Perhaps as a result of all that, fact and fiction tangled up in the glamour of Cosmo as a brand, the simulacrum presented on Freeform can sometimes scan, as The Ringer's Alison Herman wrote, as beautifully produced propaganda for the original. (We're still relevant! the magazine, via the TV show, insists. Stealth feminism, right, ladies?)
But the truest reflection of Cosmo—its past, and its present—might be the show's soap-operatic nods to go-girl feminism, and its attendant and self-congratulatory references to career ambition, patriarchy-smashing, and, via a meeting in which editors and sales executives discuss an upcoming issue of Scarlet, "vajayjays." (As a marketing poster for the show puts it, "I'M NOT A BOSS BITCH. I'M A BOSS, BITCH.")
None of this is subtle. It is the televisual equivalent of a Cosmo cover: bold of color, busy of text, knowing of smize. But it is also, however, a marked transformation from the stereotypical treatment of women's magazines in pop culture—treatments, usually, that view such magazines not as philosophies to be embraced, but rather as problems to be solved.
There have been on the one hand the visions of Vogue that have come in The Devil Wears Prada (via the fictional Runway), and in Ugly Betty (Mode), and in Confessions of a Shopaholic (Alette)—each one, in its way, gently satirizing the ur-fashion magazine's apex-predator status atop the sartorial food chain. (Cerulean!) But the most savage satire has been saved for Cosmo and its counterparts. In How to Lose a Guy in 10 Days, Composure magazine is flighty and superficial and self-absorbed. ("I haven't eaten since the split," Michelle, a staffer, admits of her breakup. "Good for you," Lana, Composure's editor, replies. "Write about it.") Poise, in 13 Going on 30, gets a similar treatment. So does Blush in Just Shoot Me!. The fictional magazines, according to the shows that have created them, are embodiments of regressive ideals of feminine achievement. They are mockable precisely because they are, as Adena assumes of Scarlet, "about clothes and makeup and how to get boys."
But Scarlet, as Kat insists, is only partly about that. And the point is that, as a publication and an institution, it wants to be about so much more. (Sample Scarlet cover lines in a mock-up displayed in The Bold Type's premiere episode: "Do What You Love, Score a Fat Paycheck #jobgoals," "Sweat away stress: Get happy and healthy," "KICK MORE ASS! At work, at the gym, in bed.") Here is the women's magazine, trying to keep up. Here is Cosmo, by way of its fictional analog, serving as a proxy for women's progress. Beauty, community, activism, values, #jobgoals—each issue of the magazine, each tweet and snap and newly refreshed homepage, takes the measure of things. Each offers a glimpse of how far American women have come—and, indeed, how far they have yet to go.
***
The Bold Type is extremely (and sometimes over-acutely) aware of Cosmo's role as a kind of cultural status update. Jacqueline, in particular, Scarlet's powerful editor-in-chief, embraces the Joanna Colesian model: She cares not just about women as aesthetic objects, but about women as complicated and multitude-containing people. (And also: consumers.) As a result, while the editor of Scarlet may be as powerful as Miranda Priestly and as stylish as Lana Jong, she is also a caring mentor to the staffers in her orbit. Jacqueline will challenge her underlings, not out of cruelty but out of concern for their careers. She will nurture them. She will assure them that all of it—the stilettos, the new sex positions, the liquid eyeliner that creates the perfect cat eye—is explored in her magazine not out of service to the male gaze, but out of service to feminism. Stealth feminism.
"For those of you who say we are just a ... magazine," Jacqueline tells her staff, during the Scarlet gala that serves as the dramatic culmination of The Bold Type's premiere, "I say: Here's some great mascara." She pauses, dramatically. "It'll open your eyes so you can see the world."
It's a far cry from Lana, in How to Lose a Guy in 10 Days, who values the eye-opening effects of mascara in a much more literal way. Here's how Lana mentors Andie, the graduate of the Columbia University Graduate School of Journalism whose ambition renders her, the movie goes out of its way to insist, so much better than Composure magazine deserves:
Lana: Congratulations. This shows me you're ready to be unleashed. From now on, feel free to write about anything.

Andie: Anything?

Lana: Wherever the wind blows you.

Andie: Even politics?

Lana: Well, the wind's not going to blow you there.

Andie: What about religion, poverty, economics?

Lana: This wind is really more of a light breeze.
Jacqueline is not Lana. She cares about more than clothes, about more than makeup, about more than sex. She cares about politics. She cares about empowerment. She cares about feminism. She is the editor of Scarlet in the age of Teen Vogue. And she revels in the tension that inevitably results from that juxtaposition: between fashion as superficiality and fashion as self expression, between sex for pleasure and sex for pleasing, between feminism that is full-throated and feminism that is stealthy. The Bold Type—its title is as aspirational as it is descriptive—wants, deeply, to value fearlessness. And so does the magazine that is its setting and its inspiration. As Jacqueline puts it at Scarlet's gala, to a room of (mostly) young women who are so, so ready to be empowered: "I expect you to unleash holy hell on anyone who would hold you back."
---
Related Video