Stephen Florida Reveals the Dark Toll of Athletic Greatness
Gabe Habash's impressive debut novel delves into the mind of a college wrestler determined to win a championship no matter the cost.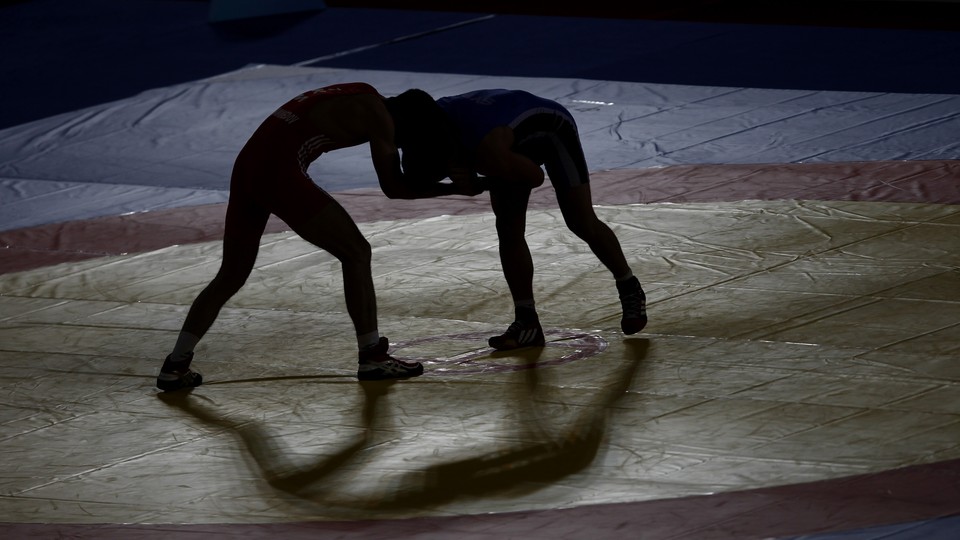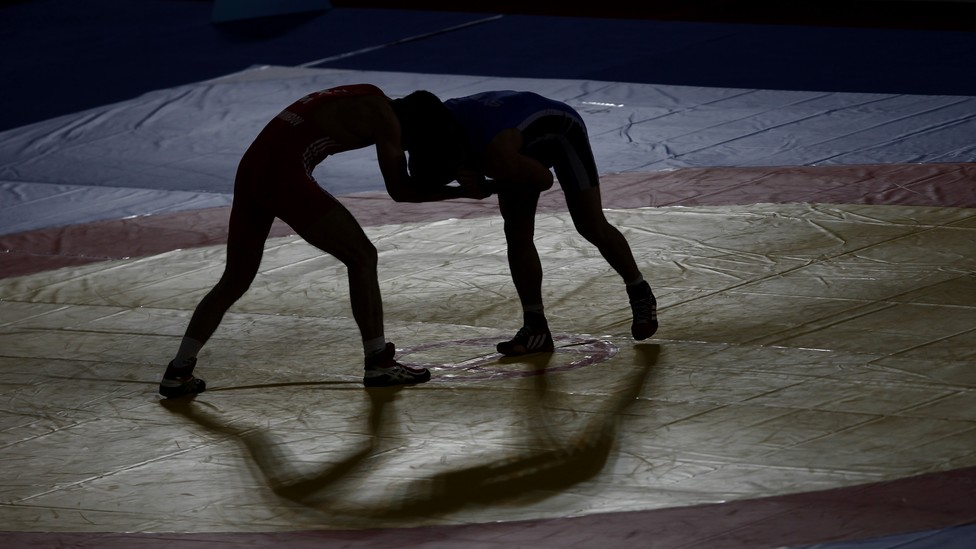 In 2012, the NFL linebacker Jovan Belcher took his life in front of his teammates after fatally shooting his girlfriend. Months earlier, the Hall-of-Famer Junior Seau killed himself three years after retirement. They, like many other football players, showed symptoms of Chronic Traumatic Encephalopathy, a degenerative brain disease caused by repeated blows to the head. Signs of the disease are not exclusive to the sport (or to athletes). Last year, 12 former wrestlers filed a class-action suit against the WWE over the "long-term neurological injuries" they sustained as employees.
Such developments may dim, or at least complicate, the glow of triumph often promised to players in exchange for their bodily sacrifice. In his debut novel, Stephen Florida, Gabe Habash examines the dark side of this transaction through his eponymous character, an intensely competitive young wrestler at a college in North Dakota. Following Stephen through his last year in school, Habash questions not only the true cost of achieving athletic greatness, but also how masculinity—defined in part by vengefulness, violence, and stoicism—can drive men to behave in self-glorifying and self-defeating ways.
Stephen Florida begins in the aftermath of a struggle. "My mother had two placentas and I was living off both of them," the narrator says, setting the stage for a story centered on competition and the toll of a fight for survival. Though its primary subject is wrestling, the book is more a study of the manifold ways men relate to each other. It reads a bit like Chad Harbach's coming-of-age story The Art of Fielding invaded by the characters from Roberto Bolaño's The Savage Detectives, a novel obsessed with the absurd nature of manhood. But unlike Bolaño's novel, Stephen Florida refuses to romanticize its male characters and their exploits, instead exposing the emptiness of their hunger for recognition. Where Harbach champions the camaraderie of a college-baseball team, Habash focuses on the individuality and isolation of a single wrestler.
Stephen Florida bluntly recognizes that its narrator's relentless commitment to winning could lead to his death. Though talented, Stephen has never won a national championship and thinks about the title "every day, every hour, at least 20 times an hour." This obsession shapes Stephen's voice. He speaks with clipped intensity, his voice a deranged mix of puerile humor, bodily fixation, and the sort of phrases you might find pinned over locker-room doors: "Wrestling is, at its core, one passion set against another passion for the purpose of determining which is stronger." Habash nicely captures the messiness of athlete slang—idiosyncratic and clichéd, philosophically blunt, and, despite its flights into sexism and homophobia, a language lunging toward tenderness. "Let's go, sweet child. I'll tuck you in," Stephen tells a teammate before bed.
Intimacy and violence intersect throughout the novel. Sparring with a teammate, Stephen describes the "outgrown nubby flaps of skin all down his [teammate's] spine," a condition that disgusts opponents but attracts women in the library. The wrestlers are deeply familiar with each other's bodies, yet reject the implications of getting so close. This is especially true for Stephen and his only friend on the team, a freshman named Linus. Their teammates make homophobic jokes at their expense because, in Stephen's mind, they're "the best two wrestlers on the team." In the minds of the wrestlers, men can only relate as opponents or lovers, in approved or shameful terms.
The intimate friendship shared by Linus and Stephen does not fit within this simple binary. Though they are as close as lovers—and thus assumed to be gay—their connection is not erotic. Linus's naivety, humility, and superior skills offset Stephen's megalomania and ambition: "I am more enthusiasm than talent, so what happens if my enthusiasm is taken away?" Stephen wonders, in a rare moment of vulnerability. Though Stephen tries to assume a paternal role, Linus does the caretaking, buying Stephen sandwiches when he's hurt and gifting him sticks of deodorant.
Romantically, Stephen proves rather inept, subverting the image of the athlete who attracts women easily. He briefly dates Mary Beth, a funny, intelligent artist who overlooks his asceticism and social incompetence. His affection for her is intense, awkward—not surprising for a college courtship—and his feelings, though genuine, seem compromised by the hypercompetitive logic of wrestling: "There have been ten billion women in the world, stretching, speaking, itching, laughing, eating, burping, and none of them have made the impression Mary Beth has made." To Stephen, there is no better compliment than to be ranked number one.
A marked shift in the novel's content and form comes when a midseason knee injury derails Stephen's training, and he chooses a quick fix over a more thorough repair. The straightforward shape of the story's first section crumbles in its second, becoming a fragmented collage of delusions and dreams. Here, Stephen goes from being lovably ambitious to dangerously narcissistic: He sabotages Linus, stands up Mary Beth, steals a truck, spies on a professor he thinks is a murderer, and trespasses at the home of the wrestler who injured his knee.
Stephen isn't the only character in the novel struggling with destructive impulses. One player fluctuates between losing and gaining 40 pounds at the behest of the coach. An assistant coach sexually assaults a player. Stephen shadows an oil-field worker who spends his nights alone reading violent erotica. At the oil fields where he works for a day, Stephen gets reduced to a body: either a laborer or a lover to the man a career counselor has tasked him with observing. Stephen fills a similar role for a male professor who seeks to seduce him despite his objections. These men all share an inescapable loneliness intensified by a desire to possess what they want—in Stephen's case, a championship—that on a larger scale hardly seems worth it.
The energy Stephen puts into wrestling chips away at his mental health, and following his injury, full scenes regularly give way to decontextualized thoughts. Stephen might watch a sparrow hop around in a parking lot, for instance, then say, for no apparent reason, "I smear myself all over the inside of my room." His breakdown feels like the only appropriate outcome for a person stripped of his one defining quality. Wrestling, quite literally, gives Stephen his identity. His real name is Steven Forster, but his wrestling-scholarship letter was mistakenly addressed to Stephen Florida, so he took on the name. For Stephen, nothing matters outside of the sport: "I would trade my family and Linus and Mary Beth and all the kid friends I had growing up that I can't remember anymore for a championship in Kenosha."
Stephen's mindset has its roots in the myth of the self-made man, in a culture that often excuses cruelty toward others as a necessary component of male genius. This sort of selfishness might drive one toward what are historically considered masculine aims, like honor or power. However, in the figure of Stephen, whose wrestling career is destined to be forgotten, Habash reveals the futility of athletic greatness, a goal that all but requires desensitization. "If you just buy into the craziness, you're a lot better off," Stephen says early in the book, speaking to wrestling, but also to the unobtainable ideals of manliness that help push him beyond his limits.
Stephen's most prominent act of "buying in" is his decision to ignore how wrestling has destroyed his body. The novel rarely dwells on the potential consequences of wrestling through injury; rather, Habash glorifies certain aspects of Stephen's sacrifice. This is not a shortcoming of the book, but an unfortunate byproduct of writing about athletes, who, throughout their careers, are often confronted with the kind of choice Achilles faced: self-annihilating glory or longevity? Even knowing what Stephen has endured, it's easy for readers to root for his return to the mat—who would ever cheer for Achilles to choose a long, happy life? Stephen's comeback cleverly forces readers to question their complicity as sports fans. Even readers keenly aware of how dangerous Stephen's pursuit of the championship is might want him to press on, if only so that his suffering is "worth it" in the end.
Impressively, Habash traces Stephen's increasing derangement without resorting to clichés. The novel is both funny and authentically creepy, and even as his mental health and relationships deteriorate, Stephen remains consistently surprising, accessible, and engaging. Stephen Florida's grim portrait of ambition led astray captures how competitiveness and masculinity can unravel those who blindly follow its codes. In Habash's world, to man up is to break down. The growing number of stories about real-life athletes suffering similar crises has made that idea especially—and regrettably—timely.