Remembering Sam Shepard
The legendary American playwright, novelist, screenwriter, and actor died at the age of 73.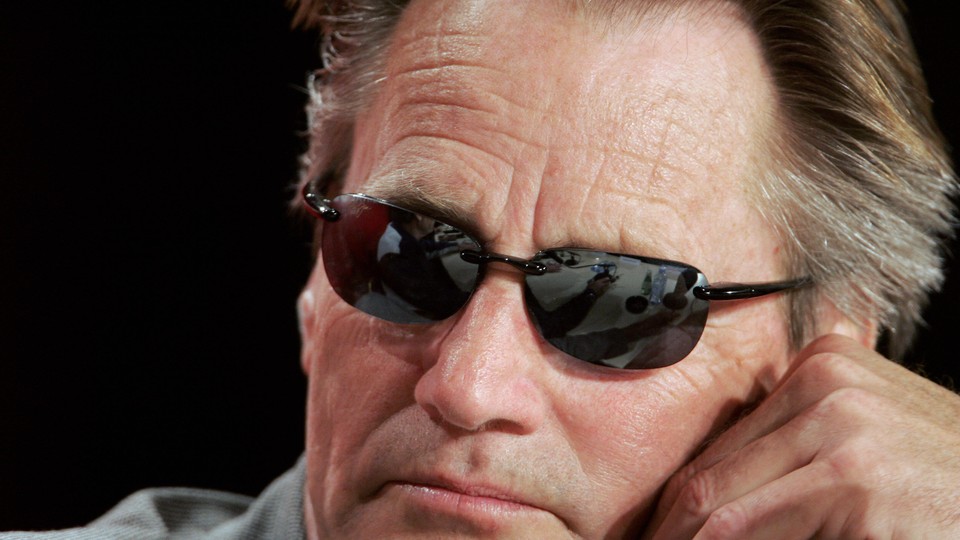 Sam Shepard was a titan of American theater whose darkly funny, sometimes surreal, and often frightening evocations of the fringes of American life formed the backbone of a storied career as a writer and actor. He died last Thursday at his home in Kentucky at the age of 73 of complications from amyotrophic lateral sclerosis, according to a spokesman for the family. Shepard is best remembered for writing plays like the Pulitzer Prize-winning Buried Child, True West, and Fool for Love, as well as a film career that included acclaimed performances in The Right Stuff, Days of Heaven, Black Hawk Down, and dozens more.
Born in Fort Sheridan, Illinois, in 1943, Shepard worked on a ranch in his teenage years and attended high school in California, later dropping out of college to join a touring group called The Bishop's Company Repertory Players. He quickly found himself in New York's thriving Off-Off-Broadway scene in the early '60s, when it was a hive of experimentation, psychedelia, and exciting young talent. He won several Obie Awards (given to non-Broadway theater in New York) and quickly distinguished himself as a major voice, writing screenplays for art films like Michelangelo Antonioni's Zabriskie Point and collaborating with artists like Bob Dylan and Patti Smith (with whom he was romantically involved, a relationship he fictionalized in the play Cowboy Mouth).
In the '70s, he created some of his best-remembered theatrical works, including the "Family Trilogy"—composed of Curse of the Starving Class (1977), Buried Child (1978), and True West (1980)—which is considered by many critics to be his greatest achievement. Curse followed the run-down Tate family, reckoning with alcoholism and the dilapidation of their farm. Buried Child was also set on a ruined farm, following a broken family confronting a dark incident in their past, while True West centered on rival siblings trying to write a screenplay together, reckoning with the authenticity of America's past versus the Hollywood versions of it.
Buried Child, which won the Pulitzer, transformed Shepard's career—he went from being an Off-Broadway favorite to a legend of American playwriting, one whose works are still revived in theaters around the world. His theatrical output remained prolific after the '70s; in all, he wrote 44 plays, with some of his best-known later works including Fool For Love (1983), A Lie of the Mind (1985), Simpatico (1994), The God of Hell (2004), and Kicking a Dead Horse (2007). Shepard's plays were often marked by small casts, an emphasis on unflinching dialogue, and a slightly absurd bent, with some element of unreality invading the otherwise grim decay of the post-industrial American West.
In 1978, Shepard was also cast in his first major film role, playing The Farmer in Terrence Malick's elegiac Days of Heaven, another portrait of American pioneer culture (this one set in 1916). Malick leveraged Shepard's movie-star looks to create a threatening, imposing vision of America's future land barons, the actual villains—and gods—of the developing west. Shepard's best-known film performance came a few years later in Philip Kaufman's The Right Stuff, where he played the real-life test pilot Chuck Yeager and was nominated for his only Academy Award for Best Supporting Actor.
But Shepard was a consistent presence in Hollywood, lending gravitas, his rugged looks, and a wonderful, gravelly voice to countless roles, some of them perfunctory (he played a lot of military men) and others delightfully unconventional. In another era, he might have been Gary Cooper reincarnated, a steely symbol of American grit, but Shepard could never resist the darker sides of those myths, fleshing them out in the many plays, films, and novels he wrote over the years.
Shepard's best film script was Paris, Texas (1984), a loose adaptation of his book Motel Chronicles that he developed with the director Wim Wenders and co-wrote with L. M. Kit Carson. That was the movie that came closest to evoking the wild spirit of Shepard's playwriting, following a mute amnesiac (Harry Dean Stanton) who wanders the South Texas desert and eventually reconnects with his estranged brother (Dean Stockwell), young son, and mysterious former love (Nastassja Kinski). It won the Palme D'Or at the 1984 Cannes Film Festival; Shepard and Wenders would reunite in 2005 for another, less-acclaimed film project, Don't Come Knocking, this time starring Shepard.
In his later years, Shepard mostly contributed supporting performances on-screen; his last major work was in the Netflix TV show Bloodline, where he played the patriarch of a rich Florida family that descends into recrimination and murder. He married the actress O-Lan Jones (with whom he had a son, Jesse) in 1969 and they divorced in 1984; he also had a long relationship with the actress Jessica Lange, who he met on the set of the film Frances in 1982. They never married, but had two children (Hannah and Samuel), and eventually separated in 2009. He is also survived by his sisters Sandy and Roxanne Rogers.