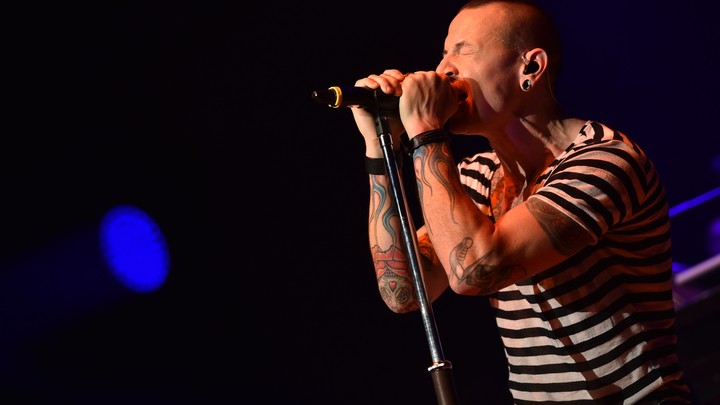 Chester Bennington started as a rock star by saying that he was finished. "I cannot take this anymore / saying everything I've said before" went the opening lines to Linkin Park's first smash, "One Step Closer," which is among the many, many songs that take on an awful resonance after the news that Bennington has died, in what's being investigated as suicide, at age 41.
Linkin Park became one of the most popular and most divisive bands of the new millennium because of their genre blending and pop polish, but to listen to that debut single is to remember that they were also differentiated by a core of raw, convincing pain. It almost entirely came from Bennington. He was arguably the purest font of angst—and inarguably one of the most powerful male voices—in mainstream music since 2000.
"He sang like a fucking beast, the same way he sings now," Linkin Park rapper Mike Shinoda recalled to Kerrang in 2008, describing Bennington's 1999 audition for Shinoda's new group that was looking to blend hip-hop and metal. Whether in Linkin Park or earlier bands like Grey Daze, Bennington could scream—really scream, in the way that vicariously makes the listener's vocal cords hurt. But he also had a balladeer's smoothness and sense of melody that showed his tastes as a listener. In 2014, he listed his influences on Twitter: "Depeche Mode, The Cure, The Misfits, Fugazi, Minor Threat, The Smiths, Skinny Puppy, Nitzer Ebb, Ministry, x."
He also listened to a lot of grunge, and Bennington's death inevitably and unfortunately shall now be linked to those of singers from that movement. Foremost among them is Chris Cornell, the Soundgarden singer who killed himself in May and whose birthday would have been Thursday, the day Bennington's body was found. Bennington, married and the father of six, released a moving note following Cornell's death that read in part, "your voice was joy and pain, anger and forgiveness, love and heartache all wrapped up into one. I suppose that's what we all are. You helped me understand that." Bennington also performed a stint from 2013 to 2015 as vocalist for Stone Temple Pilots, another '90s rock influence of his whose original singer, Scott Weiland, died in December 2015.
Grunge's disaffection, though, was more self-indicting than the anguish Bennington aired. His sorrows were those not of the nihilist but of the aggrieved, someone deeply betrayed by an ever-present "you." Bennington talked openly over the years about being sexually abused by an older male figure during childhood, and he said both his songwriting and his persistent struggles with drugs and alcohol were partly reactions to that trauma. In "One Step Closer," he cooed and gasped about getting ever-closer to "the edge" because of "everything you say to me." The true thrill of the song came when his seething finally gave way to him wailing, over and over again, "Shut up when I'm talking to you!"
Linkin Park's sound has always been omnivorous, and the band deserves more credit than it gets for the way it prophesied the current moment in which rock's drama and pop sweetness and rap's swagger seem to combine on more Hot 100 hits than not. While Shinoda and his bandmates worked on projecting attitude and geeky cool, Bennington contributed a lot of said sweetness and even more of said drama. Song after song he seemed to revisit the same wounds, and the impression almost always was of the scrawny sensitive soul finally pushing back after a lifetime of abuse. He was unapologetically a victim—the solace Linkin Park provided, with its techno-futuristic beats and energizing power chords and Shinoda's stern boasts, was in turning victim into righteous superhero.
The band, experimental from the start, has pushed its sound a few different directions over the years—proggy and aggro on 2014's The Hunting Party, EDM-adjacent prettiness for this year's One More Light—and Bennington adapted to all of it. But his point of view didn't waver much. In 2000, he vented about tormenters making him consider "the edge" and "the end"; in one particularly plaintive 2014 cut, he was, again, contemplating bitter endings with the title "Final Masquerade." There were hopeful exceptions, though. On 2003's "Breaking the Habit," a twitchy and defiantly un-heavy career highlight, he sang of trying to will away self-destruction. And Linkin Park's most recent album's title track will be playing a lot in the coming days, no doubt. "Who cares if one more light goes out," Bennington sang. "Well, I do."
We want to hear what you think about this article. Submit a letter to the editor or write to letters@theatlantic.com.
Spencer Kornhaber
is a staff writer at
The Atlantic,
where he covers pop culture and music.