R. Kelly's Alleged Sex 'Cult' and the Shield of Fame
A chilling BuzzFeed report says the R&B star has at least six women living under his near-total control.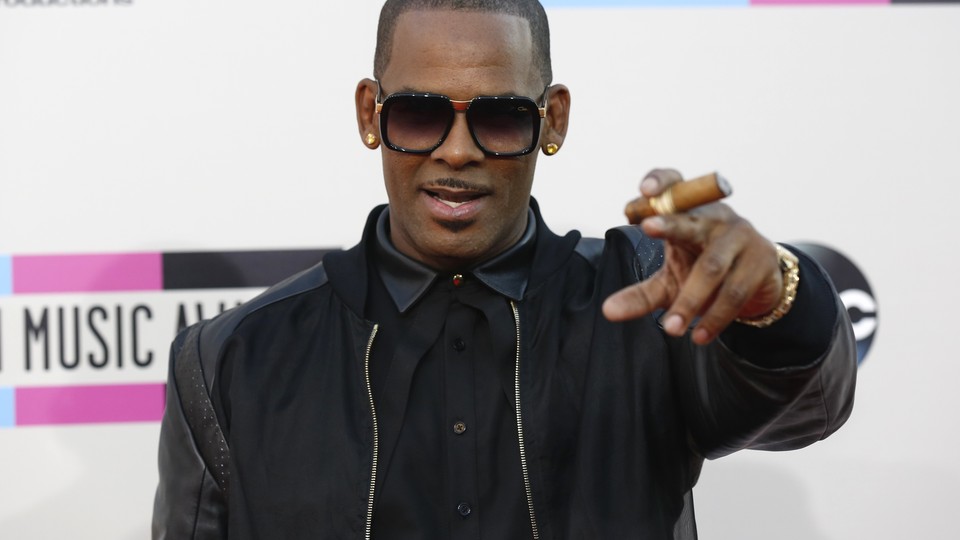 R. Kelly holds a "cult"-like grip on at least six women living in his homes in Chicago and the Atlanta suburbs, fitting with a long-alleged pattern of sexual predation, according to a report at BuzzFeed. The journalist Jim DeRogatis quotes three former members of the R&B singer's inner circle as well as the parents of two women currently said to be under his sway. On and off the record, they told him that Kelly "controls every aspect of [the women's] lives: dictating what they eat, how they dress, when they bathe, when they sleep, and how they engage in sexual encounters that he records." These sources describe instances of physical violence and other punishments toward the women for interacting with men, making unapproved contact with their families, or otherwise breaking one of Kelly's "rules." It is a harrowing and infuriating story, worth reading in full.
The pattern that emerges from DeRogatis's reporting is one of teenage girls meeting Kelly at his concerts under parental supervision with the belief that he wanted to help with their nascent music careers. He then, allegedly, kept in touch through means that circumvented the mothers and fathers: secret phone calls and rendezvous plans. After reaching the age of consent, according to the BuzzFeed report, the women move into his homes, where they begin to lose contact with the outside world; because they are consenting adults, little legal action can be taken (though Kelly has settled out of court a number of times when accused of misconduct). Kelly's lawyer says that DeRogatis's sources are simply "defaming a great artist."
Kelly already has infamous associations with unethical sexual practices. He was acquitted in 2008 after a protracted criminal case in which he was accused of urinating on a 13-year-old girl in a video tape, and his illegal 1994 marriage to the then-15-year-old singer Aaliyah is well known. Journalists, primary among them DeRogatis, have reported on other allegations against him over the years.
Why, then, would any parent let their daughter near him? The answer presented in DeRogatis's piece offers a chilling look at the way that fame and the legal system can create a cloak of impunity for men who use their influence to untoward personal ends. A parent might not let their daughter near the guy down the street who'd been repeatedly accused—even if not convicted—of sex crimes. But ongoing superstar status, seemingly, acts as its own kind of character witness.
It was "supposed to be a music relationship," Theresa, the mother of a Florida singer who was 17 years old when she first met Kelly, told DeRogatis. "My thing was I trusted. I have never been in the music industry before, ever," she said. "He is a lyrical genius—he is R. Kelly! And the fact is he went to court, he was never found guilty—he was acquitted—and we were led to believe there was no truth in it."
One day, DeRogatis reports, Theresa's daughter went to meet Kelly at his hotel instead of coming home from school. After that incident, the girl was told she could only see Kelly with her parents around. "We needed to make sure it was about music, because he was going to mentor her," Theresa said. "And then from there he wanted her to travel with him so she could see how the music game really was. ... We thought it could be an opportunity, and that she was going to be with a guardian—a female guardian that would keep an eye on her."
Yet according to the report, the relationship became sexual, and the Florida singer moved in with Kelly. She has mostly ceased contact with her family.
Another mother, identified as J., tells a similar story about her and her then-19-year-old daughter meeting Kelly backstage in 2015. "We went back to talk about the music," she said. "He listened to her CD. He was going to help her with her CD, and I was really impressed with him at first, because I have always been an R. Kelly fan." DeRogatis writes:
J. said she'd heard about past sexual misconduct accusations against Kelly, but wasn't overly worried. She is a fiercely devoted stage mom—she and her husband of 22 years, Tim, a car dealer, had moved from Memphis to Atlanta to help their eldest child's career—and was confident she could protect her daughter.
It didn't turn out that way. Phone recordings given to DeRogatis reveal the young singer trying to steer Kelly into conversations about creating music and Kelly responding by saying "I'm more interested in developing you. Songs are not an issue. We can always do a hit song." He also repeatedly asked her "to get in the habit of telling me what color panties you got on every day." The relationship escalated in that manner. DeRogatis reports that J. last saw her daughter on December 1, 2016.
Some contours of this saga are familiar in the world of celebrity. Bill Cosby's recent courtroom saga—ending in mistrial—resurfaced a pattern in which the comedian was alleged to have offered career mentorship to women only to take advantage of them sexually. One woman, Heidi Thomas, told New York Magazine that Cosby drugged her when they were reading lines for a scene in which she played a character drinking a glass of wine. And as with Kelly, Cosby long maintained his reputation despite allegations of impropriety and sexual assault thanks to fame itself. Said accuser Barbara Bowman, "I could have walked down any street of Manhattan at any time and said, 'I'm being raped and drugged by Bill Cosby,' but who the hell would have believed me? Nobody, nobody." Additionally, as with Kelly, after numerous secret settlements and explosive journalistic reports, Cosby remains innocent in the eyes of the law.
As DeRogatis notes, though, the Kelly situation is remarkable in its own right. Though abusive mentorship relationships are infamously common in the music world, Kelly's treatment of these women is alleged to be "far beyond that of the groupie culture." The twist of these accusations is in the immunity that accompanies fame apparently being used to create a master/thrall dynamic more reminiscent of sexual servitude or cults. "It was as if she was brainwashed. [She] looked like a prisoner—it was horrible," J. said of the last time she saw her daughter. "I hugged her and hugged her. But she just kept saying she's in love and [Kelly] is the one who cares for her. I don't know what to do. I hope that if I get her back, I can get her treatment for victims of cults. They can reprogram her. But I wish I could have stopped it from happening."