Queering the Work of Jane Austen Is Nothing New
Starting in the Victorian era, stage performers and writers have been subverting the novelist's reputation as the go-to author for conventional, heterosexual love.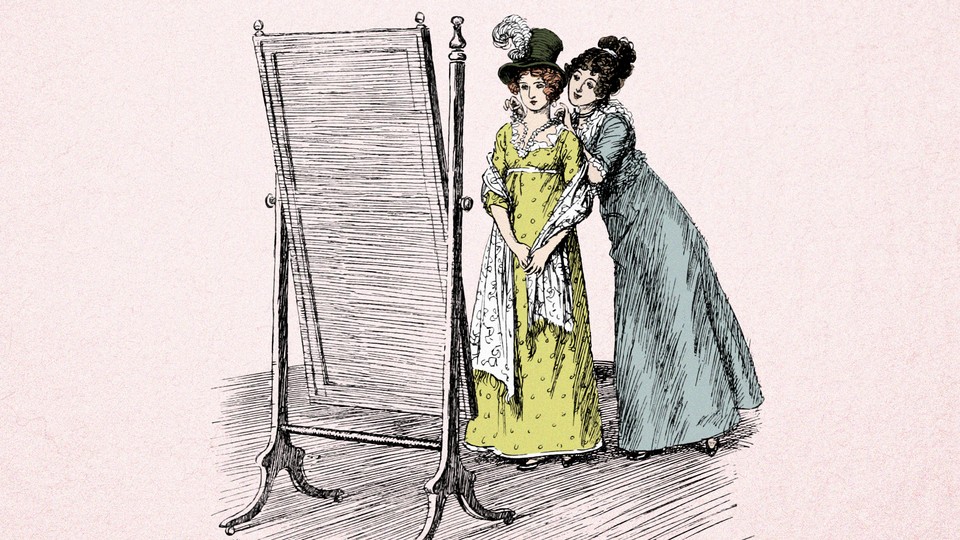 Updated at 12:55 p.m. ET on May 17, 2021.
It's an old Jane Austen conundrum: The author never married, but her fiction suggests she was expert in the ways of desire and love. How can that be? What were her desires, and did she act on them? Questions about Austen's sexuality recently resurfaced in warring headlines, with the BBC TV historian Lucy Worsley suggesting that Austen "almost certainly never had sex with a man and may have instead engaged in 'lesbian sex.'" Worsley's conjecture provoked predictable reposts and ripostes. Speculations about Austen's romantic life have proven reliable fodder for sensational headlines, so it's unsurprising that they'd resurface this year, with celebrations of the bicentenary of the author's death at a fever pitch.
Scholars are no closer to pinning down the truth about Austen's amorous longings and intimate experiences. Yet there's at least one part of Austen's legacy that may be described as queer, in the most expansive sense of that word: her posthumous performance history. Starting in the Victorian era, actors and playwrights shifted Austen's characters away from traditional gender roles and heterosexuality, in works of entertainment that ranged from mildly gender-fluid to perfectly queer. In front of live audiences, Miss Bates was often a man, there were female Darcys aplenty, and the first professional actors playing Jane and Cassandra were real-life lovers.
Austen's novels themselves offer hints of the unorthodox trends in her afterlife. While her fictional stock-in-trade is courtship between men and women with culminating nuptials, Austen's characters are not always easily slotted into heteronormative boxes. Critics since the 1950s have been arguing over the extent to which Emma's heroine, Emma Woodhouse, skews more masculine than feminine. They've debated whether she has a crush (or more) on her protégée Harriet Smith, as the Austen scholar Claudia L. Johnson has explored. The critic D.A. Miller has taken up the question of whether Sense and Sensibility's Robert Ferrars's sexuality ought to be called into question because of his fussing over the purchase of a toothpick case.
Both characters end up in traditional marriages, despite Austen describing them in ways that challenge presumptions about their heterosexuality and acceptance of gender norms. What has gone previously unrecognized is just how often early performers and writers engaged in similar subversion and played with Austen's characters on stage. One of the earliest ways the author's posthumous fame was extended to mass audiences was in read-aloud performance, with male elocutionists giving voice to Austen's most famous spinster, the profoundly irritating Miss Bates from Emma (1815), in a popular set piece titled "The Voluble Lady."
Austen, of course, never wrote anything called "The Voluble Lady." The work is an excerpt of Emma culled by the writer-publisher Charles Knight in his periodical-turned-book series, Half-Hours With the Best Authors, which was reprinted from the 1840s to the 1890s. "The Voluble Lady" (a title that Knight made up) features Miss Bates chattering about her niece Jane Fairfax's hair, friends, dances, and food in her breathlessly non-stop way. Taken from the confines of private reading, Miss Bates's dialogue began to appear in comic routines. As I uncovered in my original research, English newspapers reported it being acted out by men: In 1861, a performance by a Mr. H. Joyner prompted an "echo of laughter" and "rapturous applause." The Rev. H. Ray Hill played the "fidgetty old lady" to "roars of laughter" in 1865. The noted actor Henry Forrester used "The Voluble Lady" as his climactic bit in 1870.
These routines from Emma weren't designed as gender-progressive acts. Victorian spinsters were widely considered "failed women," and "The Voluble Lady" exists along that sexist continuum. But having a male actor voice the middle-aged Miss Bates's mock-protest against taking the arm of the young, attractive Frank Churchill ("My dear sir, you are too obliging. Is there nobody you would not rather?—I am not helpless.") and speak her clear pleasure at being seated next to him at dinner ("Where I sit is of no consequence. Oh, do you recommend this side? ... just as you please.") emphasizes the flirtation beneath these lines. These speeches would have been played—as their title suggests—loudly, broadly: men mock-flirting with men.
A few decades after the vogue for male actors delivering coquettish lines to Frank Churchill, a spate of Austen-inspired female actors pretended to fall in love with other women on stage. In fact, as I discovered in research for my new book, The Making of Jane Austen, the first known Mr. Darcy to take the stage was a woman. An amateur performance of Pride and Prejudice, put on at Wellesley College in 1899, was mounted with an all-female cast. The script doesn't appear to have survived, but all seven of the play's male characters were performed by female students. If a surviving photo is an accurate indicator, each actor approached her romantic part with gusto, including hand holding, shoulder grazing, and neck gazing.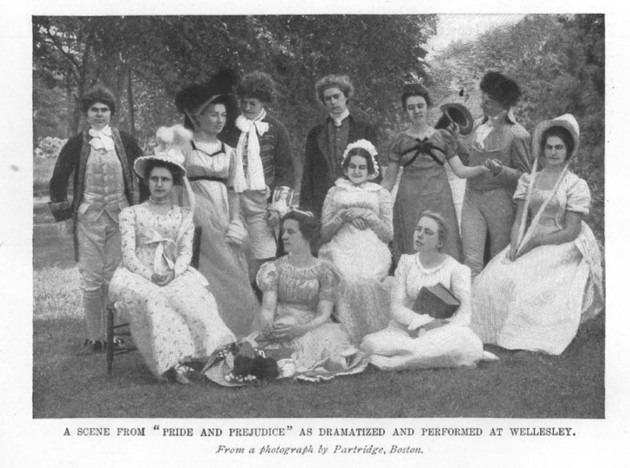 This all-female Pride and Prejudice wasn't an outlier. Amateur dramatizations of Austen first emerged and proliferated in the early 20th century, and Pride and Prejudice frequently featured women in every role. At the University of Michigan in 1907, the senior girls performed Pride and Prejudice: A Play Founded on Jane Austen's Novel (1906), by the playwright Mary Keith Medbery MacKaye. By 1910, MacKaye's play was touted as having been "acted at many universities." It features 10 men's and 10 women's parts, but surviving copies of the book have female actors' names penciled in the margins of the cast list. (One in my possession shows the male characters were performed by two Alices, a Margaret, and a Mabel.)
In some ways, women playing Austen's men in this era is predictable. Casting women in men's parts gained traction in the United States and Europe by the early 20th century; in a turnabout from Shakespeare's day, when men played women's parts, fin de siècle Hamlet was often a woman. In this period of fashionable male impersonation, then, an all-female Pride and Prejudice cast may have seemed par for the course. But a signal difference is that these other plays were not romantic comedies with repeated marriage proposals, showcasing both failed and successful love scenes. The unconventionally cast Austen adaptations were thematically suited to heightening queer readings of  the novelist's work.
MacKaye's Pride and Prejudice offers up a Darcy who is bombastically, stereotypically manly. He swears ("Damn!") and once cracks a whip in front of Elizabeth. He threatens the absent Lady Catherine with the line, "She shall be set right, I assure you!" It's an aggressive scene that must have played far differently with a female Darcy, whose violent behavior would have come across as mock-manly, and perhaps even playful, rather than as hyper-masculine intimidation. It seems ripe for reading as a comic subversion of male expectations of female obedience. (The forceful physicality of the scene is fascinating regardless.)
There were touching moments in MacKaye's Pride and Prejudice, too. In one scene, Elizabeth reaches for Darcy's hand and pleads, "Take me home, Mr. Darcy! Take me home!" The play ends with Darcy's rushing toward Elizabeth and folding her in his arms. Again, there's no saying what actually happened in performance. Even if stage directions were followed precisely, having a woman playing a man holding another woman's hand, or falling into an embrace, may have been less risqué for a female student actor than the opposite-sex alternative.
Still, many young women at this time would have memorized Austen-inspired lines of dialogue in order to deliver them looking deeply into the eyes of other women. The number of audience members who watched female actors locked in such gazes likely numbered in the thousands. Darcy, filtered as he's been through the rom-com-industrial-complex, may seem to readers today as an obvious sex object for straight women. But his being played in drag a century ago suggests the potential for other kinds of desire, on stage and in the audience.
Portrayals of Austen's female characters by men, and male characters by women, weren't exactly seeking to lock her stories down in the service of heterosexuality. But the queer potential of Austen on stage became unmistakable in 1932 with the New York debut of the first biographical play about the author, Dear Jane. The playwright Eleanor Holmes Hinkley—T. S. Eliot's first cousin—had written Dear Jane with a female-centric take on Austen's story. Hinkley's play imagines the path that led Austen to choose a writing life without marriage, turning down three successive, flawed male suitors who resemble Mr. Collins, Mr. Wickham, and Mr. Darcy. Jane rejects them because they don't support her writing career, though her sister Cassandra fills that void, in Hinkley's version.
Dear Jane resembles the contemporary biopics Becoming Jane (2007) and Miss Austen Regrets (2008) despite antedating them by almost a century. The major difference is that, at the end of Hinkley's play, a young Jane runs off into the darkness with Cassandra, in a quasi-elopement. When Dear Jane was first performed at New York's Civic Repertory Theatre, the parts of Cassandra and Jane were played, respectively, by the English-born theatrical whiz kid Eva Le Gallienne and her girlfriend, the recently divorced American starlet, Josephine Hutchinson. The two women had already been outed as a couple in the newspapers, and their off-stage relationship prompted snarky comments from Dear Jane's reviewers. One critic claimed he couldn't hear Hutchinson delivering the play's final lines, suggesting he thought she may have said "my queer own pen." (The line was "quill pen.")
Taken together, these lesser-known stories suggest that actors and playwrights had opportunities to explore Austen's work and life beyond the constraints of sexual and gendered conventions before critics thought to do so. But as scholars caught on in the mid-20th century, Austen-inspired pop culture evolved, too. Queering Austen on film was even more direct and active than on the stage. Amy Heckerling's cult classic Clueless (1995) replaces Emma's secondary romantic interest Frank Churchill with Christian, a gay Californian teen.* The new movie Before the Fall, described as a "modern gay take" with a "queer spin" on Austen, is set in present-day Virginia and was released on Amazon in June.
Perhaps the queering in Austen adaptations will strike contemporary readers as new because she's so often seen as the go-to novelist for celebrating marriage between a man and a woman. Although Austen's own sexuality may come under periodic scrutiny, her fiction has been consistently sold to readers as reinforcing a world where men are men, women are women, and everyone ought to play it straight. But on the page, and especially in performance, Austen's life, fiction, and legacy have challenged audiences to consider—and appreciate—a broader range of gender identities and relationships for a very long time.
---
* This article previously misstated that the character of Christian in Clueless is based on Mr. Elton in Emma. In fact, he is based on Frank Churchill.