On Teaching, but Not Loving, Jane Austen
I used to adore the Pride and Prejudice author. But over the years I've grown more ambivalent toward her and the fervor for her work.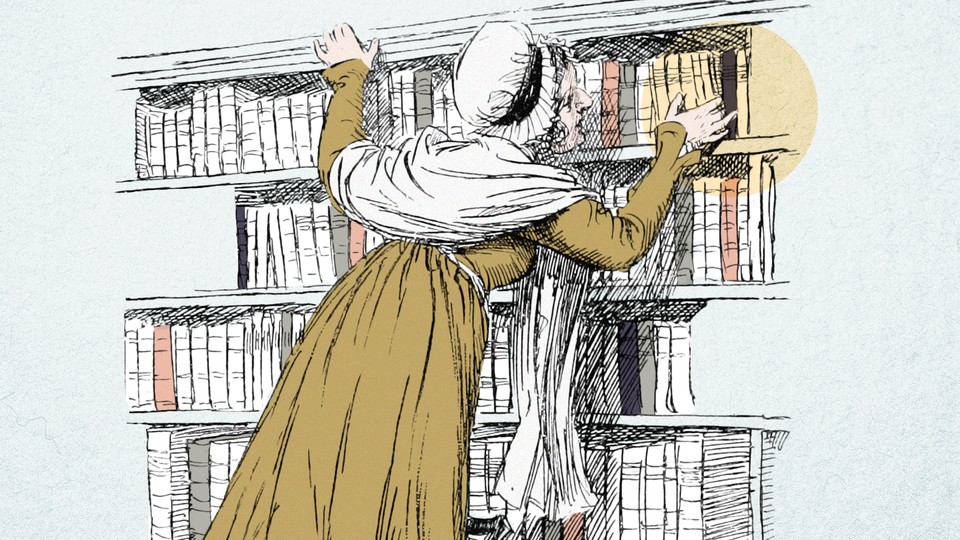 I once confessed to an audience gathered for a pre-show talk about Pride and Prejudice that I felt a bit salty to see so many of them in attendance. A few months earlier, I explained, I'd given an absolutely fascinating lecture on Mary Shelley to maybe five people, one of whom was my Aunt Carmen. The crowd for Jane Austen—and it was a crowd—laughed. A mix of students, folks from the surrounding towns, and my colleagues were there to see a stage adaptation of what is arguably the author's most popular novel. It was my job to introduce the performance, and I was terrified. It's no small thing to talk about Austen in public. There's always a cluster of people who have been reading her since before they could walk, and they not only have strong opinions but also know her and her writing like my mother knew the Bible.
Really the only reason I was giving that talk is because almost 15 years ago, when I was a new assistant professor of English, my students clamored for Austen and I was the one people thought should teach her. It wasn't an unreasonable expectation: I specialize in the history of the novel and am particularly focused on late 18th- and early 19th-century literature. I'd written about Austen in my dissertation. I was steeped in the critical conversations and interpretations her work has inspired over the centuries, from Walter Scott through the Victorians through waves of feminist literary criticism through Edward Said's reading of Mansfield Park. But the passion that people expect me to have about her and her novels isn't there. What's more, I've felt some perverse need to perform my ambivalence over the years.
It hasn't always gone well. Once, in a guest lecture in a colleague's class, I announced with a smirk and a dramatic eye roll that I don't actually like Austen. Afterward, a stricken-looking student came up to me to ask if it was true. "But I love your Austen class!" she told me. I was so shocked by her distress that I said I hadn't really meant it. Another time, I said that it wasn't Austen who bothered me so much as her fans, kind of like how I'm terribly fond of the Lord but don't enjoy His more dogmatic and judgmental followers. I don't know that either of these statements I made to distance myself from Austen were entirely sincere; much like the author herself, I'm full of contradictions.
The truth is, I've always loved Austen's prose and went through a phase in college where I read Pride and Prejudice every Christmas. But my feelings toward her evolved over the years, starting in grad school, when a combination of literary theory and learning that Mary Shelley had written these rather spectacular other novels convinced me that I was wasting my time with Jane. Austen was for girls, and I was a woman. I had my Butler (Judith not Marilyn), my Donna Haraway and her "Cyborg Manifesto," and my Foucault (is the ballroom a panopticon?) to read, thank you very much. Shelley led me to Aristotle's Nicomachean Ethics and Descartes, and to a novel set in 14th-century Italy with a character who believes her mother was God's sister. Nothing in Austen could compete with that.
That's the case I'd tried to make as a doctoral candidate when I told my dissertation committee that I was over Austen and wouldn't be writing about her. They insisted there was simply no way to write a dissertation on the novel without talking about Jane so I gave in. Only I didn't discuss Pride and Prejudice or Mansfield Park or Emma, but Sense and Sensibility—and I mostly ignored the women. By then, I had come to resent the expectation of excitement over the minutiae of Austen's life, as well as the sentimentalized version of 19th-century England that people tend to see in her.
I've long been skeptical about the politics that shape which texts are deemed canonical—works like Emma—and which are pushed to the margins. I remember in college reading the critic F.R Leavis's announcement in The Great Tradition that "the great English novelists are Jane Austen, George Eliot, Henry James, and Joseph Conrad" and wanting to know what, exactly, made them so great. Even back then, when I had more youthful angst than critical acumen, my gut told me the 19th-century authors that scholars canonize are those like Austen, whose fiction played with, but ultimately conformed to, the social conventions of their time.
Still I was surprised by what I found, what I continue to find, in literature from that period, particularly when it comes to the inclusion of people of color. I was late in my doctoral studies before I even stumbled upon my first black character in 19th-century British literature. And lest anyone think I'm casting 21st-century concerns back onto Jane and her peers, consider reading the anonymously written novel The Woman of Colour: A Tale, published in 1808. Unlike Austen, many of her contemporaries wrote stories about interracial marriage and biracial women (that were not tucked away in Charlotte Brontë's attic). They also used their fiction and poems to contribute to the debates about abolition, in concert with women who circulated petitions, raised funds for the cause, and boycotted sugar from the West Indies.
As my research interests have changed, and as I've realized the scope of 19th-century texts that took up the question of transatlantic slavery and the movements to abolish it, I haven't read Austen the same way. I can appreciate her skill but feel an urgent need to teach and write about these other stories. With Austen as, often, the primary literary lens into her time period, it can be all too easy to forget how deeply invested English culture was not only in curtailing women's choices, but also in enslaving millions of people. No matter how sparkling the wit of Austen and her characters, no matter the pleasure of the familiar texts, I want to spend my time and energy elsewhere, in another historical Britain, with authors like Maria Edgeworth, Hannah More, and Amelia Opie who grappled directly with the more pressing social issues of their time—not because I agree with or love the stories they tell, but because those stories show the fuller range of British culture in the 1800s.
Despite all this, my students and I have the most rewarding classes with Austen's novels. I know that's a politic thing to say, especially as we mark the bicentennial of her death, but it's also true. I love teaching Romantic-era poetry (Blake, Wordsworth, Coleridge, Shelley, Byron, and Keats). And I've been thrilled to see my former students take what they've learned in my "The Novel to 1900" class on to graduate school and their own work as teachers.
But the first lecture of mine that a class applauded for was about Austen (Mansfield Park). One of my favorite speeches to teach is Willoughby explaining to Elinor Dashwood in Sense and Sensibility that he "had always been expensive." Austen lets me talk about the fragility of 19th-century masculinity that she makes sympathetic in a world of Knightleys and Darcys. My students defend Marianne Dashwood when I say I want to shake some sense into her and are exasperated when I get some minor detail wrong (proving to me how carefully they've read). Some of the best essays my students write are about Austen's novels.
I've tempered how I show off my ambivalence for the author, but my students know it's there, which accomplishes two things at once: Austen is such a massive figure in literature that I think my coolness toward her novels invites my students to read her thoughtfully without worrying that they have to come up with the "right" interpretation. And my indifference to an author who is so widely admired leads to classes where we can read and wrestle with Austen's work in myriad, fascinating ways, without necessarily agreeing with one another.
I could stop here and let you think I only care about Austen in class, but that wouldn't be totally honest. For all my frustration with the way people often romanticize the world she writes about, Austen has been with me since I was a teenager. The first night in my very first apartment, I chose to read Northanger Abbey. The one movie script I've written is based on Emma (my co-author and I made errybody black). My most weathered, heavily annotated edition of a novel is Sense and Sensibility. On one of my visits to England, I walked the streets of Bath, and I couldn't help but fall under her thrall. There's still room in my research for Mansfield Park, a novel that I think feels so somber because Austen briefly acknowledges her country's abolition debates. I take Austen quizzes (I am not Emma, but Anne Elliot) and enjoy every piece of Austen merchandise my students, friends, and family buy me (figurines, puzzles, coffee mugs, memorabilia books, a coloring book, and, most recently, a cozy).
I'm currently writing a long essay about Mary Shelley, Lord Byron, and Felicia Hemans, and am working on a book about Romanticism and abolition, so my bookshelves don't have much space for Austen. But I'm also writing this essay in my home office where, on a filing cabinet that doubles as an end table, there sits a candle. I light that candle on dreary days, and it has a simple inscription on it: "There is nothing like staying at home for real comfort"—Jane Austen. I suspect that, regardless of where my work takes me, no matter how much more intriguing I find her contemporaries, Austen will always be a kind of home for me, whether I'm in the classroom or in the archives.