The 13 Writers Longlisted for the 2017 Man Booker Prize
Arundhati Roy, Zadie Smith, Colson Whitehead, and George Saunders are among the authors in contention for the British literary award.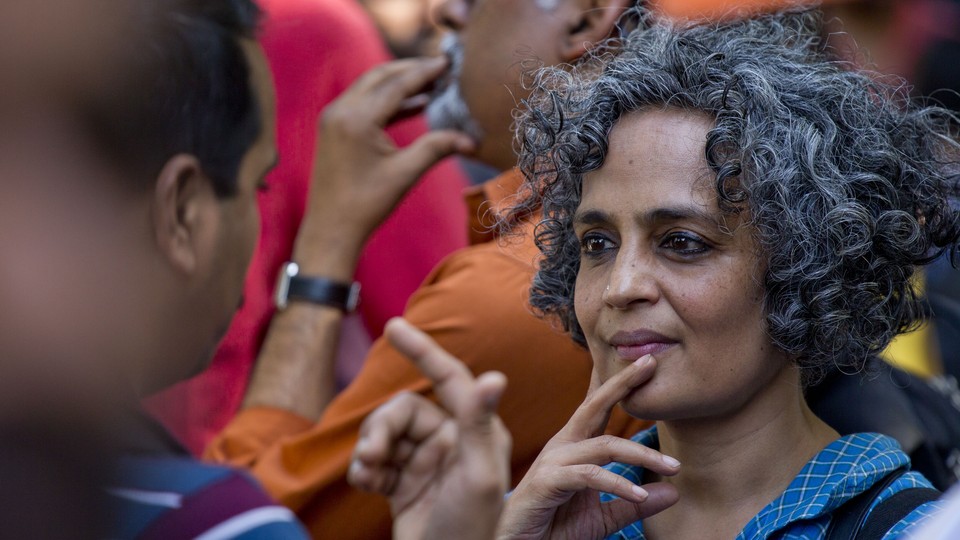 The 13 novels longlisted for the Man Booker Prize, Britain's most prestigious literary award, were announced Thursday morning. Among them are some of the biggest names in fiction (Arundhati Roy, Zadie Smith, Paul Auster, Colson Whitehead, George Saunders) as well as two first-time novelists: Fiona Mozley, a 29-year-old from northern England, and Emily Fridlund, a Cornell professor whose coming-of-age tale History of Wolves was released earlier this year.
Roy's inclusion on the list comes 20 years after her first novel, The God of Small Things, won the Man Booker in 1997. The Ministry of Utmost Happiness, her long-awaited follow-up, was released earlier this year. Writing for The Atlantic, the critic Parul Sehgal called it a "fascinating mess," a "hulking, sprawling story" about two characters, a trans woman living in Delhi, and an architect-activist. "Roy is a champion at waking the neighbors, at getting our attention, and as an offering, this book is a beautiful act of witness," Sehgal writes. "But harnessing our attention—getting us to see as well as to look—that is perhaps a different, and more intricate, matter."
This is only the fourth year that American writers have been eligible for the prize, following a change in the rules in 2014 that made any English-language novel published in the U.K. viable for inclusion. This year's longlist includes four Americans: Fridlund; Auster, for 4 3 2 1, a structurally inventive epic about fate; Saunders, for his first novel, Lincoln in the Bardo, set in the cemetery where Abraham Lincoln's dead son is trapped by his father's grief; and Whitehead, whose 2016 novel The Underground Railroad has already won the National Book Award and the Pulitzer Prize for Fiction. The British writer Zadie Smith is included for Swing Time, her story of a biracial teenager growing up in London who meets a charismatic friend in tap class. "Interpersonal tensions give rise to smart observations—about identity, dance, women's work, and cultural appropriation," Dayna Tortorici wrote in The Atlantic, "and about two themes that have long been central to Smith's work: blackness, and the fantasy of pure and discernible roots."
The list also includes Autumn, by the British writer Ali Smith, a modernist excavation of British identity in the aftermath of Brexit. The Pakistani novelist Mohsin Hamid is featured for Exit West, his dazzling fable about the refugee experience, as is his compatriot Kamila Shamsie, whose book Home Fire reimagines Sophocles's Antigone through the experiences of three siblings in modern-day Britain and America. Two Irish writers made the list: Sebastian Barry, for Days Without End, a historical story about an Irishman fleeing the Great Famine for America; and Mike McCormack for Solar Bones, a novel written in a single sentence. The British writer, Jon McGregor, who became the youngest writer ever nominated for the Man Booker in 2002, reaches this year's longlist for Reservoir 13, the story of a community that's gravely disturbed when a 13-year-old goes missing.
Mozley, who works in an independent bookstore in York and is studying for her PhD in medieval history, is maybe the biggest surprise on the list. Elmet, her debut, was praised by the Man Booker judges as "lyrical commentary on contemporary English society and one family's precarious place in it." The shortlist for the £50,000 prize will be announced on September 13, and the prize itself will be awarded at a dinner in October.