The Exquisite Horror in Lana Del Rey's Nostalgia
Lust for Life, the singer's fourth album, greets Trump-era anxieties with an eerie flower-child grin.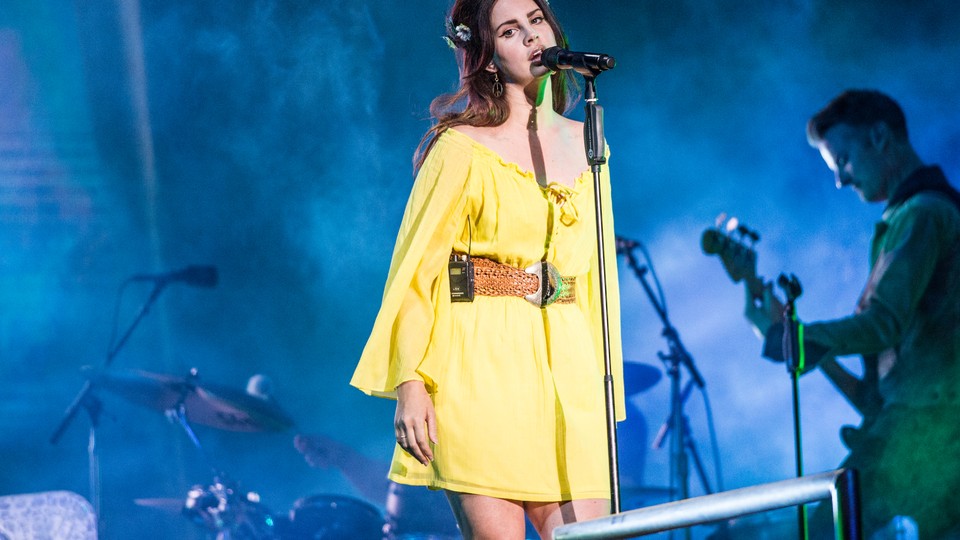 Scroll through the photos that David LaChapelle recently shot with Lana Del Rey and you may be hit with a whiff of linoleum, or microwave dinner, or asbestos. She descends a spiral staircase next to a gaudy fake Christmas tree of the kind you just don't see anymore, wearing an equally gaudy coat, her eyes squinting, the camera having snapped at the wrong moment. She stains a wedding table with red wine, her mascara running and the flash catching the blood behind her retinas, as a man in the foreground smokes in ripped whitey tighties. She poses in a ruffled dress in front of a tiered garden styled with person-sized candles, next to a sign reading, "Happy Birthday America … 1776 1976."
Pop culture has been mining the heyday of Polaroid in this fashion for a while now, and Lana Del Rey has led the way. Ever since the Los Angeles singer first achieved fame in 2011, she's rarely been described without mentions of Instagram filters that make new photos look old, or of the way that platforms like Tumblr and Pinterest encourage young people to collage the bygone. So the nostalgia kick should be played out by now. Still, I can't stop staring at these LaChapelle photos. In small ways—say, the body types of the people posing with Del Rey—they capture something about the era they reference. But in the colors, the couture, Del Rey's impish glint, they're novel. Most striking is the sense of menace underlying the garishness. Psychedelic burnout, Watergate disillusionment, serial murders—all tingeing images that otherwise might evoke "a simpler time."
The notion of not-altogether-fun slippage between generations seems more of an obsession than ever for Del Rey on her fourth album, Lust for Life. The title is an Iggy Pop rip, one of many blatantly referential turns of phrase on the album. In the stories her songs tell, time travel nearly seems real: a moment at 2017 Coachella can become "Woodstock in my mind," leading her to interpolate "Stairway to Heaven" and contemplate nuclear apocalypse. She begins the album sighing about "you kids with your vintage music," adding, "You're part of the past, but now you're the future / Signals crossing can get confusing." She's awed by the cultural history that mass media marinates today's youth in—but she's also unsettled by it.
Del Rey's music itself has always been retro-minded. In 2011, something about the way she sang sounded foreign compared to the try-hard emoting of Lady Gaga or Adele, and the description she often received was "dead eyed." Really her shtick was semi-parodic throwback that swirled together B-movie blankness, girl-group earnestness, and Laurel Canyon introspection. Yet the way she married that sensibility with dramatic orchestration and snaking machine rhythms for her debut, Born to Die, was new, establishing a template for radio that still prevails today. Her two follow-ups, Ultraviolence and Honeymoon, were gauzier, slower experiments in rock and cabaret, but Lust for Life is really Born to Die's sequel: a rather fabulous return to catchiness, camp, and faint hip-hop influences. She's ever-more-cleverly casting the present in terms of the past and vice versa—and this time, there's a political reason why.
Working primarily with her longtime collaborator Rick Nowels, Del Rey seems here to feel that "formulaic" is no insult when you've got fascinating variables to put into the formula. Most songs begin with Del Rey crooning alone over reverberating piano, guitar, or queasy synthetic bass. But by the chorus, it's kicked into a rose-petal storm: loping programmed drums, lancing strings, Del Rey gasping across octaves without losing her cool. Often it feels like Nowels is backing into the sound of the Sneaker Pimps, and some of these 16 tracks were likely included only because Del Rey wrote lines that were too outrageous not to share. "Could it be that I fell for another loser?" she asks on one of a few second-tier cuts early in the album. "I'm crying while I'm cumin' / Making love while I'm making good money."
Such depictions of mercenary, doomed love affairs have long been Del Rey's specialty, rooted in her nostalgia aesthetic. Born to Die reveled in pre-feminist relationship ideals: sugar daddies and Lolitas, guys loafing and girls doting on them. The level of irony at which she was operating wasn't clear at the time, just as it's now not clear just how earnestly she's indulging a related set of Boomer tropes: flower-child positivity, dancing one's way to peace, youth as paradise, the noble groupie. The power of her music may well be in the unease of her reclamation—the way that her voice, if not always her words, suggests certain problems can't actually be banished by love and drugs and music.
One of those certain problems, this time, is Trump-era anxiety. "I feel like this election jolted almost everyone who was floating around, feeling weird, whatever … right into the current moment," Del Rey told Flaunt magazine. "I know several people that had a sort of drifter mentality that are now in the thick of it, considering things." Some of the most compelling songs here simply track that awakening. On the piano ballad "Change," a clear product of studying Joni Mitchell, she regretfully sings, "Lately, I've been thinking it's just someone else's job to care." The closer "Get Free," a slick assemblage of Phil Spector compositional tics, presents an epiphany—emotional, political, or both—as metaphysical: "I'm crossing the threshold / From the ordinary world."
Elsewhere, she gets more explicit about the conflicts of the time and place she lives in. Already, she's received a Breitbart write-up for wondering "Is it the end of America?" on "When the World Was at War We Kept Dancing," but she answers her own question in a fairly nonpartisan fashion: "No, it's only the beginning / If we hold on to hope, we'll have a happy ending." The timeless call for resilience is delivered with modern pop slang ("choreo!"), just as it is on "God Bless America—And All the Beautiful Women in It," a gunshots-laden anthem she says was inspired by the Women's March. These obviously aren't songs about specific policies; rather, they seem to take hope from how a previous American generation defined by political upheaval was also defined by some really famous parties.
In this, Del Rey's music, as always, invites accusations of naivety. No one but Del Rey, for example, might pay tribute to the flower crowns of corporate music-festival crowds without fear of death by embarrassment. Yet this album's signature song might be "Coachella—Woodstock in My Mind," which she wrote after hearing about North Korea's missile tests and watching Father John Misty onstage in Indio, California. The concept is risible but the song works because of how gingerly, how desperately, she turns to Cold War-era youth culture to cope with modern nuclear-war fears. Similarly, the languorous Stevie Nicks duet, "Beautiful People, Beautiful Problems" adds a hint of the gothic to New Age positivity: "Green is the planet from the eyes of a turtle dove / 'Til it runs red, runs red with blood." And the eerie epic "Heroin" explicitly references the dread that accompanies her '70s fetish: "Topanga's hot today, Manson's in the air."
Because of its title and because of Del Rey grinning on its cover, Lust for Life has been widely received as a rare "happy" album from her. Maybe that's wrong, though. On that cover and in some of the David LaChapelle photos, Del Rey is wearing a smile that seems oddly out of time with today—it's nonsensical to say, but people just don't make that face in pictures anymore. Plastered on, impossibly sunny, it's an expression of forgotten idealism, perhaps. But it also might be a response to very old, and newly familiar, terrors.