Kesha's Comeback Message: Love Your Enemy
Her new ballad announces she's moving on after alleging abuse by her producer—but it is also, inevitably, tied to that producer.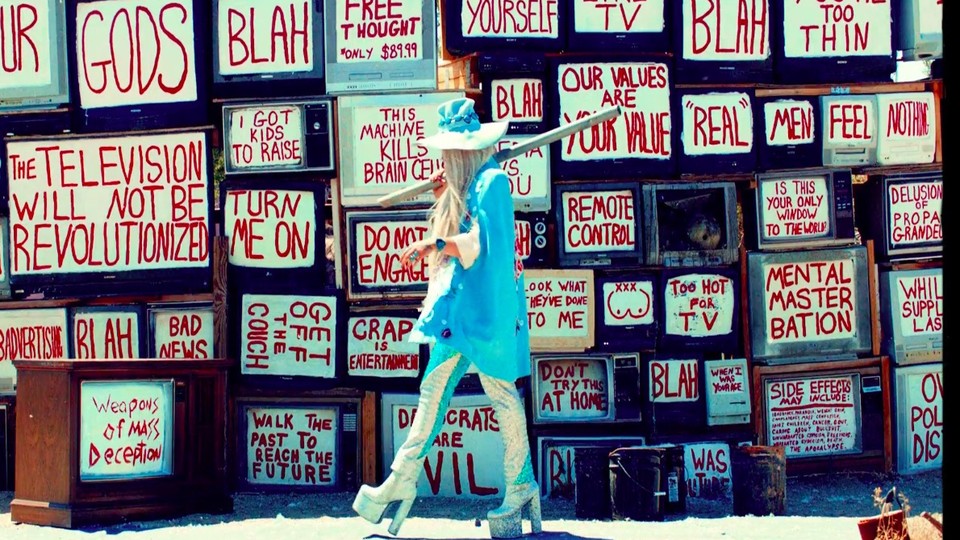 Kesha's recent troubles would seem to sit alongside a few other famous narratives about women accusing men of sexual misconduct to little legal avail. Donald Trump is in office despite allegations of predatory behavior; Bill Cosby took his mistrial as a reason to swagger. Dr. Luke, the recording name of the influential pop producer Lukasz Sebastian Gottwald, has thus far fended off Kesha's vividly detailed lawsuit alleging he abused her. His reputation is tarnished, yes, and his relationship with Sony Records has become murkier, but Kesha has not succeeded in her attempt to be freed from her record contract with a man she says drugged, raped, and threatened her.
Still, she is claiming victory, though in a compromised, pained way. Today brings "Praying," the singer's first bona fide single and music video since the lawsuit. It also brings the announcement of her first album since 2012, Rainbow, as well as an essay at Lenny Letter detailing her recent state of mind. This relaunch does not shy away from acknowledging the difficult saga that has kept Kesha in the headlines in the past few years. In fact, it uses it for grist, proposing a blueprint for overcoming hopelessness, trauma, and betrayal.
There's no mention of Gottwald's name in the song or in its rollout, but the major cause of a recent period of deep despair Kesha discusses in her Lenny Letter essay is clear. So is the "someone" in this sentence: "This song is about coming to feel empathy for someone else even if they hurt you or scare you." The first lines of "Praying" are "you almost had me fooled / Told me that I was nothing without you," which recalls the text of her 2014 complaint. It alleged Gottwald told her, "You are not that pretty, you are not that talented, you are just lucky to have me," "There are a million other girls out there like you," and "You are nothing without me."
The song breaks with the thumping, brash party music that made Kesha famous ("TikTok," "We R Who We R," "Die Young," "Timber"); it's a deeply felt piano piece produced by Ryan Lewis, the instrumentalist behind Macklemore's biggest singles. The most obvious predecessors for the song are tragedy-to-triumph empowerment ballads like Christina Aguilera's "Beautiful" and Lady Gaga's "Til It Happens to You," with their soaring but simple choruses and late-song vocal theatrics. Kesha's voice is powerful here—and more capable than people might expect, as seen when she makes like Mariah Carey and belts a wordless high note.
It's not only the sound of the song that seems new for Kesha. Part of what once made her such a fascinating pop star was how she projected invulnerability with a kind of un-PC, subversive smartassness. For "Thinking of You," she dissed a cheating ex-boyfriend by calling him a "slut"; for "Dinosaur," she fended off an older guy hitting on her by joking he should be carrying an oxygen tank. So she could have responded to the Gottwald situation in like form, through mockery and a renewed sense of invincibility. Then again, Kesha as we once knew her was partly a creation of Gottwald, her longtime producer and coach.
Instead, she's playing things dead-serious, leaning into her vulnerability but seeking Christlike grace in it. The desperate speech that opens the video requires no interpretation: "If there is a God or whatever, something, somewhere, why have I been abandoned by everyone and everything I've ever known?" The song itself isn't about her own prayers, though. "I hope you find your peace / Falling on your knees, praying," she tells her tormentor as she bids him farewell. For all the bitterness in her voice, this is a call to love your enemies, even if, as she sings, "some things, only God can forgive." As for what God is, Kesha's essay avoids the doctrinal: "God is nature and space and energy and the universe. My own interpretation of spirituality isn't important, because we all have our own."
The clearest connection to the Kesha of old is in the video, a high-gloss technicolor pop production from one of the masters of the form, director Jonas Åkerlund (past credits include Madonna's "Ray of Life," Lady Gaga's "Telephone," and Aguilera's "Beautiful"). The video ends with text saying "the beginning," hinting that the ballad vibe here was just prologue. What's known about the album Rainbow so far hints it won't be a complete departure from Kesha's past antics as glam-pop arena rock star: The cover has her nude in a vibrant Salvador Dali-esque hallway, and the song titles include "Bastards," "Godzilla," and "Boogie Feet (feat. Eagles of Death Metal)."
There's another, more jarring bit of continuity here. "Praying" and Rainbow are being released through Kemosabe Records, the imprint that Gottwald founded and that Kesha named as a defendant in her lawsuit. Gottwald himself is no longer CEO of the company, but whether he retains a financial stake or any creative control is less clear. In any case, it is the company she unsuccessfully tried to be cleaved from, and it is inevitably associated with the man who she says made her life hell. The fact that Kemosabe's name is on her musical declaration of independence adds some queasy poignance to the fact that "Praying" isn't straightforwardly damning Gottwald or ignoring him. It also explains why she sings this vow: "When I'm finished, they won't even know your name."