Harry Styles and Rihanna Nail the Pop Star as Actor
Dunkirk and Valerian had two highly contrasting kinds of crossovers—and Game of Thrones could have taken a lesson from either.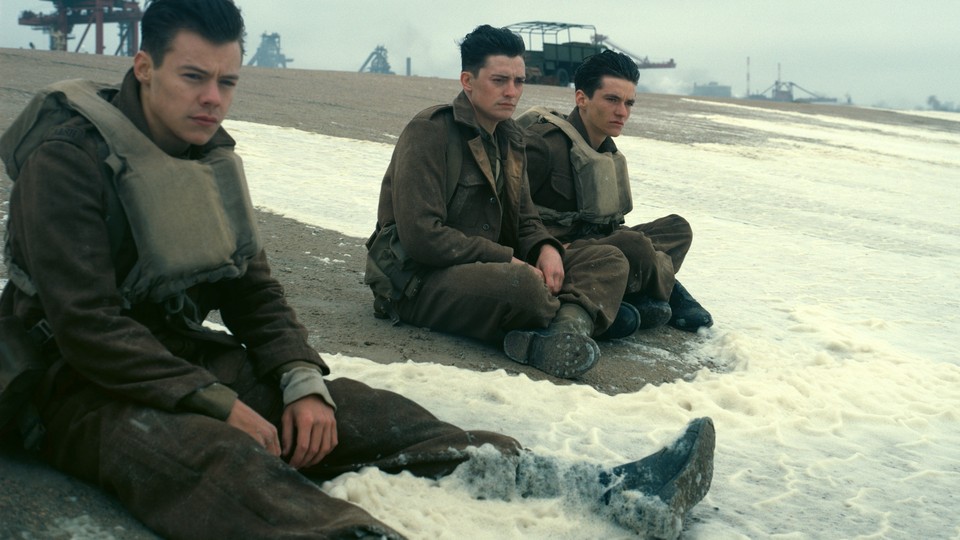 Megaplexes this past weekend staged a battle between two very different battle movies: the realistic World War II suspense of Christopher Nolan's Dunkirk and the campy sci-fi hijinks of Luc Besson's Valerian and the City of a Thousand Planets. Fueled by great reviews and Nolan's bankable brand as a filmmaker, Dunkirk prevailed with a $50.5 million haul while Valerian, at just $17 million in grosses, seems headed the heap of recent space-adventure bombs. Still, it's notable how both films, vastly unalike in tone and reception, did share one feature other than their release date—a megafamous musician in their ensemble.
Devoted fans of One Direction have tracked the progress of Dunkirk for more than a year thanks to it being the first major acting job for Harry Styles, the 23-year-old frontman of that currently suspended boy band. Valerian has made Rihanna, arguably the reigning queen of pop, a major feature of its marketing campaign. The tradition of singers attaining "multihyphenate" status by way of Hollywood is richly uneven, encompassing award-winners like Cher in Moonstruck and trainwrecks like Mariah Carey in Glitter. Styles's and Rihanna's simultaneous gigs, taken together, offer a neat case study in the two poles of musicians-as-actors: the serious bid perhaps en route to an eventual EGOT and the winking extended cameo meant for fans, fun, and profit.
The newer star, Styles, appears to be on the hunt for prestige. Arguably the most crucial dialogue of Dunkirk, a nerve-wracking audiovisual riff that has almost no crucial dialogue, belongs to him. Playing a British soldier named Alex, he gets to ask the question at the very heart of the film: Is mere survival victory? He's also pivotal to a harrowing scene about another big theme, the moral compromises that people in danger must consider. Earlier, his curiosity leads to a rare explanation for one of the many inexplicable activities on screen: There's a good reason, Alex finds, that one fellow soldier doesn't take up an enticing offer of jam and tea after they board a rescue ship.
Styles actually has a bigger role than he's been billed as having in Christopher Nolan's press tour. "We're not trying to oversell Harry in the movie for the specific reason that it's an ensemble," Nolan told Entertainment Weekly. "We don't want people who are huge fans of his being disappointed that he's not in it enough. … It's not cartoonish. … [His performance] almost risks being missed because what it's actually doing." Eh. In the cast's subgroup of casually pretty slender young Brits playing privates, Styles is ever-so-slightly prettier than the rest, and as previously mentioned, he does some important things. You won't miss him.
But Nolan's comments do speak to a more fundamental aspect of Styles's role in Dunkirk. Surely the musician wanted to blend in: What better way to prove one's actorly credibility than to seem anonymous when you really have more than 30 million Twitter followers? Whether you, the viewer, will have the movie's spell broken by his presence likely relies less on his performance, which is good, than on your relationship to Styles. If you're a One Direction obsessive or a parent of one, the exquisite tension of Nolan's filmcraft may be cut by the memory of the chirpy "What Makes You Beautiful" clashing with Hans Zimmer's tick-tocking score. If you're anyone else, though, Styles will have achieved his goal: He is seen but not disruptive, important but not eclipsing.
Since One Direction went on hiatus in 2016, Styles hasn't quite walked the typical frontboy's route to solo stardom. He left the Timberlake-ian dance-floor seductions to Zayn Malik and Niall Horan and instead recorded a set of classic-rock tunes more fascinating to dissect for influences than to listen to. That album seemed to signal an interest in doing something other than just chasing hits. His Dunkirk turn is a clear additional attempt to diversify his portfolio and explore nonmusical opportunities afforded by celebrityhood. A director in need of an unkempt waif-guy and competent line deliverer might see Dunkirk and decide, quite defensibly, to cast him—with the increased publicity from fans of Styles's musical efforts being a welcome bonus.
***
For an opposite approach to musicians moonlighting as actors, look to Rihanna's turn in the joyfully gonzo Valerian and the City of a Thousand Planets. The platinum-selling singer doesn't just slip into the fabric of this extremely crowded, extremely fun movie. Rather, two-thirds of the way through, it grinds to a halt and gives her an extended solo performance as the alien Bubble, a shape-shifter executing eye-popping cabaret in a space-station brothel. She has an important role to play for maybe 15 more minutes. After that, Rihanna exits as definitively as she might a billionaire's birthday she'd been booked to play.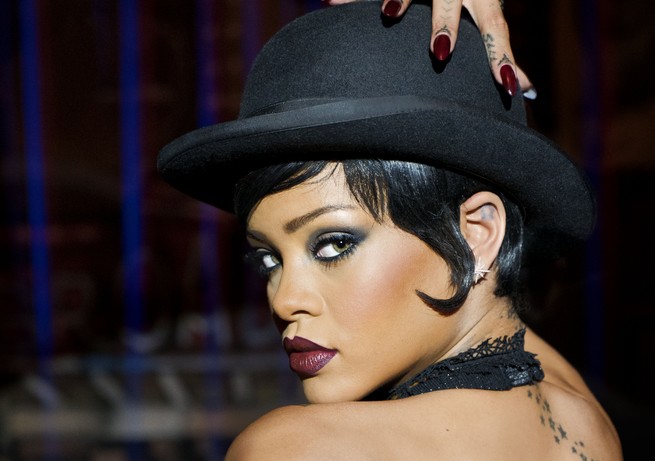 Hers is the kind of gig that bolsters and amplifies the star's main brand rather than expands it. Rihanna is basically playing a version of herself, in another world. The conceit that Bubble can become any kind of entertainer she wants—flapper, nurse, schoolgirl—plays on the post-Madonna way of chameleonic divas that Rihanna has so successfully followed. She also gets to synergize with her recent spur of political outspokenness because Bubble, we learn, is an intergalactic illegal immigrant forced to live in the shadows. Valerian is extremely lighthearted, but this aspect adds a hint of tragedy: She appears to be a sex slave held hostage by her immigration status. (There's a similar tonal discordance in the movie's larger plot that concerns horrendous genocide and ecological destruction.)
When Rihanna has to speak and not sing, you're uncomfortably reminded, unlike with Styles, that delivering dialogue convincingly is not her forte. And the fact that Bubble becomes a CGI creation for extended stretches carries with it the suggestion that Rihanna only gave Valerian a short bit of time on set and did the rest of her job in the vocal booth. But despite the impression that this role is a bit phoned-in, Rihanna-as-Bubble is an utter charmer. Valerian is stuffed with special-effects baubles and high-concept gags: A hitmaker and fashion icon parachuting in is, in this sense, fitting. She delivers the glittery surface entertainment that a pop star is supposed to—and that this movie so unapologetically, so winningly, revels in.
Both Styles's and Rihanna's examples highlight how when you've got a non-actor whose face is recognizable across the globe, simply showing up and melting into the on-screen crowd isn't an option. The singer needs to either work to nail the acting—or work to nail being themselves. For a cautionary tale about not quite doing either, look to Ed Sheeran, the English superstar strummer who appeared in the season premiere of Game of Thrones to many online WTFs.
Sheeran's scene began with him singing and then cracking a meta, nonsensical joke about the tune being "a new one." So far, so campy. But then he became an unassuming presence, simply chomping on rabbit and mumbling in agreement with some other Lannister soldiers. The scene didn't prove itself plot-essential enough to justify the viewer's cognitive dissonance, and for a moment Thrones's spell was broken and Sheeran's everyguy persona took a dent. He should either have not sung at all, or he should have totally hammed it up: the way of Styles, or the way of Bubble.