Federer's Wimbledon Win Was Anything but Nostalgic
In a throwback 2017 season, the Swiss tennis legend has shown he's still full of surprises.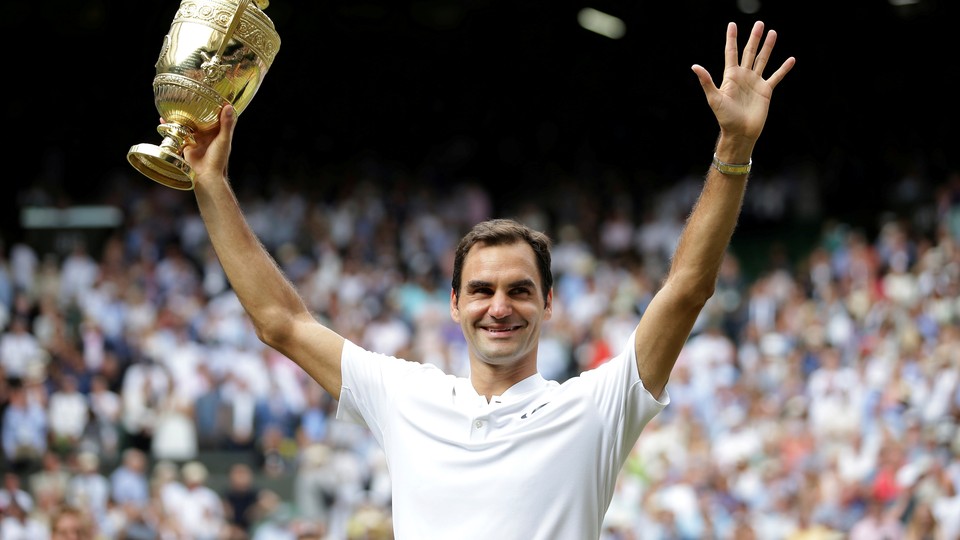 It seems almost bizarre to say that one of the greatest tennis players of all time is proving that he is here to stay. But, a little over a year after Roger Federer's painful, injury-plagued semi-final loss at Wimbledon to Milos Raonic had many claiming the end of a career, the Swiss legend continued his remarkable return to form this year on Sunday, as he clinched a record eighth Wimbledon title. The 35-year-old cruised past a sluggish Marin Čilić in straight sets, 6-3, 6-1, 6-4, in just over an hour and a half. His emphatic victory over the towering Croat seemed almost inevitable, as he came into the match playing some of his finest tennis in years—he hadn't dropped a single set en route to the final and spent almost five hours less on court over the course of the tournament than his opponent.
Federer's victory came off the back of an incredible few months on the tour, in which he won his fifth Australian Open in Melbourne—becoming the oldest man to win a Grand Slam since 1972—and dominated the early hard-court season with victories at Indian Wells and Miami. While many have been eager to bask in the sheer nostalgia of what's been a throwback 2017 season—with Venus Williams in two finals at the majors (she was convincingly defeated at this year's Wimbledon by Garbiñe Muguruza) and Rafael Nadal winning his tenth Roland-Garros—it's increasingly clear that Federer, who is arguably the best player on the men's tour at the moment and will go into the U.S. Open as the favorite, is not simply turning back the clock but is actually urging it forward.
Federer—who, over the last two weeks on the grass in Southwest London, had showcased the continuous evolution in his game since his knee injury last year—flourished against Čilić on Sunday. The Croat started well against an unusually nervy-looking Federer in the first few games of the opening set, and initially held his own as he pounded thundering serves and 75 miles-per-hour ground strokes at the Swiss. But Federer, well aware of Čilić's most powerful tools, was quick to nullify them as he took control of the set. He overcame an early wobble as he saved a break point and then came back to break Čilić in the very next game, relentlessly returning his serve, winning an incredible point at the net, and piling on the pressure (as he did so convincingly against Tomáš Berdych in the semi-final two days earlier).
In successfully slowing down the rallies, Federer was able to combat Čilić's heavy hitting with slice and spin, taking advantage of the already damp conditions, which helped keep the pace favorable against an aggressive, offensive baseliner. He closed out the first set quickly with strong service games of his own and two breaks of serve, leaving Čilić—like most players who tend to face Federer in Grand Slam finals—wondering how he ended up back at his chair a set down in just over 30 minutes.
The second set followed much the same storyline, with Federer's mental strength and experience rattling the first-time Wimbledon finalist, who was in tears after the Swiss raced to a 3-0 lead. A typically calm Federer, who has noticeably benefitted from taking the usually exhaustive clay season off, capitalized on a weary Čilić, who was seemingly nursing a minor foot injury and trying to keep his movement sharp. Federer broke Čilić twice again, winning 12 of his receiving points to the latter's two, and converted 86 percent of points on his first serve and a phenomenal 100 percent on his second. The veteran champion's strategy of relying heavily on his versatile serve as a weapon has allowed him to see off younger, more athletic challengers and it was clearly paying off, as he wrapped up the second set with just 61 minutes on the clock.
A medical timeout for Čilić before the start of the third seemed only to delay the inevitable, as Federer broke serve at 3-3 after Čilić, well resigned to his fate, clunked another forehand into the net. The Croat did show some signs of fight, but it was too little, too late; Federer's seamless footwork and movement were as graceful as ever, as he moved Čilić around the court, opening up impossible angles and spreading him thin with his signature single-handed backhand. (The Swiss even let out a rare show of emotion, shouting "Come on!" at the end of a spectacular rally in the seventh game.) Despite a couple of anxious moments at championship point that almost betrayed a human heart under Federer's mythic exterior, the coronation was fittingly completed with an ace zipped right down the middle of the line in the blink of an eye. With it, Federer has joined Bjorn Borg as the only men in the Open era to win Wimbledon in straight sets.
As the season rolls on into hard-court tournaments and the U.S. Open, Federer will once again assume the burden of huge expectations that he's shouldered throughout most of his decorated career. But having now won two out of the two Grand Slams he's played so far (taking his total tally to 19—four more than Nadal) after coming back from what looked like the brink of retirement, he seems to be enjoying his tennis like never before. In a year that's witnessed Novak Djokovic's drastic fall from colossal heights, and usual challengers like Andy Murray (who remains world No. 1) and Stan Wawrinka seemingly not up to the task at the slams, Federer has stayed consistent. He's found a way to conserve energy, pick his tournaments wisely, and most importantly, stay fit; "Better than holding the trophy and winning today, it's just being healthy," he said with visible relief in the post-match interview. The end of Roger Federer may not be too distant—and perhaps tennis fans would hope to see younger challengers coming to the fore—but at the moment, there may yet be more surprises to come from the man we thought had already won it all.