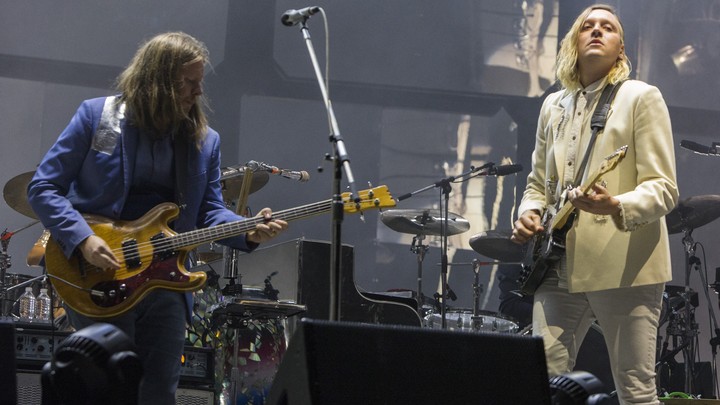 Arcade Fire albums usually arrive with a technological gimmick—mysterious hotlines, shell corporations, immersive apps. It's benevolent overkill: Their orchestral-rock tunes often feel like VR films anyways. The Montreal collective creates songs with texture and weight; strongly defined beginnings, middles, and ends; and a voice in the ear that's almost vaudevillian, insisting that everything you're experiencing really is a very big deal. Hit "play" and feel what you need to feel—communal uplift, twitchy outrage, bittersweet catharsis.
Yet it's tough to satisfyingly plug into their fifth album, Everything Now, and there are two tempting factors to blame: its obsession with danceability and its overdetermined lyrical concept. But fans know that both of those things aren't all that new for the band. Something deeper, more hardware-level, is going awry.
Arcade Fire have long presented themselves as warriors against the numbness and isolation bred by modern society. Their 2004 debut, Funeral, told of mourners rediscovering youthful joie de vivre, and accordingly beneath its chamber pop was the thrum of body music—disco, sock hop, conga. After following that approach to an Album of the Year Grammy with 2010's The Suburbs, they underwent a shift and let their groovier side take the lead on 2013's Reflektor. Though many listeners snickered at the new nightclubby ambitions of a band wearing blazers and sneering about social media, Reflektor delivered on Arcade Fire's essential promise. Amid the six-minute shuffles were wrenching melodies, musical plot-twists, and earned-in-sweat epiphanies.
The marketing for Everything Now has yet again attacked the supposedly dire spiritual condition of our age. The campaign, which involves a made-up corporation wreaking havoc on Twitter, has satirized the internet's promise of "infinite content" via fake products, fake reviews, and #fakenews. The album's first single, the title track, hinted at a smart melding of message and music. Begging for ABBA comparisons with its stiff backbeat, ooey-gooey piano motif, and ad-jingle chorus, it achieved liftoff by modulating its hook again, again, again until the listener had no choice but to give in. The seductive effect matched Win Butler's mournful singing about entertainment overload: "Every film that you've ever seen / Fills the spaces up in your dreams."
That song played a trick that really only can work once—though Arcade Fire do reprise its melody on Everything Now's intro and outro. The rest of the album also follows the Reflektor vein of epic-scale dance routines, whether rendered as roiling funk on "Signs of Life," stern electro on "Creature Comfort," or merry ska on "Chemistry." Thanks in part to producers Thomas Bangalter (half of Daft Punk), Steve Mackey (Pulp's bassist), and Markus Dravs (a longtime Arcade Fire collaborator), the soundscapes are sparkling-clean, with less filigree than the band's been known for. Maybe the slick production is why the songs feel strangely one-dimensional, though the best moments of Everything Now are in the music itself: Tron-reminiscent pulsation on "Put Your Money on Me," murky country-Western signifiers on "We Don't Deserve Love," thundering synths from Portishead's Geoff Barrow on "Creature Comfort."
The bigger problem is the songwriting. Many of the tracks seem to coast on a single idea, choosing to just repeat it instead of develop it. On paper, mashing up reggae with a robotized Joan Jett riff on "Chemistry" might seem intriguing—but as Butler just hisses one come-on again and again, the novelty of the arrangement drains away. A pair of terse tracks, "Infinite Content" and "Infinite_Content" offer a hard and soft take on the same pun, amounting to exactly zero replay value. The strut-and-clap swirl of "Signs of Life" establishes itself as one of the album's best-sounding tracks within its first 40 seconds, but Butler's rap-singing over the next four minutes never lands on a satisfying hook.
Weirdly, the larger thematic point of the album—so insistently signaled by the jokey marketing campaign—feels underdeveloped as well. The rich, melancholy chiming of "Creature Comfort" sets up Butler shouting about troubled millennials (including some girl who puts on Funeral and considers suicide), but the song never quite locates the narrator's relationship to them: Is he hectoring, is he sympathizing? Elsewhere the album buries its anti-consumerist theme way deep within putative tales of romance and Jesus. Butler seems to be saying something about how even love is ruined by capitalism, but the hazy politics keeps near-triumphs like "Put Your Money on Me" from fully connecting. Butler's pleas of devotion are movingly desperate, but his clunky mentions of "the chloroform sky" and "clouds made of Ambien" just interrupt the intimacy.
Great bands are allowed the occasional miscalculation, and there's no telling what exactly led Arcade Fire to underachieve this time. You could be cute and ask if the media distractions and inescapable financial anxiety that their marketing campaign lambasts actually poisoned their process. You could wonder if the band just made the wrong aesthetic choice—simplicity and boldness over knottiness and melodrama—in an attempt to punch through the noise. Regardless, at 13 songs that include four interludes, and with the title track being the only entry into Arcade Fire's top tier of songs, it's hard to believe a band so famous for ambition showed up with so little … well, let's not say "content."
We want to hear what you think about this article. Submit a letter to the editor or write to letters@theatlantic.com.
Spencer Kornhaber
is a staff writer at
The Atlantic,
where he covers pop culture and music.