The Summer of Cornball Superproducers
New albums from DJ Khaled and Calvin Harris represent the industrial consolidation of hitmaking—and suggest that kitsch is in.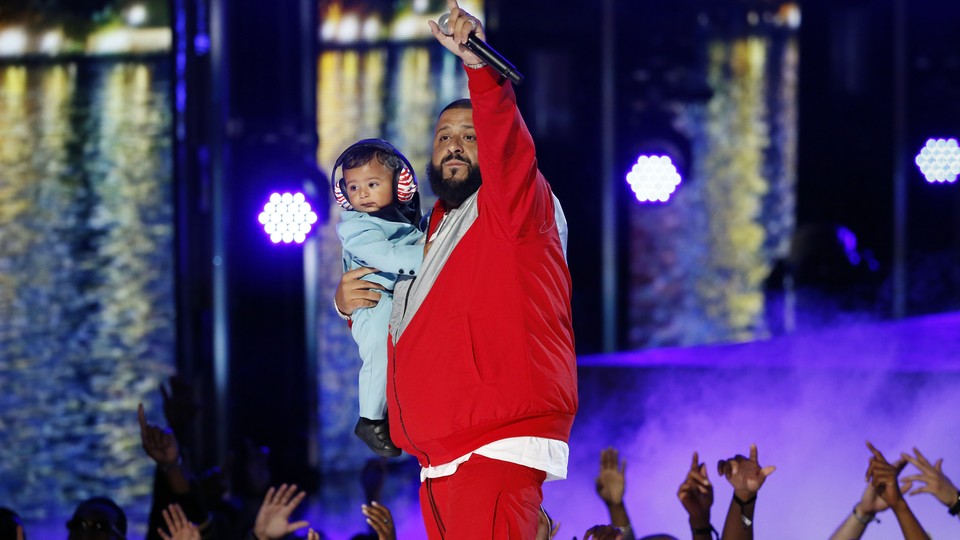 DJ Khaled's "Wild Thoughts" featuring Rihanna and Bryson Tiller is one of those song that's so cheesy that it's hard to believe it exists. Guitar sampled from Carlos Santana's 1999 schmaltzy smash "Maria Maria" wails over an itchy Destiny's Child-esque rhythm while Rihanna, seeming to smack her lips, delivers this bit of crass babytalk: "Know you wanna see me nakey, nakey, naked." All of which, you may have guessed, produces a near-perfect piece of pop that may well become the cookout jam of this July or of this century.
Rihanna's involvement in this piece of joyful piffle is a sign of a few important trends in pop. Lately, superstar singers have been spending their solo efforts on credibility-boosting concept albums—and outsourcing the manufacture of pure radio bait to a select group of superproducers who specialize in splashy collaborations. Right now, this system has produced a glut of particularly transparent contenders for the title of song of the summer.
Many of these efforts come from DJ Khaled and Calvin Harris, who have released full-lengths in back-to-back weeks. Khaled is a 41-year-old hip-hop impresario with a long and varied list of accomplishments, while Harris is a 33-year-old Scotsman whose electronic dance creations have been ubiquitous for the better part of a decade. Their albums—Khaled's Grateful and Harris's Funk Wav Bounces Vol. 1—sound very different, but both pull from the same pool of high-profile singers and rappers, and both suggest that the era of the mercenary posse cut is also an era of total kitsch.
Khaled's albums are like Michael Bay movies: star-studded, garish, overlong, and a blast. Both on his songs and in his hugely viewed Snapchats, he's famous for slinging catchphrases about self-worship and success (his most relevant motto of the moment is "another one," with "one" meaning, roughly, "banger"). But his vocals are less an amenity than a watermark, and his real talent is as a Hollywood-style producer: He calls in the most famous performers in the world as well as the most promising beatmakers, and then catalyzes. Khaled's previous forte has been in organizing rap-world clashes of titans, but lately he's connected with pop icons, resulting in his first No. 1 song, "I'm the One," starring Justin Bieber.
Khaled's inspirational shtick and tendency to pose with predatory cats have made him unmistakably a camp figure, and Grateful is so excessive that it's like a banquet with drag queens. That's in terms of volume—23 songs, nearly an hour and a half long—but also in terms of sentiment: every feeling is a high, every achievement is a high score. The album opens with the reggae singer Sizzla keening over a swell of sound perhaps inspired by "The Circle of Life" before Khaled begins talking about how much he loves his son (the Lion King vibe around his new fatherhood has also been visual). Someone might describe the song as "world music" or even "dad rock"—two terms deemed uncool by the pop establishment. But, somewhat charmingly, the concept of embarrassment doesn't exist here.
Which is a funny thing because stars whose entire brand is built on some construction of "cool" go to Khaled for a hit. Beyoncé and Jay-Z are both in a phase of telegraphing high-minded, trend-bucking creativity in their solo careers, with her Lemonade and his 4:44 prizing confessional seriousness over escapism. But they lock together for Grateful's second track, "Shining," a swaggering aerobic workout aimed squarely at the charts. Neither artist, on their own, makes songs like this anymore—save in extracurricular settings such as this one. You could tell a similar story about Rihanna, whose 2016 full-length Anti signaled a new phase of musical unconventionality. Now there's "Wild Thoughts," likely to be immediately injected into wedding-reception playlists worldwide.
Rihanna pulled the same trick last summer but with Calvin Harris, guesting on his jackhammering house tune "This Is What You Came For" to achieve her 21st top-five song. The star has had a productive relationship with Harris, who also co-created her 2011 smashes "We Found Love" and "Where Have You Been." Those three tracks aptly represented Harris's general m.o. till now of distilling rave tropes into sleek and simple three-minute blasts. Though his music has rarely been innovative, he does have a knack for making sounds that, well, sound great: The alarm-like keyboard hook from "We Found Love" is one of the greatest pop artifacts of our time.
Now, though, Harris has given himself a surprising musical makeover to sound less like Paul Oakenfold and more like Jimmy Buffet. It's not subtle: The album's titled Funk Wav Bounces Vol. 1, and Harris has promoted all his recent singles by posting detailed studio credits so as to convey his new interest in analogue instruments. With tinny reggae, hints of smooth jazz, psychedelic funk, and photos in which he's wearing flower-printed shirts, the vibe he's going for is "tiki" (quotation marks very much intended). The move would appear well-timed with the EDM boom petering out to the drone of the Chainsmokers and with the pop charts taking on a islands-inspired lilt lately.
Thanks to some sadly tepid songwriting, stretches of Funk Wav Bounces Vol. 1 are more an Instagram of frosé than the actual thing—suggesting relaxation but not really delivering it. There are a few triumphs, though. The lead-off track "Slide," featuring Frank Ocean and Migos in a piano-and-claps idyll, came out in February but is only sounding more excellent as summer develops. The single "Feels" has Katy Perry and Pharrell Williams working an undeniably sticky melody over guitar skank, and Big Sean, the rapper most associated with the term "corny," fits in just fine. Another standout, "Skrt on Me," has Nicki Minaj's gentle singing tweaked to seem sweeter, as if with Splenda.
Like with Khaled's album, Harris's most famous collaborators seem on the hunt for a crowdpleasing summer smash in between efforts more focused on brand-building and artistry. Justin Bieber released his pious statement piece Purpose back in 2015, but in 2017 he's scored two back-to-back No. 1s with posse cuts perfect for parties: Luis Fonsi's "Despacito," and Khaled's "I'm the One," the latter of which rides a pleasingly minimal bass line as Lil Wayne, Chance the Rapper, and Quavo trade raunchy verses. Frank Ocean, the most anti-pop pop star working, went to Harris to earn a straightforward bop. And Katy Perry's turn on Harris's "Feels" is cleaner-cut than most of her loopy Witness.
On both albums, conventional notions of taste—the idea that some artists don't go with some sounds—seem to apply less. Khaled can loudly dote on his infant near, say, Pusha T, growling about cocaine. Beyoncé can briefly drop her political mission while drawling about "all of this winning" as if she were Donald Trump. Future can be placed in a context that makes you visualize him as a very gloomy Solid Gold dancer. If much of this material—with its associated imagery of designer tracksuits and cocktail umbrellas—scans as "tacky," that's because Khaled and Harris's albums are gleefully capitalist utopias. No one needs to hide the money it took to make this music, nor the money they seek to make with it.