Baseball's Eyes Are on Aaron Judge
The New York Yankees' rookie slugger may already be the sport's biggest star. Will he keep it up?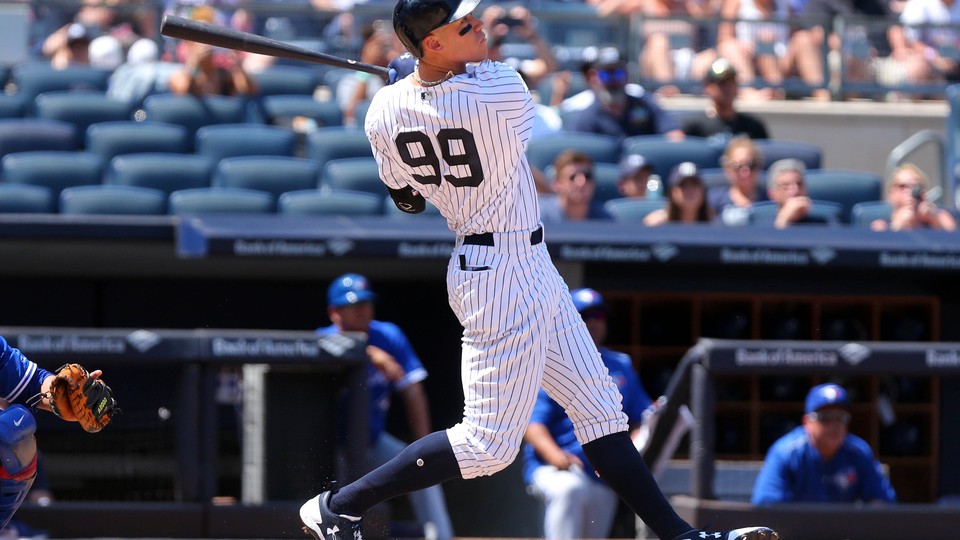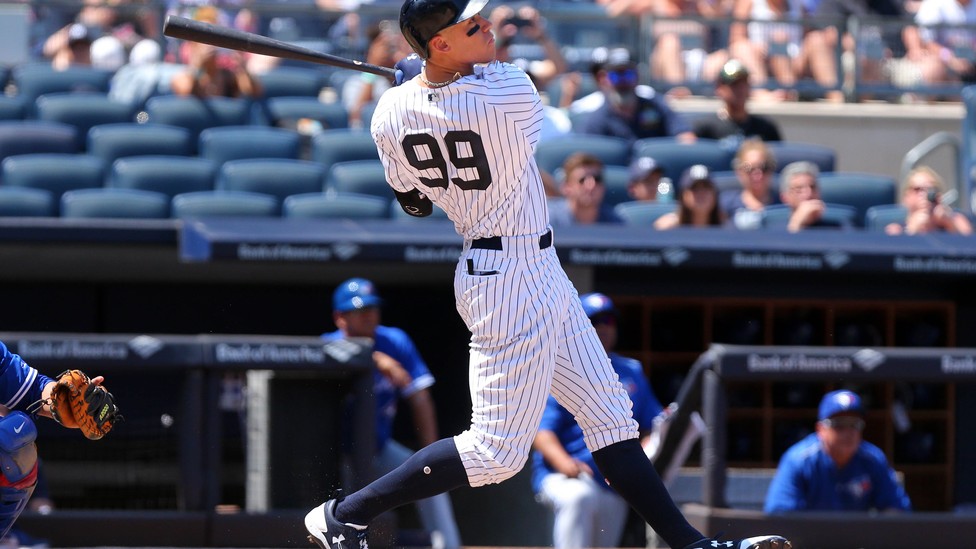 The Major League Baseball season reaches its unofficial midpoint with Tuesday night's All-Star game, and the story of the year, so far, is Aaron Judge. As the New York Yankees' rookie right-fielder, Judge has produced jaw-slackening moments with such regularity that it's hard to single one out, but a good example came on June 11, when the Yankees hosted the Baltimore Orioles in the Bronx.
The game before, Judge had hit his league-leading 19th home run of the season, and that day he padded his total even further. In the sixth inning, he sent an inside pitch soaring 495 feet over the left-field wall, the longest shot by any player this year. An inning later, the Orioles' mop-up reliever—the Yankees led 12-3 at this point—pitched Judge cautiously, keeping the ball on the far edge of the plate, but Judge reached out and lashed another homer to right.
In the absence of a close game, the thrill of the afternoon was in seeing him lay out the exact dimensions of his talents. Types and locations of pitches didn't matter. Once Judge's bat met them, they all ended up far, far away. "He is putting on the most amazing display I think I have ever seen!" claimed John Sterling, who has witnessed five World Series championships in his 28 years calling New York games.
At 25 years old, on a young Yankees team that has surprised with its ahead-of-schedule relevance, Judge is a rare combination of rookie and MVP candidate. He may also be baseball's biggest star. He led the American League in All-Star fan votes, he'll headline Monday's Home Run Derby, and a section of Yankee Stadium bleachers has been recommissioned as "Judge's Chambers," where devotees dress in robes and wave gavels. His statistics, impressive as they are—30 home runs, the highest slugging percentage and wins above replacement in the Majors—make up only part of his appeal, the main draw being the sheer scale of his presence on the field.
Judge would be large by NBA or NFL standards, but within the context of his chosen sport he is a titan. At six feet seven inches tall and 282 pounds, everything he does is outsized. He stands statue-still at the plate and, when he gets a pitch he likes, sweeps his bat to it, sending it zooming skyward faster and farther than anyone else. If he were a video game creation, Judge's "power" attribute would be slid all the way up to 99—his uniform number, incidentally.
Judge not only sets this season's standards, but he also exemplifies its trends. Across baseball, 2017 has been a festival of homers. They are being hit at a higher rate than at any point in history, and the methods for appreciating them have evolved in kind. MLB's data-compiling program Statcast now measures "launch angle" and "exit velocity," metrics that look favorably on Judge, who already owns the three of the four hardest-hit home runs since tracking began in 2015. For a sport always trying to court younger fans, the combination of deep shots and Statcast data is highly internet-friendly, and the Yankee outfielder testifies to their star-making potential. Judge goes yard, MLB tweets out a video replete with figures—"the first player to have SIX homers recorded at 115+ mph in a season"—and his jersey sales climb.
However much it yearns for shareable stars, though, baseball retains a temperate streak, so the question that follows Judge is the one that has been asked of every upstart rookie since their accomplishments were shared solely by newspaper and radio: Can it last? So far, the counterstrategies usually deployed on young sluggers—pitch them inside, throw breaking balls out of the strike zone—haven't quieted him, but his season to this point has the feeling of a sunny first act, with some requisite trouble still to come. His size and the big swing that comes with it, so useful now, may yet need some adjusting as pitchers test for weakness.
A similar uncertainty tails the home-run boom in general, and a minor industry has grown around hypothesizing about its causes and staying power. The story du jour is that, following a fallow period for offense, MLB fiddled with the baseballs to help them fly farther; "Are Juiced Balls the New Steroids?" a recent FiveThirtyEight article asked. A parallel theory holds that players are using the new analytics at their disposal, varying launch angles to loft pitches in the air. Each explanation makes room for an eventual reversion to historic norms. The equipment could return to old standards, and those uppercutting batters might overdo it.
In the meantime, though, the high-octane show goes on, with a rookie who looks like his own monument at its center. If the talk among baseball obsessives has turned to how the home-run explosions of player and league alike will resolve themselves, the common fan's perspective still centers on the plain awesomeness of them. On the Fourth of July, the Yankees played the Toronto Blue Jays and lost, 4-1. The one run they managed came when Judge scalded a line-drive homer to center. The headline of an article featured on ESPN.com's main page that afternoon didn't bother mentioning the outcome; it read, "Aaron Judge dents door casement at Yankee Stadium with 28th HR." Such is the rookie's appeal. When he puts a ball in the air, everything else—the score of the game, the league standings, the underlying causes of the sport's broader trends—matters less than seeing where it finally lands.