A Wrinkle in Time Defies Disney's Sequel-Filled Future
Ava DuVernay's adaptation of Madeleine L'Engle's book is one of the studio's only upcoming movies that's not a follow-up or a remake.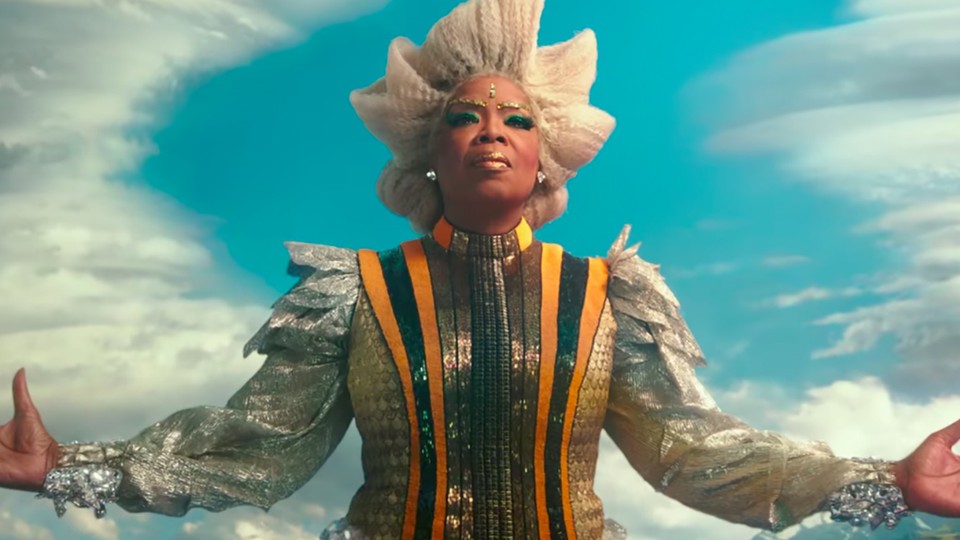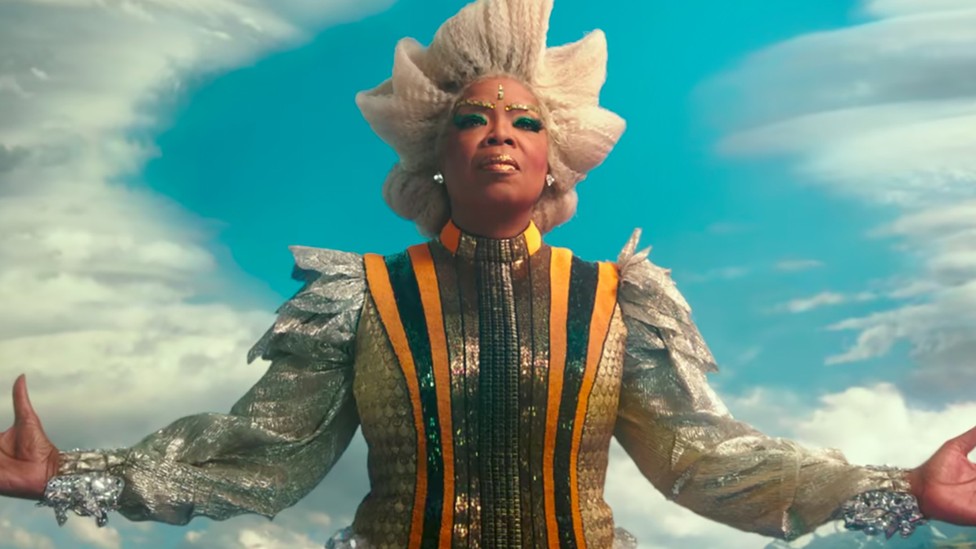 The colorful, dreamlike imagery of Ava DuVernay's upcoming adaptation of A Wrinkle in Time was the highlight of this year's D23 conference, a semi-annual celebration of Disney that included a look at the studio's upcoming film slate. The Wrinkle trailer was a visual feast, light on plot and heavy on shots of Oprah Winfrey's outrageously splendid wig, Chris Pine trapped in a surreal orange prison, and some sort of suburban nightmare-verse populated by children bouncing balls in eerie unison.
DuVernay has not made a narrative film since her acclaimed 2014 Martin Luther King Jr. biopic Selma. A Wrinkle in Time, due for release in March 2018, seems like an exciting and worthy follow-up, and is the first movie with a $100 million budget to be directed by a woman of color. But it was also a rare standout in a Disney lineup littered with remakes and sequels, a roster that leans heavily on its "existing intellectual property" (Star Wars, Marvel Comics, and Disney animated classics). Amid all those titles, A Wrinkle in Time looks like an original, even though it's based on a well-known book. But Disney's sequel-heavy approach, depressing as it might sound, is the most successful in Hollywood right now.
Disney's strategy for the coming years was crystalized with a giant backdrop of titles guiding the company's release schedule through 2019. There are three Star Wars movies (Episodes 8 and 9, plus a Han Solo film); six Marvel movies (Thor: Ragnarok, Black Panther, Captain Marvel, an Ant-Man sequel, and two Avengers entries); five sequels (to Mary Poppins, Toy Story, The Incredibles, Wreck-It Ralph, and Frozen); and three remakes of beloved films (Dumbo, The Lion King, and Mulan). There's just one original movie on deck, Pixar's Coco, with two others based on less oversaturated works (A Wrinkle in Time and a new Nutcracker film).
For decades, Disney prioritized new stories over sequels (which it once eschewed, sending all animated sequels straight to video), but it's hard to argue with high grosses—consider Marvel's long-running success and the box-office appeal of follow-ups like Finding Dory. In a movie industry roiled by declining ticket sales, increased competition from television, and volatile international markets, Disney has largely dodged expensive catastrophes that have befallen other studios trying to set up similar franchises that can spawn new entries for years. That's largely thanks to effective management that has avoided oversaturation of their biggest brands, meaning a new Star Wars movie or Pixar animated feature still feels like an event.
Two weeks ago, I wrote about some of these relative flops—Paramount's fifth Transformers film, Universal's The Mummy, and even Disney's fifth Pirates movie—which are still making hundreds of millions of dollars around the world but show steep declines in audience interest relative to their previous entries. So much of this "bad-movie problem," though, is rooted in other studios' desire to mimic the clockwork structure of Disney's many franchises. Even if there are production difficulties (like on the Han Solo project, where the original directors were fired, or Ant-Man, where Edgar Wright quit at the last minute), the films come out on schedule and perform consistently. So far, there's little evidence of waning excitement for the studio's heaviest-hitting brands, but the clear exhaustion around Pirates is an indication that even the big-name Disney films can lose their luster.
Even the largest and most successful studio has to take risks, and Disney has taken some. A Wrinkle in Time cost five times more to make than DuVernay's last film, and she's never worked in the fantasy genre before, but it looks like her hiring has paid off. Meanwhile, Pixar may have two sequels in the pipeline, but original productions (Coco and a planned "suburban fantasy" adventure set for 2020 or 2021) have always been what separates the animated brand from its competitors. And just last year, Disney indulged original, mid-budget films like The Finest Hours, The Light Between Oceans, and Queen of Katwe—projects that may not be box-office guarantees but that let Disney develop less-proven directors and diversify its lineup of stars—but they don't appear to be part of the studio's plans for the future.
That's because the focus on epic productions has proven more consistent in recent years—perhaps to the detriment of the film industry at large. It's possible that every studio will eventually defer to the Disney model, where producers are key and directors are only brought in to modulate their voice to larger franchise concerns. Warner Bros.' new president Toby Emmerich is reportedly planning on scaling back involvement with "auteur" directors who demand final cut on their projects, according to a recent Hollywood Reporter feature. With the exception of Clint Eastwood and Christopher Nolan, the studio is looking to stop handing over big budgets to major directors—which means a movie like Mad Max: Fury Road, a Warners production that won six Oscars in 2016, would never happen.
Tellingly, at Disney, producers John Lasseter (of Pixar), Kevin Feige (of Marvel), and Kathleen Kennedy (of Star Wars and Lucasfilm) are the studio's three most important artists, and of them, only Lasseter has ever directed a film. The recent kerfuffle over the Han Solo movie was the best evidence yet for Disney's insistence on adherence to a wider brand, as the celebrated directors Phil Lord and Christopher Miller (who made 21 Jump Street and The Lego Movie, among others) were dismissed over "deep fundamental philosophical differences" in filmmaking that reportedly centered on their comedic, improvisational tone. Ron Howard, a steady studio hand if there ever was one, was brought in to finish the movie and supervise what could be lengthy reshoots.
A Wrinkle in Time is the kind of project Disney would do well to embrace a little more. It's still reliant on a brand name and big, expensive-looking visuals, but it's not quite as rigidly tied to an overarching franchise that might fail to attract more original filmmakers like DuVernay. Disney's box-office totals show no sign of slowing down (it has made five of the 10 most successful movies of all time in just the last five years), but eventually, it will run out of classics to remake, just as eventually, even the most ironclad cinematic universes will run their course. Disney studio has to think about the future, too—and talented directors with a distinctive style and vision should be part of that plan.