Will Years of Losing Make the Philadelphia 76ers Winners?
The team's notorious "Process," founded on tanking games, inched closer to paying off with this year's NBA draft.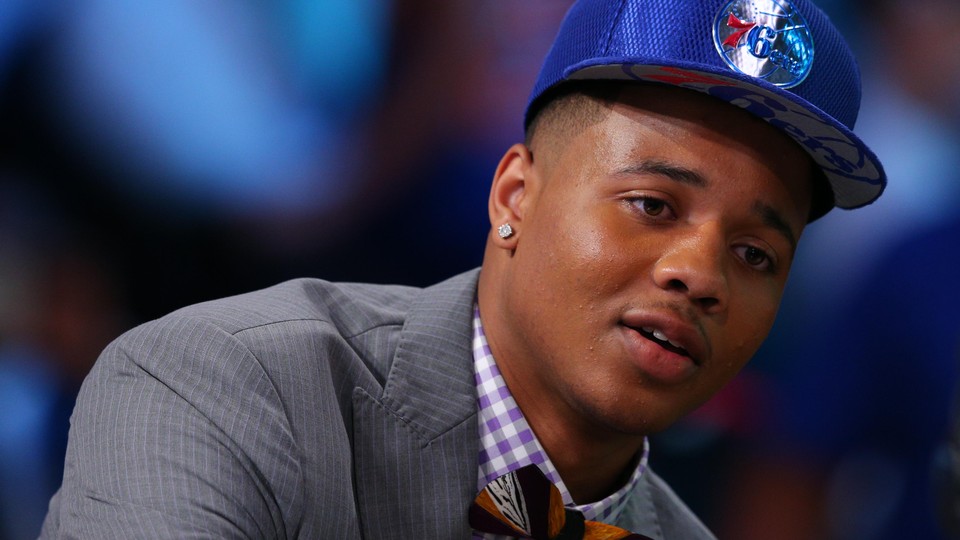 With the first pick in Thursday night's NBA draft, the Philadelphia 76ers took Markelle Fultz, the sure-thing guard from the University of Washington. The high selection continued a recent league tradition. Last year, too, the Sixers picked first; the two years before that, they picked third. This is by design. Philadelphia's strategy, installed by the former analytically minded general manager Sam Hinkie, has involved fielding overmatched squads that lose at record or near-record rates and give the team the best chance to attain high picks in the league's draft lottery. Those picks, the thinking goes, offer chances to get superstars, and superstars are what champions need. Philadelphia fans nicknamed the plan "The Process." Elsewhere it is known, more pejoratively, as tanking.
The arrival of Fultz—whom the Sixers were able to draft after trading Boston, the initial holders of the first spot, the number-three selection and a future first-round pick—is largely thought to signal the end of the team's talent-accumulation era and the beginning of an attempt to produce a competitive lineup. Fultz joins what has slowly become a promising, if fragile, roster. Ben Simmons, last June's top pick who missed his entire rookie season with a foot injury, stands six feet 10 inches tall and flashed such a gift for passing in his lone year at Louisiana State University that Philadelphia is considering making him an abnormally large point guard. The seven-foot center Joel Embiid, the Sixers' top pick from two years prior, has played only 31 games in his career to this point while dealing with leg injuries, but those games have been remarkable: deft footwork, effortless scoring, obliterating defense. Dario Saric, a Croatian drafted in 2014 who arrived stateside last season, has a long reach and an understanding of angle and tempo. It is the kind of group that basketball obsessives can spend hours thinking about, a collage of pure potential.
Philadelphians rightly look forward to the next step; the Sixers have already broken their franchise record for season tickets sold. For the NBA as a whole, though, even the best-case scenario—the team gelling into an upstart and then a true contender—comes with cause for concern. If the Sixers climb the league ranks, they will lend credence to the idea of extended non-competitiveness as a viable team-building option. The damage this could do to the nightly product of a multi-billion-dollar enterprise founded on competition is apparent. On a 2015 episode of a FiveThirtyEight podcast, Adam Silver, the NBA's commissioner, addressed Hinkie's methodology with rare bluntness. "Am I a fan of that strategy?" he asked. "Put it this way: no."
The most effective roadblock against the widespread adoption of "The Process" may be something that Hinkie was often said to have overlooked: the human, emotional element of sports. When some of his selections—or "assets," as he often called them—failed to live up to their pre-draft hype, the losing environment in Philadelphia was popularly given as a reason why. What young player could learn to be a professional surrounded by castoffs?
Even team ownership, supportive for many lean years, eventually grew tired of, or embarrassed by, the constant defeats. When Jerry Colangelo, a more traditional basketball executive, was hired to restore a modicum of professionalism after the team lost its first 18 games to start the 2015-16 season, he said the Sixers were "stretching for credibility." By season's end, Hinkie and the team had parted ways, with Colangelo replacing him fully. Hinkie's 13-page resignation letter fittingly considered the sport through a cold, market-strategic lens. "Wins are a zerogrowth industry," he wrote, "and the only way up is to steal share from your competitors ... You will have to be contrarian."
Although many Philadelphia fans still vocally support Hinkie, chanting "Trust the Process!" at games and draft parties, the managerial shift seems to have come at an opportune time. Hinkie weathered controversy and pursued a project that did, after all, leave the Sixers with a stash of enviable talent. Colangelo, along with head coach Brett Brown, now gets to do the less mathematical work of shaping that talent into a cohesive unit. Science has given way to art.
If the Sixers start to make good on their potential, then nonpartisan basketball fans will have a hard time rooting against them, no matter how they got put together. They are, at this moment, as much of a personification of hope as any team in sports. They are a kind of daydream, stitched together from separate YouTube reels. You can picture the interplay to come: Fultz driving the lane, spinning past a defender, and flipping a blind pass to Simmons for a dunk; Embiid shimmying, stretching, and dropping in a jump hook.
For anyone interested in the long-term health of the NBA, though, this hope will be weighed against a second one: namely, that "The Process" doesn't work out so well that it inspires imitators. The wishes of Silver, one suspects, align with those of someone who catches the Thursday night games on TNT after work. A good matchup is much more fun to watch than a long con, no matter how handsomely the latter ends up paying off.