Vince Staples, Enemy of Groupthink
The talented young rapper overhauls his sound on Big Fish Theory to criticize both the rap world and racism.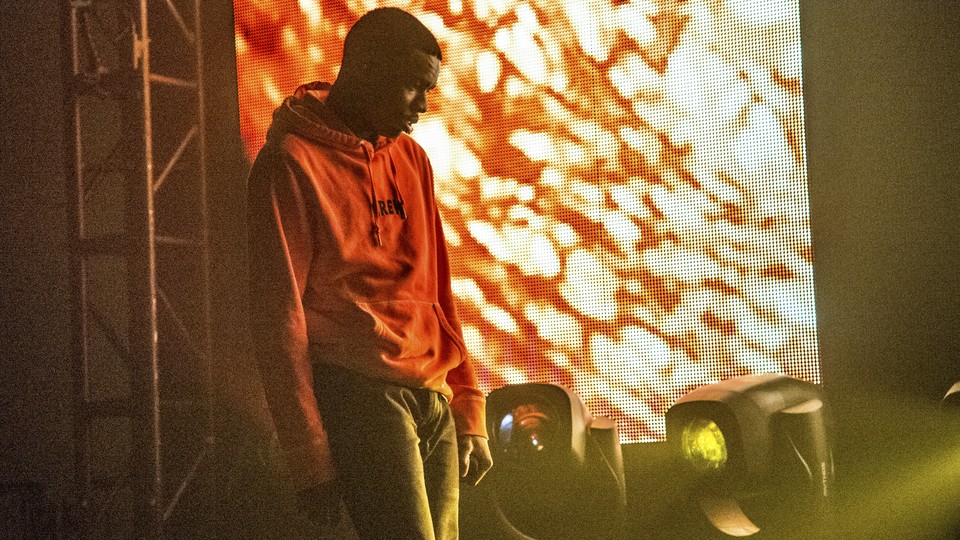 Somewhere in America last year, a woman took to YouTube to complain about a song that she'd heard on the radio while dropping her daughter off at school. Tears in her eyes and strain in her voice, the self-identified Christian mother of three recited the lyrics from Vince Staples's "Norf Norf,"  pronouncing every profanity, sobbing at the Long Beach rapper's mentions of sex and crime and running away from the cops. She was horrified. "I couldn't even believe the words I was listening to," she said into the camera. "As a mom, it infuriated me."
Online media gleefully snarked on the video, writing about the woman's "melt-down" as a piece of comedy. "That dang ol' rap music is corrupting our children!" summarized XXL, while Funny or Die picked apart the logical inconsistencies and offensive bits of what she'd said. Her words were even remixed with the "Norf Norf" beat, racking up tens of thousands of listens.
But Staples himself had a radically sympathetic response. In interviews and on Twitter, he chided the folks who were making fun of the woman.
"It's pathetic to attack someone for having an opinion or feeling some type of way, for wanting her children to not be exposed to something," Staples told NPR. "'Cause I'm 100 percent sure my mother would have loved for her children to not be exposed to gang life. The difference is it wasn't on the radio—it was in our house, and it was outside, and it was at our schools, and it was at our churches, it was everywhere that we were."
The episode was telling. The 23-year-old Staples originally grabbed acclaim with unflinching tales of growing up in Southern California gangland, and he has made the white consumption of black art a point of lyrical interest. But he has also emerged as a critic of rap itself, or more accurately, "the rap world"—the hype, the beefs, the tropes. It's no surprise he offended the woman on YouTube, but it's also no surprise he broke with groupthink and came to her defense.
Staples's dazzling new album, Big Fish Theory, confirms that the rapper's great muse is the tyranny of cultural bubbles, whether created by neighborhood, race, money, genre, or something else. The title suggests that his success so far has been confined to a small pond—one that his lyrics sharply describe as the music digs a new spot for him to swim in.
His breakout Summertime '06 was built on glowering, rap-classicist beats, and last year's excellent Prima Donna EP had an unsettling sound somewhere between drum-line and alt-rock. But Big Fish Theory is a front-to-back rave, inspired by strobe-lit warehouses and sci-fi. Young and fairly unknown producers like Zack Sekoff and Ray Brady crafted most of the album's glitchy soundscapes; the outré electronic musician Sophie, whose cult-beloved solo work sounds like aerobic workout tapes for creatures with more than four limbs, shows up twice. Many of the songs might work at an EDM fest, but it never feels like they're chasing trends. As Staples tweeted, he wanted to avoid simplistic four-on-the-floor beats and played-out "Steve Aoki airhorn drops."
The musical overhaul might signal ambivalence from Staples about his genre, but dance music of this sort really isn't new to rap. Echoes of Kanye West's Yeezus abound on minimalist thumpers like "SAMO," while the two-stepping opener "Crabs in a Bucket" recalls UK hip-hop. "Homage" settles into a rhythm resembling Southern bounce, and the slow-grooving closer "Rain Come Down" has the singer/rapper Ty Dolla $ign contributing to a bittersweet R&B vibe. But the glistening, BPMs-obsessed mode throughout is novel for Staples. Most surprisingly, his rapping often now seems buried, textural—the first priority is to move bodies. "Don't think too much," he says. "Just lose yourself in the music."
That last line is double-edged: "The word 'party' and my music don't go together," he recently told Vulture. While the album might dabble in the hedonism associated with plenty of rappers before him, he repeatedly seems to roll his eyes at cliches. "Never blow it on a chain / rather blow my fucking brain," he raps on "SAMO," whose title—a play on "same old thing"—might be about the repetitiousness of commercial hip-hop. For "Yeah Right," a concert-hall rallying tune built on melty machine noises, he scoffs at standard-issue boasts about cars, houses, and girls. It's no wonder Kendrick Lamar, another Southern Californian rapper famous for asceticism, shows up with a verse.
But Staples's complaints about the small pond of hip-hop are bracketed by wider discontent. On the sauntering single "Big Fish," he tries to brag about his life now but keeps remembering the anxiety of his days in the streets: "Shoulda been dead broke, shoulda been chalked out / but it didn't happen, now it's time to get it cracking." Racism is always in the backdrop, with "Crabs in the Bucket" suggesting it as the barrier that traps Staples and his peers in a brawl for meager spoils: "Battle with the white man day by day … They don't ever wanna see the black man eat." And for "Party People," he gets the dance floor crackling but doesn't let anyone forget what's happening outside the club. The chorus: "How I'm supposed to have a good time when death and destructions all I see?"
Staples airs all of these feelings with verbal finesse, maintaining a conversational drawl even when pulling off noticeably precise patterns. There's something infectious about the way he rounds the syllables at the start of "Big Fish" so that they all seem to rhyme ("late night ballin' / so far from my past misfortune"). And the closer, "Rain Come Down," has Staples taking on a pinched, jaded deadpan as he delivers a grab-bag of references slotting himself into a long history of black resilience: "I'm the blood on the leaves / I'm the nose in the Sphinx / Where I'm from we don't go to police." You have to listen closely for the big statements, as when he sneaks a concise, Kanye West-ian self-summary amid the frenzy of "Homage": "I'm on a new level / I am too cultured and too ghetto."
It all comes together most memorably on "Bagbak," a maniacal display of Staples's new electro sound, reliable rap talent, and uncensored outrage. Over high-energy synth claps and a woozy keyboard pattern, he delivers his verses as dizzying run-on sentences, with the subject matter telescoping out from sex to national politics. He says he's not voting until the candidates get a lot less white—"We need Tamikas and Shaniquas in that Oval Office / Obama ain't enough for me, we only getting started." Then in the aggro final verse he tells the government, the one percent, and the president to all "suck a dick." Just wait until the woman from YouTube finds this one, and better yet, wait for Staples's reply.