The Most Pessimistic Episode of Veep Yet
The show's Season 6 finale highlighted the sometimes suffocating nature of American politics.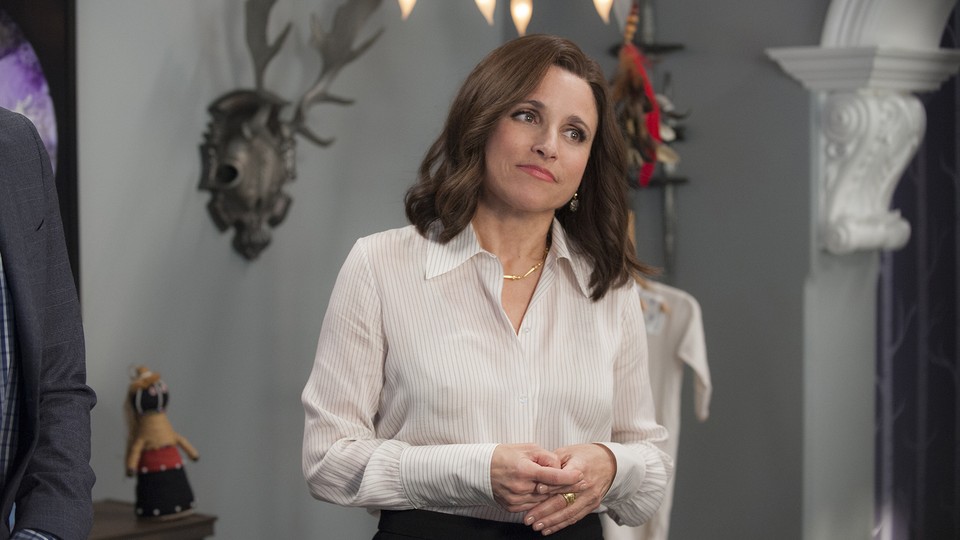 This post contains minor spoilers through Season 6, Episode 10 of Veep.
The finale of the last season of Veep found Selina Meyer, mediocre politician and terrible person, laid low for her shortcomings. She had lost the U.S. presidency. The one real achievement she had accomplished during her brief stint in the Oval Office—brokering freedom for Tibet—had been, in the eyes of the American media, the doing of the new administration. The end of the show's Season 5 finale was a carnival of indignity that found the now-former president thoroughly laid low, forced to listen to the inaugural exercises of the first woman to have been elected, rather than fated, to the presidency. It was demeaning and awkward and, yet, comforting: Actions have consequences, that finale insisted. To the extent that Veep functions as a political morality play, the sad ending for Meyer and her minions doubled in that way as a hopeful one for everyone else.
Fast-forward, though, to the finale of Season 6 of the HBO show, the one that aired on Sunday evening. The one in which Meyer's comeuppance has been thoroughly reversed. Meyer is on the one hand, as a politician and person, more awful than ever—more craven, more selfish, more willing to betray those who are loyal to her for momentary political gain. Meyer takes it upon herself to name Catherine's (and Marjorie's, and Richard's) new baby—"Little Richard," natch—and then to further exploit the newborn by informing the media about her status as the proud grandmother of "an African American baby." She attributes her stay at the place she had been referring to as a "spa"—a rehab clinic called Whispering Sands, where she stayed after losing the presidential election—by inventing a story about Catherine's struggles with mental illness. She makes fun of her presidential library's placement—on the land that had housed the enslaved people who had been forced to work on Yale's campus—by way of a joke about the Underground Railroad.
Again and again, Meyer is insensitive and self-absorbed and, in general, cringeworthily awful. And yet the end of Season 6 of Veep finds her, in spite of all this, energized and ebullient: She is running for president, yet again. Things are looking up for her, yet again.
This has been the push-and-pull that has sustained the series for its six seasons: lows colliding with highs, incompetence colliding with the good luck that will make it irrelevant. Veep has prided itself on mocking not particular politicians or administrations—"the show has never been about current politics," its current showrunner, David Mandel, told the New York Times; "it's about politics in general"—and here is that insistence on display: "Groundbreaking" is an episode that satirizes, perhaps above all, the various inertias of the American political system.
Meyer has been president before; it stands to reason, then, in her mind—and in the minds of the people on her team—that she should be once again. Amy has been her chief of staff; it stands to reason, in Amy's mind, that she should be once more. Ben and Kent and Dan, who have done the various typical post-White House stints in corporate America and broadcast journalism, team up to form a consulting firm (BKD)—and, then, to get their old boss re-elected.
Veep has always been exceptionally good at creating a sense of suffocation, even in its comedy: Its rooms are small. Its clothes are tight. Its roving cameras capture tight—too-tight, uncomfortably tight—shots of its characters. "Groundbreaking," which is figuratively about the shattering of glass ceilings but actually about digging through dirt, brings all that to a thematic conclusion: Here is Washington revealed in its crushing insularity. Here are its revolving doors, treated as the centripetal forces they are. Here is a place where that most undemocratic of things takes place—where power begets power.
"To team Meyer! Second time's the charm!" Selina toasts to her team. Kent interrupts: "It's actually the fourth," he says. But, of course, the number doesn't much matter. As Meyer tells a crowd in Iowa, at the conclusion of the episode:
You know there's been a lot of speculation about me running for president—again. But tonight is not about that. No, over the next few months I will embark on what I call a feeling tour across America, from Palo Alto to Hollywood, from Iowa to New Hampshire, and from the Hamptons to Wall Street. I'm going to be with the real folks out there. I want to feel their feelings and I want to hear their speakings. You know, I have to tell you, when I left the White House, I could've gone anywhere. But I didn't. I chose the South Bronx so I could feel and smell what America was all about. It smells good!
You could read this as one of Veep's rare, direct commentaries on actual politicians—a subtle jab at the policies and strategies of Hillary Clinton, or at the linguistic stylings of Donald Trump. But you could also read it—especially given Meyer's potential competitor for the presidency, the monumentally inept Jonah Ryan—as something much more pessimistic than that: as a reminder of how deeply, despite it all, Selina Meyer and her staff feel entitled to the presidency. And of how realistic, despite it all, are their chances of regaining it. Veep functions according to a kind of perverse form of anti-gravity: Those who have risen up, in this universe, have a way of staying elevated, whatever their other shortcomings. People here may be engaged in "public service"; they may have extremely little sense of the "service" part, yet there they will stay nonetheless—in office, in the spotlight, and into the next season.