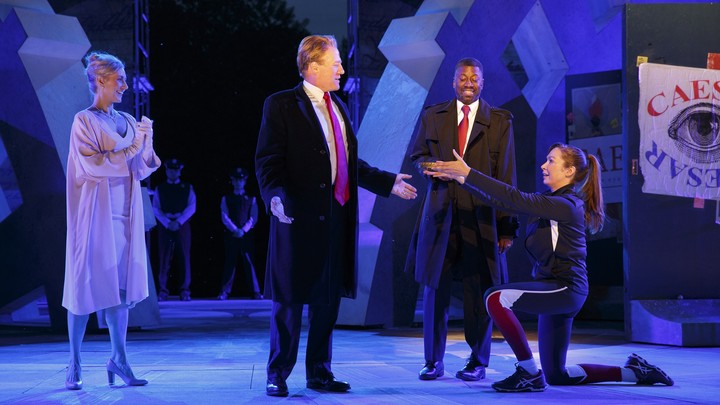 One of the things that made the backlash to the Public Theater's recent production of Julius Caesar so ironic, the director Diane Paulus argues, is that the concept of protest was already built into the show. In Oskar Eustis's modern-dress production of the Shakespeare history play, which depicts Caesar as a Trump-like figure, actors spent the first hour of the play disguised as audience members before unexpectedly jumping up from their seats to form a mob midway through. "These people in the audience dressed just like audience members get out of their seats and start shouting, and rush the stage, and become part of the action of the play," Paulus recounted. So later in the run, when actual right-wing protesters began doing the same thing, it only emphasized the points the play was trying to make about the dangers of mob mentality.
"That is theater working well," Paulus said.
At a time when culture seems to be wrestling with an unprecedented political reality, what role should theater play? How can plays—which usually take several years to go from an idea to a full-fledged production—respond to a media landscape that shifts focus and changes direction every few minutes? These were some of the questions posed to Paulus and the playwrights Robert Schenkkan and Branden Jacobs-Jenkins at a panel at the Aspen Ideas Festival, co-hosted by the Aspen Institute and The Atlantic. The answer, Schenkkan suggested, is that theater will do what it's always done."Storytelling and empathy are the most effective ways to have a conversation about these very non-partisan issues in a way that moves the needle," he said. "And that's what theater's been doing for 2,000 years."
Schenkkan, whose drama All the Way won the 2014 Tony Award for Outstanding Play, is one of the first playwrights to respond directly to the Trump presidency. His new play, Building the Wall, is set in 2019, when an African American historian interviews an incarcerated former security officer about the atrocities he committed in prison camps established by President Trump. "I wrote the play, this first draft, in a week in October [in 2016], when there was a lot of incendiary rhetoric by the Republican candidate about race and immigration and security," Schenkkan said. "But what was even more challenging was the way in which I felt otherwise responsible individuals, politicians and journalists, were trying to normalize abnormal rhetoric." Building the Wall is a thought experiment about the potential consequences of violent words. In a virtually unheard-of move, Schenkkan licensed it "right away, and indiscriminately," so theaters around the world could stage it, and consider its alternative future from the present moment.
Although Building the Wall is something of an anomaly in the speed with which it's been staged, the panelists suggested that the rich history of political theater gives directors other ways to consider contemporary politics. When plays are set in the past, Schenkkan said, audiences might be more inclined to set aside their prejudices when considering a story. Paulus agreed. When she staged a revival of the musical Hair 40 years after it debuted, people told her they were moved in a way they hadn't been when they first saw it. "What's so powerful about touching on moments in our history in contemporary settings," she said, "is you're able to reflect on it in a way [that's removed from] the heat of living it."
That's why productions like the Public's Julius Caesar, which use centuries-old history plays to illuminate modern politics, can be so powerful. The controversy the play stoked, Jacobs-Jenkins argued, had little to do with what the play actually does, which is warn of the consequences of removing difficult leaders with violence. Instead, people were responding to the simple visual of a Trump-like figure being assassinated, without considering the context. "It was clear that no one had actually read Julius Caesar," he said. "We live in a much more imagistic culture … and everyone was very interested in responding to an image."
But what became so vital about that particular show, Paulus said, was that the actual protests around it became part of the theatrical event itself. "We tend to think theater is this elite cultural pastime," she said, "but it really wasn't in history. It was a religious, civic, political, social ritual." Productions like this one take their place in a long line of plays that have critiqued political leaders, whether directly, as with Schenkkan's play, or obliquely. "The more we can embrace that role for theater," Paulus said, "the more we can contribute."
We want to hear what you think about this article. Submit a letter to the editor or write to letters@theatlantic.com.
Sophie Gilbert
is a staff writer at
The Atlantic,
where she covers culture.