The Marvelous Specificity of Oh, Hello Comes to Netflix
John Mulaney and Nick Kroll's Broadway revue about two embittered, aging Manhattanites has found an even bigger stage.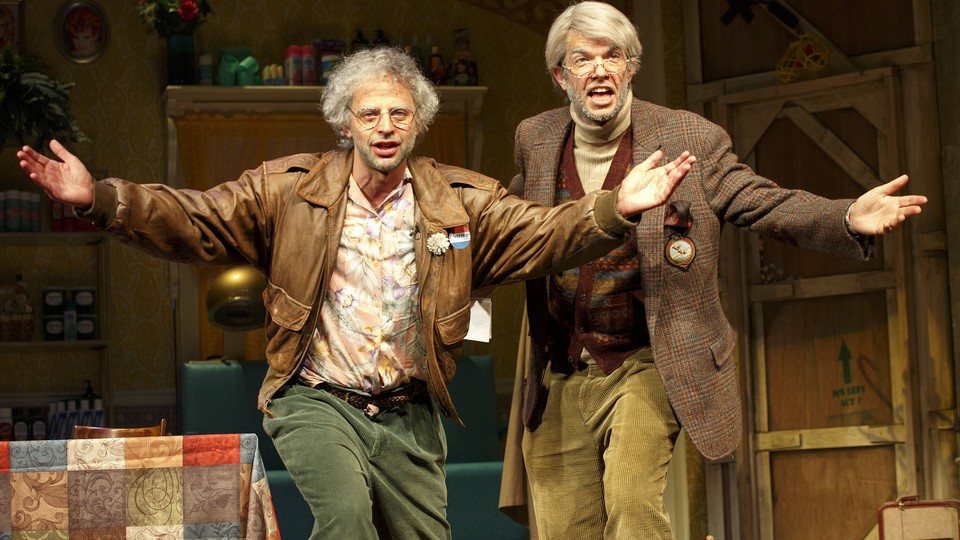 When pondering the continued rise of alternative comedy into the mainstream, and the avenues offered by streaming services to grant a wider audience to weirder material, there's no better example than the strange careers of Gil Faizon and George St. Geegland. They're two men of indeterminate (but senior) age who live together in a rent-controlled apartment on the Upper West Side in Manhattan—Gil a struggling actor, George a writer with delusions of being the next Philip Roth—who putter around ranting about politics, New York marginalia, and all the imaginary wrongs they've suffered in their long careers.
These elderly cranks are long-running characters portrayed by Nick Kroll (Gil) and John Mulaney (George), who came up with them in 2005 while shopping at New York's famous Strand Bookstore. "We saw these two guys buying individual copies of Never Have Your Dog Stuffed, Alan Alda's autobiography," Kroll told The Hollywood Reporter. "We followed them around for a bit and just fell in love. They typify a very specific kind of New York personality." As two of the city's up-and-coming comics, Mulaney and Kroll honed Gil and George, collectively billed as "Oh, Hello" (for their preferred salutation, always said with a leering drawl), in various alternative comedy rooms as an improvised double-act.
Gil and George are like two Woody Allen characters who've been left in the sun too long, two "eligible bachelors" who went from being a little long in the tooth to miserably co-dependent. Their sense of humor is as curdled as their political outlook (they think of themselves as "very liberal" while parroting various outdated and racist views), and their accents possess a particular and bizarre sort of gruffness (they pronounce the word "cocaine," one of their favorites to say, as "cuh-cane").
Kroll and Mulaney have both become huge successes in their own right since cooking up these characters at now-defunct New York City clubs like Rififi. Kroll moved to Los Angeles and appeared in sitcoms like Cavemen and Worst Week before landing a role in FX's long-running hit The League; he was also one of the early alt-comedy podcast stars, appearing in character as various outsized personalities on shows like Comedy Bang Bang. Eventually, he got his own sketch series Kroll Show on Comedy Central, which ran for three terrific seasons, each stranger than the last.
Mulaney went to Saturday Night Live as a writer, where he created many more characters with a distinct sort of New York sense of humor to them (including the club kid Stefon and the irascible news correspondent Herb Welch). He's also one of the world's best stand-up comedians (his specials New in Town and The Comeback Kid are both available on Netflix), though he did struggle to make the leap to sitcom stardom (his Fox show Mulaney was canceled after one season). For both Mulaney and Kroll, "Oh, Hello" felt at best like a niche hit, two characters they could trot out on a podcast or a UCB stage, but nothing bigger than that.
But though the broadcast comedy world has broadened in the age of streaming media, it was the oldest medium of all that got Gil and George much wider recognition. After making some celebrated appearances as the pair in Kroll Show sketches, Kroll and Mulaney turned "Oh, Hello" into an off-Broadway show that ran at the Cherry Lane Theatre in Greenwich Village for several sold-out weeks. Directed by the Tony nominee Alex Timbers (Bloody Bloody Andrew Jackson, Peter and the Starcatcher), it drew a surprise rave from the New York Times theater critic Ben Brantley, which led to a nationwide tour and then an extended Broadway run. Now it's available on Netflix, whose hunger for original comedy programming seemingly knows no bounds.
I went to "Oh, Hello" shows at both the Cherry Lane Theatre and Broadway's Lyceum (mostly similar in content, though there was a new celebrity guest every night); the Netflix version is a filmed version of the latter, which had a little more pomp and circumstance befitting its grander stage ("So expensive!" George crows at the various props onstage). It's still amazing to me that such a peculiar piece of warped New York humor has found itself presented on such a big scale. But that's a testament to the magic of Gil and George's chemistry, and the comfort Kroll and Mulaney have with each other, whether they're improvising or sticking to the show's brilliant script.
Oh, Hello on Broadway is technically a play within a meta-play; it's the story of what happens when Gil and George are evicted from their rent-controlled apartment, their various schemes to vault to fame, and the sick co-dependency of their relationship. There are plenty of off-color jokes about Gil's attraction to raccoons, George's shady past (he's been implicated in a few murders), and their shared love for Steely Dan, as well as a number of insider-y Broadway references. It's hard to imagine how these gags could be for everyone, but they've gotten Kroll and Mulaney this far, and there's enough of a strange, emotional through-line that it's easy to enjoy even if some of the in-jokes fall flat.
Gil and George are an indictment of a specific type of Upper West Sider, a type that most moviegoers are deeply familiar with thanks to the films of Woody Allen, and Oh, Hello on Broadway does a devilish job upending the gentle nostalgia of his entire oeuvre. Take George, the more monstrous of the two, who professes himself both a magnetic lothario and a titan of liberalism—while making offhand comments and degrading jokes at the expense of women and people of color. Mulaney and Kroll understand how outwardly cute this elderly pair might seem, but aren't afraid to dig into the calcified nastiness that lies beneath. The duo's adorable mannerisms are as important as their inner toxicity, which soon comes spilling out. This is a love letter to a certain stereotype, but it's an acidic one, eager to mock its sublimated biases.
Mulaney and Kroll are continuing to do broader work—starring in movies and filming stand-up specials. But Oh, Hello on Broadway is the apex of a passion project that has obviously brought them great joy to perform, so it's delightful to see it preserved for posterity by Netflix. Every time I've seen or listened to Gil and George—be it on a UCB stage, a podcast, a Kroll Show episode, or off- and on Broadway—I've thought they had finally reached their fame ceiling. But after this, I'm officially stopping those predictions. The world is clearly their oyster, and I can only assume a nightly late-night talk show is next.