The Intriguing Chills of The Mist
Spike's new series, adapted from a Stephen King novella, is an absorbing supernatural thriller.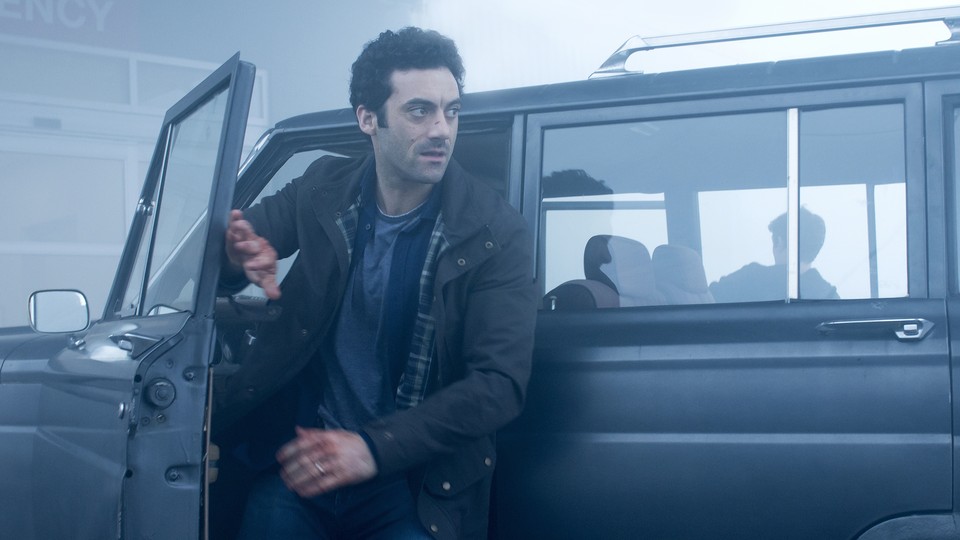 Early in Stephen King's 1980 novella, The Mist, a character in the small town of Bridgton, Maine, details a local legend called the Black Spring, where winter lingers so long that the ice on a frozen lake becomes as dark "as a rotten tooth." It's a neat metaphor for much of King's work, wherein unnatural conditions expose hidden decay. But in the new Spike adaptation of The Mist, created by Christian Torpe and airing Thursday, the ugly side of Bridgton (renamed Bridgeville) is on full display long before the titular cloud rolls in. In the first 48 minutes alone, a young girl is assaulted, a man is stabbed with a pitchfork, and a local teacher is publicly shamed with all the righteous fury of a Hawthorne novel.
Torpe, who hails from Denmark, has equipped his drama with a certain Scandi-noir vibe that suits the source material, even though the only thing that remains from King's story is the mist itself—a mysterious pall that envelops a town and seems to contain monsters within. His characters are all original, which allows the show to explore more contemporary storylines, like high-school rape culture and the bullying of a gay teenage boy. But the mist remains. And it's a terrific plot device, smothering Bridgeville in literal blind panic toward the end of the first episode (the only one made available to critics), and inflicting horrors on anyone who dares to stay in it for long.
Where did it come from? An amnesiac soldier (Okezie Morro)—who wakes up on the side of a mountain in the very first scene, and whose uniform has a badge reading "Arrowhead"—might be a clue. Still, Torpe also seems attuned to cli-fi, and the potent timeliness of the idea that an environment can turn on its inhabitants. In one scene, a woman (Six Feet Under's Frances Conroy) goes to the library to research the odd animal behavior she's been observing, and uncovers old newspaper stories about the aforementioned Black Spring, when "nature turned sour." And bugs pop up on a discomfiting number of occasions, from a centipede a woman brushes casually off her leg to an infestation of cockroaches that quickly turns nightmarish.
The narrator of King's story was an artist named David, who's trapped in a supermarket with his 5-year-old son and a motley crew of locals when the mist unexpectedly covers the town. Part of the plot revolved around a woman named Mrs. Carmody, who predicts accurately that the mist is fatal, and quickly attracts a cult-like band of followers. There's little evidence of this happening in the first hour of the show, although a busybody character named Mrs. Carmody is winkingly dispatched outside a shopping mall in a manner that seems intended to poke fun at her big mouth. Instead, Morgan Spector plays Kevin Copeland, the genial father of a 16-year-old girl (Gus Birney). His wife, Eve (Alyssa Sutherland), is a high-school teacher who's recently been fired for teaching kids factual sex-ed. There's also a hostile drug addict (Danica Curcic) who escapes from a kidnapping-style situation by wielding the aforementioned pitchfork, and who's trapped in a police station alongside Kevin and the panicked soldier when the mist creeps in.
It's an intriguing setup, forcing unlikely allies together and confining enemies in the same small space. (Unsurprisingly, the concept of King's novella has inspired a fleet of creative works, notably the creeptastic video-game series Silent Hill.) The CGI quality of the mist is sometimes spotty, but the dramatic effect for viewers of suddenly being engulfed in gray gloom is enjoyably squirmy. If Torpe goes too far, it's with the gore, which tends to be comedically graphic, and ruins the psychological tension the episode has spent time building. As any good horror writer knows, what's left to the imagination can be infinitely more terrifying than the explicit rendering of carnage.
It's debatable whether the show needs the extended, 13 Reasons Why-esque explorations of high-school life. But Birney, as the 16-year-old Alex, and Russell Posner, as her best friend Adrian, offer sensitive portrayals of two troubled teens. In one scene, the camera stays on Alex's stricken face for an uncomfortable amount of time as she recounts an event to her parents. In a nuanced and counterintuitive creative choice, the adults' voices are quietened in the background, which forces viewers to focus on Alex's words rather than her parents' assumptions. Some of the casting, though, is less persuasive—Sutherland, at 34, is mostly unconvincing both as the harried mother of a teenager and as the vaguely traumatized target of years of small-town gossip.
Frank Darabont's 2007 movie The Mist was a more faithful rendition of King's story, although its twist ending veered into Twilight Zone territory. It's hard to judge where this newer, looser adaptation might progress from just the first hour, but Torpe has said that, like King, he intends to explore the nature of fanaticism, and how fear so often compels people to seek out unlikely prophets. If so, The Mist could be a satisfyingly complex chiller, scaring viewers not just with unexpected jumps and amped-up creepy crawlies, but with the more human monsters who are all trapped together inside, waiting out the weather.