The Film That's Missing From the 'Century's Greatest' Lists
The Great Beauty excels by offering an unsurpassed meditation on a question that confronts all humans lucky enough to live in modernity.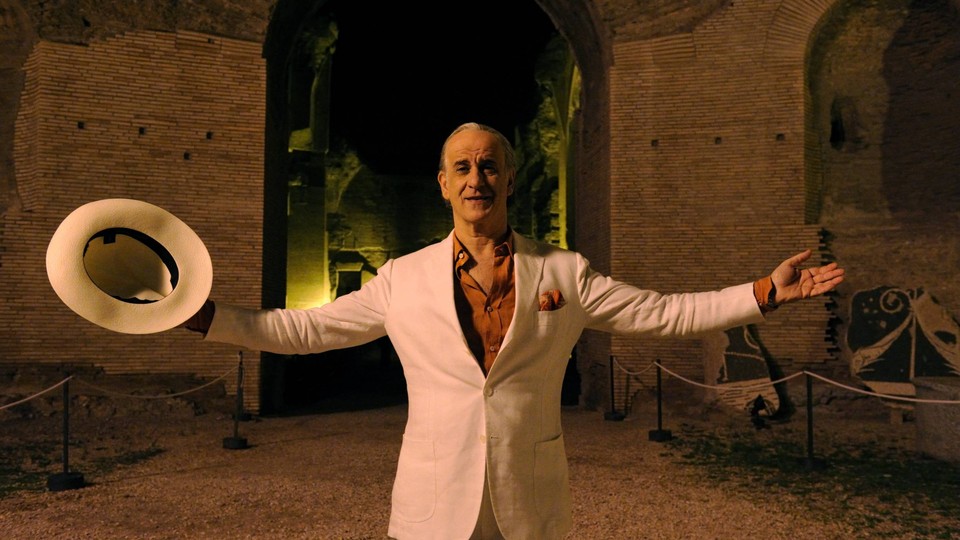 As film critics at The New York Times weigh in on "The 25 Best Films of the 21st Century So Far," inspiring rival choices from Hollywood directors and the cinephile Ross Douthat, an exceptional  film that I hold in the highest esteem has gone unrecognized.
Italian director Paolo Sorrentino begins The Great Beauty on the 65th birthday of its protagonist, Jep Gambardella, who published a critically acclaimed novelette in his early 20s, achieving a measure of fame and fortune that he has coasted on ever since. "When I came to Rome at the age of 26, I fell pretty swiftly into what might be defined as the whirl of the high life," Jep explains early on in a world-weary aside to viewers. "But I didn't just want to live the high life, I wanted to be the king of the high life. I didn't just want to attend parties, I wanted the power to make them fail."
In that he succeeded.
And through him viewers are masterfully seduced into envying Rome and its whirling high life with a series of scenes as visually beautiful as any on film, paired with dialogue so perfect in translation that I can scarcely imagine the original Italian surpassing it. Were The Great Beauty's exquisite aesthetics marshalled in service of merely skewering a subculture of decadent elites in what is arguably Europe's most beautiful capital, it would be a worthwhile couple of hours of visual delights.
But Jep is too insightful an observer of humanity's flaws, and too attuned to flashes of beauty in lives unlike the one he has chosen, to confine himself to ephemeral indulgences. And through his deeply humane yearning the film ascends to greater heights.
At times it resembles The Great Gatsby, where F. Scott Fitzgerald renders irresistible party scenes in gorgeous language to underscore their emptiness in relief. Yet Jep's lot in life is unconstrained by the social hierarchies that kept Jay from Daisy for so many years; and his fate never turns on any car wreck or vengeful gunshot.
Jep is a man who makes nearly all of his consequential choices freely.
With ennui as his only real antagonist, he is confronted all the more powerfully by burgeoning doubts about whether his days have been misspent––all set against the backdrop of a life that many would envy. By artfully exploring this dissonance, The Great Beauty transcends the social milieu it so brilliantly satirizes. As in the novel Cloud Atlas, where highly particular character studies address themselves to a larger, universal question, Jep's story ultimately probes a matter that humans can neglect for decades, but that few escape: What is the meaning of life, and how ought we to live it?
Insights are offered, or so I would argue. But they are rendered with enough subtlety and complexity, across so many scenes packed with information and open to interpretation, that contested conclusions are as inevitable as repeat viewings are profitable—whether or not The Great Beauty makes it onto your top 25 films of the century. For me, watching closely again and again has been a master course in learning how to see more deeply, and an impetus to reflect on whether I have spent my days well.
That would be a feat in any flick. That The Great Beauty achieves it with visual splendor, infectious party scenes, sparkling wit, poignant asides, and laugh-out-loud satire puts it in a special class of films that aim for excellence in every aspect and deliver.
Your concurrences and dissents are welcome at conor@theatlantic.com