The Cartoonist Who Makes You Look Twice
With Boundless, Jillian Tamaki makes a profound case for the primacy of images in storytelling.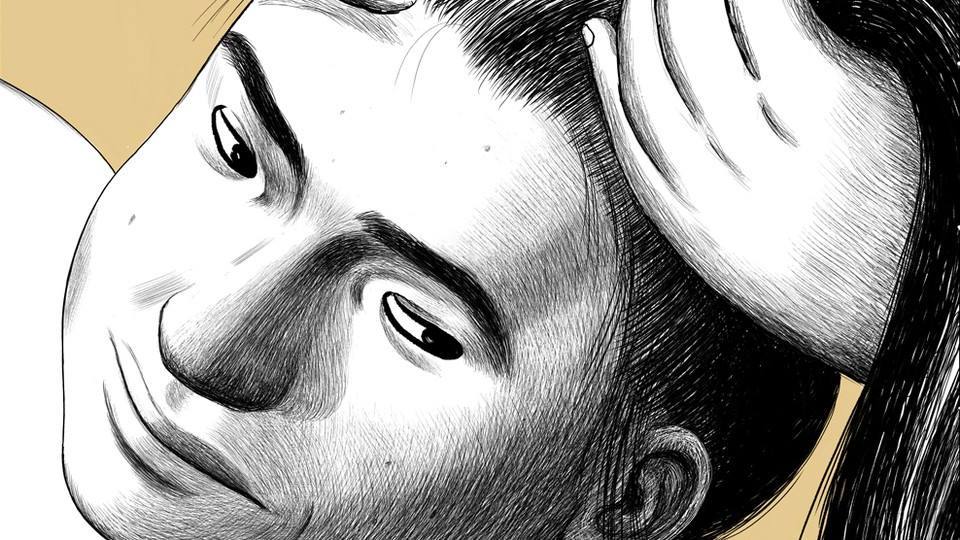 "Boundless" could be Jillian Tamaki's motto. Over her 14-year career, the cartoonist has consistently leaped in new directions. Whether designing book covers using embroidery, illustrating articles for The New York Times, or creating a nihilistic superhero comic, her output has been intellectually curious and artistically roving. And so it's fitting that Boundless is also the title of her new story collection.
An ambitious and eclectic set of tales, it focuses on the interior lives of unexpected subjects: the writer of a pornographic sitcom, a shrinking woman, a plant-nursery employee with an internet doppelganger, even a fly. Boundless uses a constantly varying visual treatment that keeps readers on their toes and mixes and matches artistic styles with a proliferating set of genres, from speculative fiction to domestic drama to magical realism. If a reader comes to Boundless with assumptions about visual storytelling, Tamaki will confound them.
With the first story she throws down her gauntlet. "World Class City" is drawn with savage strokes, scribbled in dark blue lines against a sickly yellow green. Text often appears sideways, forcing the reader to turn either their head or the book. The relationship between words and images is vague, almost symbolic. An unnamed narrator describes wanting to live in a world-class city while lizard people dance, a skull-headed human holds a candle, and a snake-like creature curls around a branch. The reader must work to decipher the connections between the narration and the unfolding scenes. By opening Boundless with such a challenging piece, Tamaki declares that this collection will not deal in the expected.
Each story shifts emotional and visual register. If "World Class City" has frenetic imagery and a demanding narrative style, "bedbug," a few stories later, reads as literary realism. It follows a woman who's had an affair but concealed it from her husband. Tamaki's line work is crisp, but looking more closely, there are places where the art loses its polish. A chair's color isn't fully filled in. This seemingly neat but delicately frayed illustration style matches the fraying of the marriage. The story employs a contrasting palette of melancholic grey-blue and irritable pale orange—a faint but omnipresent color clash that mimics the hidden tensions of the couple's marriage. The art of "bedbug" perfectly matches the material.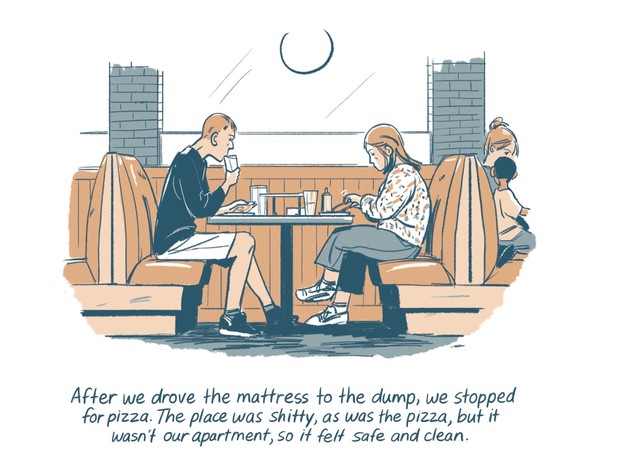 The range of styles in Boundless may stem from the wide variety of Tamaki's influences, which include X-Men comics, the Japanese animator Hayao Miyazaki, ukiyo-e, and screen-printing. But though she acknowledges her influences, she's far from defined by them. When she credited vintage manga with inspiring the warm purples of This One Summer (2014), a collaboration with her cousin, Tamaki was careful to say she did not consider the work a manga. Whether she works digitally (Boundless), or in watercolor (her illustration of a review of Yiyun Li's Kinder Than Solitude in the May 2014 issue of The Atlantic) or in thread (the Penguin Classics edition of Black Beauty, where she stitched the equine protagonist bucking and dancing across the cover), the cartoonist seems to take her own advice to students—to not get "too comfortable" with a way of doing things—to heart.
More than artistic style, then, it's Tamaki's philosophies that tie her work together. "I always try to put diversity in my figures just because it's more interesting," she explained in a 2015 interview with Paste. "And I think visibility is powerful, as somebody who grew up mixed race in a very, very white part of Canada." She has been just as open about the fact that her art is deeply shaped by feminism, particularly given the comics industry's tendency to represent women as hypersexualized objects even when they're supposed to be saving the world. In Tamaki's words, "To see [women] as whole human beings is unfortunately less common than it should be."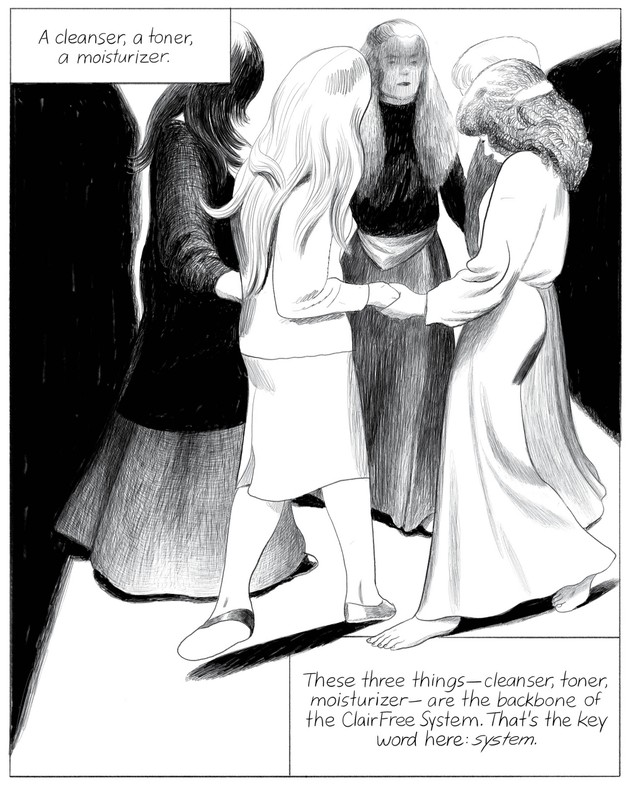 These priorities animate her earlier work, such as the popular webcomic SuperMutant Magic Academy, which featured plotlines that cleverly subvert school admissions disparities and in which teenager girls are as likely to fret about existentialism as about their crushes. Boundless continues her efforts to explore the full lives of women and, subtly, the societal expectations placed on them. The story "Body Pods" is narrated by a bisexual woman describing her relationships; rather than call attention to the gender of her past loves, she details their taste in movies. In "The ClaireFree System," meanwhile, Tamaki layers a pyramid scheme script for a cleansing moisturizer over dark and confusing images of womanhood. She doesn't specifically point to how strange and gothic the language of beauty is, but the juxtaposition makes it clear.
Throughout the pages of Boundless, the reader is struck again and again by how text and images entwine and come together. In one frame of "Half-Life," the story of a shrinking woman, the text simply says "I've taken up watercolour painting." Out of context, the statement seems bland. But the frame shows a thumb-sized woman, for whom even the smallest brush presents a hefty weight. Her face is tensed in pain and concentration.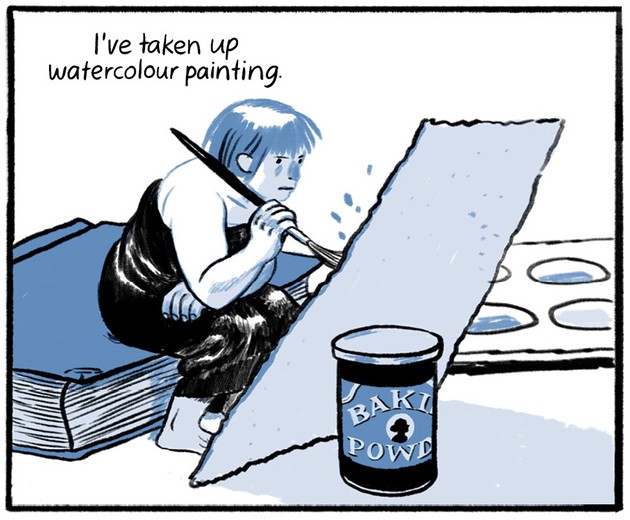 Given the primacy of Tamaki's images, it might surprise some readers to learn that she has had to argue the point that her visual work is an integral part of her stories. Her best-known works may be the graphic-novel collaborations with her cousin Mariko Tamaki, Skim and This One Summer, both of which received considerable critical attention and praise. But when Skim was nominated for the 2008 Governor General's award in children's literature, only Mariko, who wrote the text, was named. In response, the Canadian cartoonists Seth and Chester Brown published an open letter co-signed by some of the biggest names in independent comics, including Lynda Barry, Adrian Tomine, and Chris Ware. The letter argued:
In graphic novels, the words and pictures BOTH tell the story, and there are often sequences (sometimes whole graphic novels) where the images alone convey the narrative. The text of a graphic novel cannot be separated from its illustrations because the words and the pictures together ARE the text.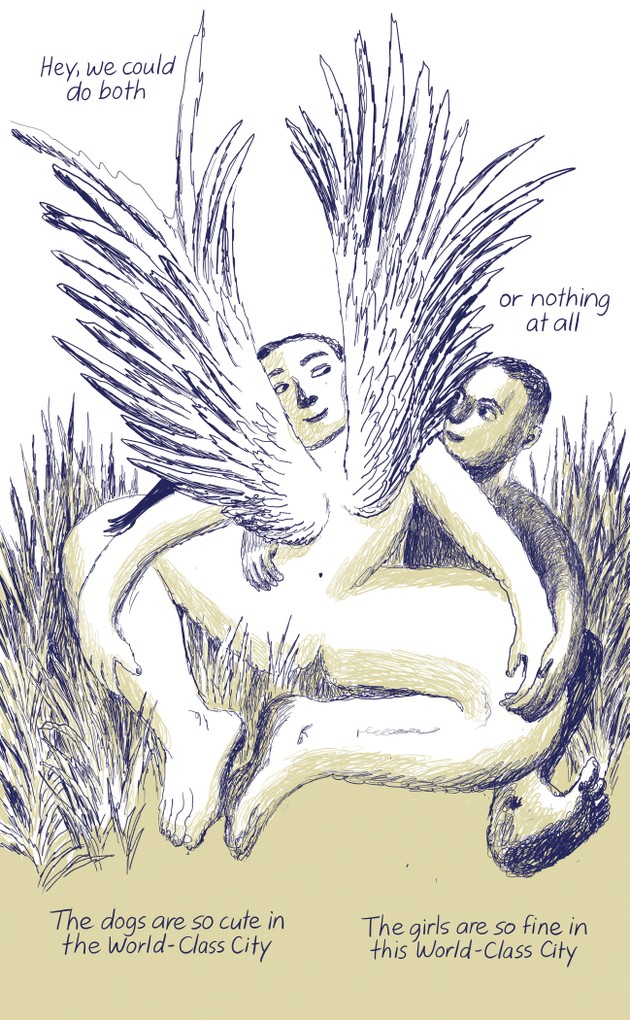 Indeed, a key scene of Skim, in which a teacher kisses her student, is never explicitly referred to in the text itself. Boundless reemphasizes the letter's argument: that graphic storytelling is literature. This equality is baked into the way the work is described. Drawn & Quarterly bills Boundless as a collection of short stories; there are none of the usual terms—"comic," "manga," or even "graphic." Tamaki's decision not to categorize her work is significant, especially in an industry for which the terminology is still in flux. Watchmen author Alan Moore, for instance, has argued that the label "graphic novel" has become a pretentious "marketing term" applied to works that aren't remotely novelistic, and that while "you could probably just about call Watchmen a novel, in terms of density, structure, size, scale, seriousness of theme," the term "comics" was good enough for him. For Boundless, Tamaki skips over the comic-graphic novel dichotomy altogether. By calling her pieces short stories, she's helping to redefine what authorship can mean for a cartoonist.
In "bedbug" there is a moment when the married couple has finally disinfected the house and the husband gathers his wife into a hug. He still doesn't know about her affair. He bends over her, his body relaxing against hers. The reader sees over his shoulder into the dots of his wife's eyes. Her eyebrows come together and a single wrinkle cuts across her forehead. Her shoulders hunch and her hair falls forwards across her cheek, as she lets him hold her. It's a panel that says as much about marriage as any paragraph in Raymond Carver's What We Talk About When We Talk About Love. In Boundless, Tamaki tackles subtle shifts in emotion, identity, and power. Her visual talent has long been obvious. This solo collection now proves her strength as a storyteller in her own right and that, of course, the drawing is central to that process.