Queen Sugar Deepens Its Complex Family Portrait
In its second season, the Ava DuVernay-helmed show confidently tackles the messy bonds of siblings and the trickledown effects of racial profiling.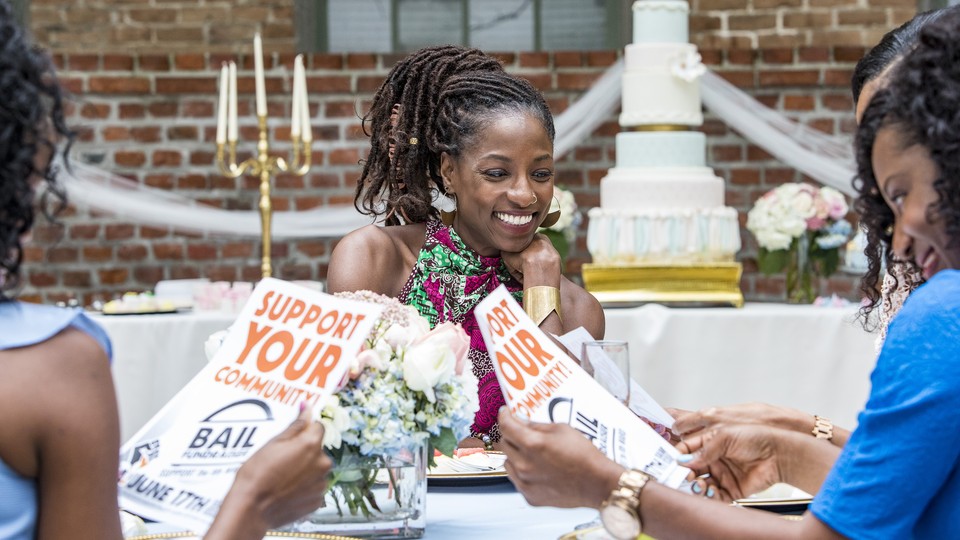 Queen Sugar debuted last fall as a drama about the lives of the estranged Bordelon siblings: Charley, Ralph Angel, and Nova return to their home in Louisiana after the death of their father Ernest, an indebted sugar-cane farmer, and are faced with the daunting task of reviving the hundreds of acres of land they've inherited. The Ava DuVernay-helmed show, based on the 2014 novel by Natalie Baszile and directed entirely by women, was quick to amass both a highly engaged audience and critical praise, the latter largely for its difficult examination of slavery's imprint on a complicated black family, deep character development, and superb use of the landscape of the American South.
A pivotal scene of that first season saw the siblings making arrangements for their father's funeral and bickering about who would pay for the casket. When Charley, a stubborn ex-corporate type who'd flown in from California, tried to hire servers for the reception, her sister Nova pushed back firmly: "We don't honor our father by having strangers serve those grieving. We serve comfort food for those who need comfort and we do it with our own hands." The exchange crystallized the series' main theme—that to fully realize the legacy bestowed on them, the siblings would have to do the grunt work of repairing their family. Later, the trio emerged at the funeral dressed crisply in all white and holding hands. The message was clear: They were united, even while struggling to find their footing with each other.
With its return this week (the first two episodes of its new season aired Tuesday and Wednesday on OWN and can be streamed at Oprah.com), Queen Sugar seems intent on continuing to mine themes of familial inheritance and societal baggage as they affect the lives of the siblings and, increasingly, of their children.
The second-season premiere finds the Bordelons congregating for a family tradition: a group dinner to mark Juneteenth, the emancipation holiday commemorating the belated liberation of enslaved people in the Confederacy more than two years after the signing of the Emancipation Proclamation. The dinner is jubilant—in the name of so-called "freedom day," Aunt Violet approves blueberry pie before dinner for her grandson, Blue—until Charley's son is noticeably late.
The siblings, of course, are there, all with their own troubles: Charley, is trying to smooth over the reservations of investors in the mill she purchased at the end of Season 1 and finalizing her divorce with her philandering husband, the NBA-player Davis; Nova, an often conflicted journalist and activist, is attempting to raise money for a community bail fund; and Ralph Angel, a freshly paroled single father is juggling tractor breakdowns and soybean prices as he struggles to be taken seriously as a full-time farmer—by his neighbors, at times, but mostly by Charley.
The show has always made it clear that the knotty interactions of the Bordelons—notwithstanding their differing visions for the farm—form the primary lens through which they perceive each other, and the broader world. For the Bordelons, family is at once a security blanket and a liability, and a test of their bond to each other and their community. But Queen Sugar has gone a step further, wrestling with how one processes a family legacy so deeply mixed up with the violent history of race in the U.S.
Nowhere was this more clear than at the end of the previous season, which saw the Bordelons still reeling from an effort to sell its land that revealed a disturbing piece of information: The neighboring family trying to purchase it, the Landrys, once owned the Bordelons and later lynched some of their family members on the land they sharecropped. This discovery reenergized the Bordelons' desire to build on their father's hard work, and the closing shots of the finale had Ralph Angel staring pensively at his father's will, and Charley carving the name of her recently purchased mill into the dirt.
The new season is poised to continue critiquing the long shadows of privilege and injustice. In the premiere's most poignant moment, Micah, Charley's son, is driving down the highway on his way to dinner in the brand new car his father bought him for his birthday, when he is stopped by the police. It's moving to see this character, who has grappled in subtle ways with how his access to wealth affects how people see him, feel that privilege turned on its head. He's no longer the privately educated son of an NBA player and a former executive; he is, instead, a black man in a car too expensive for his surroundings, being approached by a cop whose hand is already on his holster.
The scene—and the crushing one that follows at the police station—bears DuVernay's stamp. Much like her other work (Selma and Netflix's 13th), the director has consistently woven the historical and current failures of the criminal justice system into Queen Sugar's plotlines, whether it's Ralph Angel dealing with the stigma of being formerly incarcerated or Nova reporting on the overpolicing of black youth in the Ninth Ward of New Orleans. It's also distressing that a few hours before viewers sat down to watch the season opener—one day after Juneteenth—they possibly also watched the recently released dashcam video of Philando Castile being pulled over and shot several times by the Minnesota police officer Jeronimo Yanez. The image of Micah quivering in his car is so affecting because it's a too-familiar one for the audience, bloodier versions of which have been recorded on cell phones and bodycams and distributed via social media.
(Just as in its inaugural season, Queen Sugar again uses striking imagery to deepen its storytelling. As Melissa Harris Perry wrote for The Undefeated about the show last September, "The beauty of the Southern terrain is always juxtaposed against the violence of its history." In a potent and loaded visual, Nova and Charley, out searching for a missing Micah, find his gleaming silver convertible abandoned and parked next to a roadside cemetery.)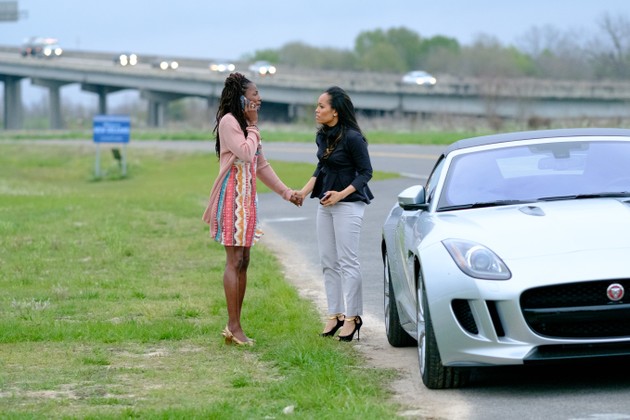 Micah's storyline continues in the second episode, with the Bordelons trying to gauge how he's coping since being racially profiled. Micah skips school and, as he walks aimlessly around New Orleans to the soundtrack of Sampha's "Plastic 100°C," you get a sense of just how lost he feels, literally and figuratively—until he somehow wanders into his aunt's fundraiser, where he breaks down just a little in Nova's embrace.
The second episode also shows us a bit more about where the season may go, as it allows the characters to develop their relationships outside the family unit. Ralph Angel takes Darla, the mother of his son, on a "proper date," as they try to strike the balance between co-parenting and rekindling romance. After a botched divorce mediation, Charley shows up unannounced at her former suitor Remy's door, despite the fact that he had ended their relationship until she was legally freed of her marriage. Aunt Violet nervously waits for her estranged boyfriend Hollywood to return from an oil rig that was rumored to have had an explosion. Nova appears to be dealing with the dissolution of her relationship to Calvin, a married white cop, by throwing her energy into activism and spending time with a string of Calvin look-a-likes.
Within the Bordelon family, some fences are being mended, while others seem set to break down. Charley may be in for a rude awakening once Davis realizes she's forged his name to get her investment paperwork approved. Ralph Angel and Charley's disagreements about the farm will most likely intensify once he asks her for the letter he needs to secure a microloan of his own. And Nova appears to be the only one able to get through to Micah. Charley's inability to deal with her increasing loss of control over her family might make this season's emotional climaxes even more animated than the last. One thing, at least, is clear: At a time when black lives are often under the threat of actual and political violence, Queen Sugar treats its characters with the empathy and care that the real world doesn't always provide them.