The Disappointments of My Cousin Rachel
A lovely, subtle performance by Rachel Weisz is let down by a film too staid and ambivalent.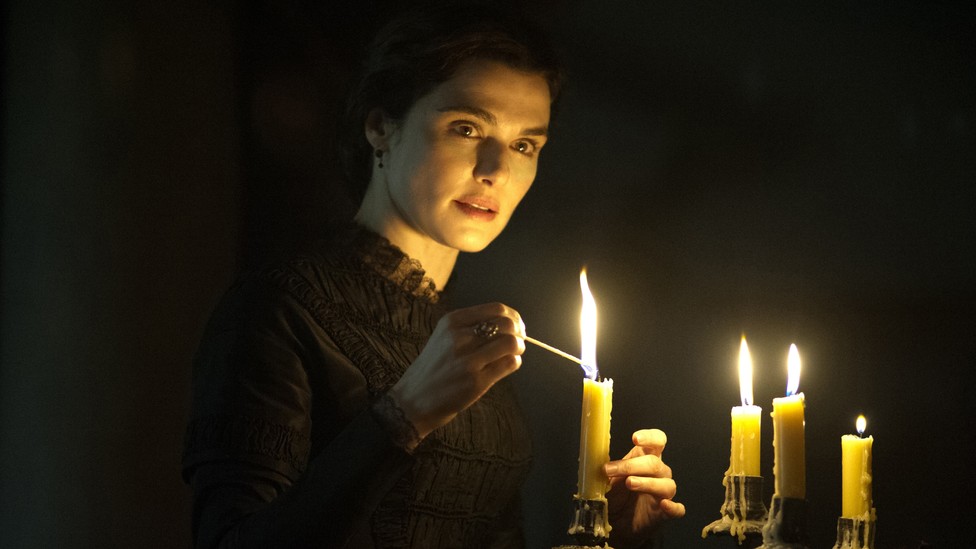 Did she? Didn't she? Who's to blame?
These are the key questions animating director Roger Michell's My Cousin Rachel, and they are, by design, nearly as opaque at the film's conclusion as they are at the start. Based on the 1951 novel by Daphne du Maurier, the romantic thriller is a nicely crafted work. It features strong performances—in particular by Rachel Weisz—sumptuous cinematography, and some truly glorious landscape. But while it is a diverting and intermittently rewarding film, it is also, ultimately, a disappointing one.
Philip Ashley (Sam Claflin, from the Hunger Games series) is the orphaned heir to a sprawling country estate in Cornwall, where he lives with his older cousin and guardian, Ambrose. Summering in Florence, Ambrose meets another cousin, Rachel—the exact relations are imprecise, with nearly everyone in the story seeming to be cousin to everyone else—falls in love, and marries her. Soon, however, he is taken ill, grows suspicious that Rachel is poisoning him, and begs Philip to come to his rescue. But by the time Philip arrives in Florence, Ambrose is dead and Rachel has disappeared. Philip is convinced that she has killed his beloved guardian.
Returning home, Philip is told by his godfather (Iain Glen), who controls the estate until Philip comes of age, that Ambrose never rewrote his will after marrying Rachel: It will all still accrue to Philip when he turns 25 in a short while. Who should then show up at the door but Rachel herself (Weisz). Philip invites her to stay, with the thought that he will outwit her, force her to confess her crime, and have his revenge.
That is not remotely what happens. Revenge, as they say, is a dish best served cold, and things almost immediately begin heating up between Philip and his beautiful older cousin. Rachel is, of course, more than a match for the passionate and well-meaning but ultimately callow Philip. (As he describes his schooling: "What had I learned? I didn't like books. I didn't like cities. I didn't like clever talk.") And while Philip is repeatedly warned that Rachel is rumored to have "limitless appetites," he seems to view this as more a feature than a bug.
And so the central question of the movie evolves from did she (i.e., murder Philip's cousin) to will she (murder Philip himself in a second attempt to get her hands on the estate). For the bulk of the film, the two characters circle one another—Philip, a simmering stew of gallantry and pheromones; and Rachel, grateful and circumspect, either a tragic widow or something far more sinister. The customary totems and tropes are rolled out in due course: a missing will, a pearl necklace, a couple of all-too-literal cliffhangers. Is the herbal tisane that Rachel is constantly brewing for Philip truly medicinal in nature? Or does is more closely resemble the coffee that Claude Rains served Ingrid Bergman in Notorious?
Working from his own script, Michell (Notting Hill, Hyde Park on the Hudson) lets the film unfold at a stately, intelligent pace, and Mike Eley's cinematography is rich and evocative. (The movie is almost worth seeing merely for its glimpse of Florence and rapt displays of Cornish coastline.) But for a film about romantic obsession, it is decidedly lacking in sizzle, sexual or otherwise. Claflin shows real promise as Philip, and Weisz is at her subtle best as Rachel. But their chemistry is more Downton Abbey than Dangerous Liaisons.
The plot proceeds along an engaging but in no way surprising path right up until the end, when it injects an unanticipated dose of doubt into all that has come before. (The conclusion is a variation of du Maurier's own.) I would like to say that this imbues the film with a deeper sense of intrigue and sophistication, that all answers to the questions the movie posed now seem possible. Alas, the reverse is true: The contradictory evidence seems not keenly ambiguous but merely contradictory. No plausible explanation to the central mystery is particularly satisfying.
Did she? Didn't she? Much as I enjoyed My Cousin Rachel at times, by the end I was no longer sure that I particularly cared.