Ariana Grande Returns to Manchester, With Allies
The pop star's benefit concert came with a message of unity—but also a display of resilience and formidable security.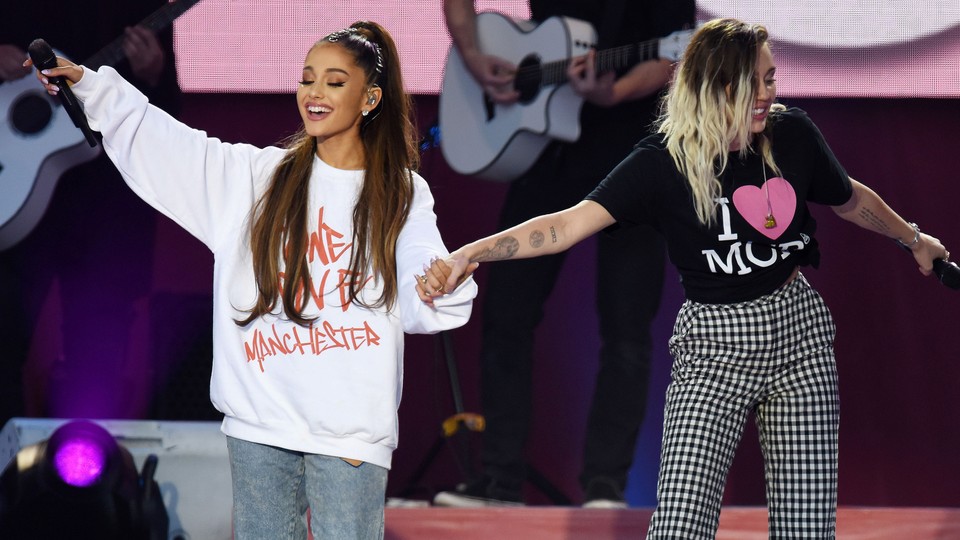 In a white-feathered overcoat before an audience of about 50,000 on Sunday, Katy Perry asked attendees of the One Love Manchester concert to reach out and touch the person next to them. "It's not easy to always choose love, is it? Especially in moments like these, right?" she said. "It can be the most difficult thing to do. But love conquers fear and love conquers hate. And this love that you choose will give you strength, and it's our greatest power."
The moment summed up the stated intention of the benefit show that raised $2.6 million for those affected by the bombing that claimed 22 lives at an Ariana Grande concert on May 22. Love and togetherness was a theme throughout: Grande has re-released her romantic ballad "One Last Time" as a charity single; on stage, she duetted with her boyfriend Mac Miller, her friend Miley Cyrus, a local children's choir, and the Black Eyed Peas (the last, for a joint rendition of "Where Is the Love?"). Liam Gallagher of Oasis made a surprise appearance with Coldplay to sing "Live Forever." Justin Bieber played his hit "Love Yourself." Going viral are images of security guards, holding hands and dancing in circles with the teenage and young-adult patrons of the show.
The notion that love beats hate has been the unified message and response of much of pop in the face of terrorism. The Orlando shooting last year spurred Broadway stars to record a rendition of "What the World Needs Now Is Love"; after the massacre at The Bataclan in Paris, Eagles of Death Metal encouraged covers of their tune "I Love You All the Time" to raise money for victims. The Manchester attack felt, among other things, like an attack on the uplift and communion that musicians such as Grande can offer—songs about love intrinsically feel antithetical to violence.
There was another subtext to the One Love Manchester Concert, too. It was a show of force for pop music, a statement of resilience not only for its fans, but also its industry and the society in which it exists.
Such a statement seemed especially remarkable less than 24 hours after the London van and knife attacks that claimed seven lives. While the U.S. president publicly counseled against a return to normalcy, the Manchester benefit concert brought together some of pop's most recognizable artists for a huge gathering not unlike the one that had been targeted less than two weeks earlier. "Last night, this nation was challenged, and you had a decision to make whether to come out here tonight," said Scooter Braun, manager of Grande and Bieber, from the stage, referencing the London Bridge attack. "And this is so beautiful. You looked fear in the face and said, 'No. This is Manchester… .' Manchester, your bravery is our hope."
The three-hour concert also necessarily relied upon—and showcased—the security state that has sprung up in response to terrorism. Police established a "ring of steel" around the venue, and images from the show include the sight of heavily armed cops smiling next to school-age concert-goers. In Rolling Stone's write-up, Kory Grow reports that police stopped him on the way into the concert, and they appeared aware of the fact that he'd taken notes on his phone about the helicopter hovering above, perhaps thanks to surveillance technology.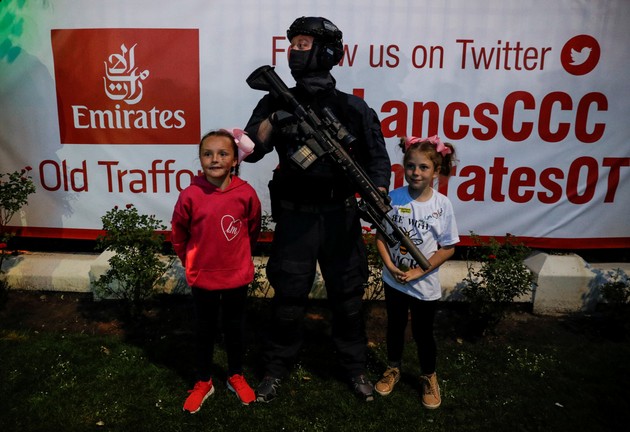 In addition to the aforementioned stars, the stacked bill included Pharrell Williams, Marcus Mumford, Take That, Robbie Williams, Imogen Heap, Niall Horan, and Little Mix—a testament to Braun's rolodex, and the way that the attack reverberated through the music world. But it was Grande who made the most compelling figure of the night. Following the mass murder of her fans, she has worked to convey caring and strength, visiting with victims and putting out a well-considered statement days after the attack: "The compassion, kindness, love, strength, and oneness that you've shown one another this past week is the exact opposite of the heinous intentions it must take to pull off something as evil as what happened Monday."
Sunday night, she closed the show with a tearful but vocally controlled closing rendition of "Somewhere Over the Rainbow," a fittingly desperate plea for a better tomorrow. And her singing with a teary schoolgirl for her song "My Everything" may live on as one of the most enduring moments of her career—in the wake of a much grimmer one.