Katy Perry Conquers the Early '90s on Witness
The singer's fifth album drives the pop-music nostalgia machine forward a few years, with fun results.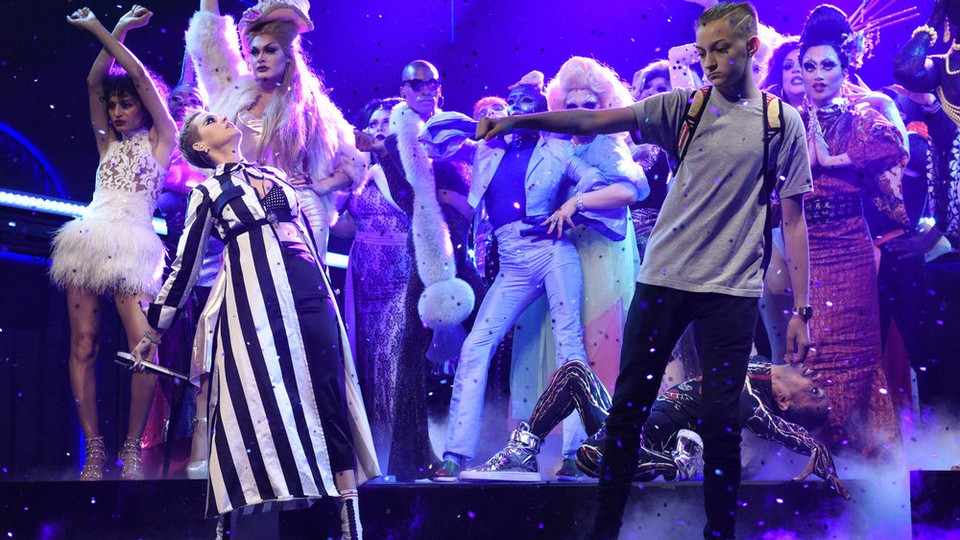 The gossipy morsel dominating conversation over Katy Perry's Witness on the day of its release is about not Perry but Taylor Swift—as so many gossipy morsels in the contemporary music world are. Swift chose this day, of all days, to finally put her mega-smash 2014 album 1989 on non-Apple streaming services like Spotify. Perry and Swift's rivalry is legend, and Swift's move may draw not only publicity but listeners from Perry, threatening Witness's debut sales numbers.
But the more interesting story regarding the relationship between Witness and 1989 is about music. As its name suggested, Swift's last album saw the one-time country crooner adopting sounds of the late Cold War era, specifically with synth-pop and a hint of Springsteen. In doing so, a long-burbling '80s revival in pop culture hit full boil, with music's most powerful producer (Max Martin) and one of its most powerful singer-songwriters (Swift) going full John Hughes soundtrack.
Three years later, Witness announces that the thresher of big-business pop has advanced in its harvest of history by, well, about three years. Perry's album could be called 1992, given how much it owes to the early house craze in pop. Collaging handclaps, high-hats, gospel choruses, and jittery pianos for a series of three-minute raves, the album sounds like the aftermath of absorbing C+C Music Factory, "Show Me Love," Milli Vanilli, "Freedom! 90," Annie Lennox, "Vogue," and other work by Gen-Xers with highly stylized haircuts and androgynous jackets.
In this way, there's no musical tension between Perry and Swift, really: They are both operators of the same industry machine, sifting through the not-so-distant past to serve nostalgia to adults and novelty to youths. As with Swift and the '80s, Perry's arrival at the early '90s comes after vanguard types have cleared the way: The rapper Azealia Banks titled an EP 1991 five years ago, the singer Kiesza has been pretending to be Robin S. for a while, and much of Witness resembles recent work by the excellent dance-rock band Hot Chip, who even produced the album's final track. Also, as with Swift, Perry necessarily shears these sounds from their original social context—what had been outré, what had been future shock, is now centrist.
Perry is a great pop antihero in that her songs work their way into the brain despite finding ever-new ways to offend taste. From the gay-baiting on "I Kissed a Girl" in her early punkish years to the racial awkwardness of "Dark Horse" off her most recent album—2013's Prism—she fails at likability but succeeds at listenability. So it is with Witness, whose roll-out has annoyed at every turn. Lead single "Chained to the Rhythm" insisted that Perry was going political but packed little substance, "Bon Appetit" strung together nauseating food-sex metaphors, and the manic "Swish Swish" unnecessarily fed the Swift feud. But, but, but: All three songs turned out to be bangers. Even her controversial SNL performances, which confirmed her as pop's tackiest user of people as props, rated as top-notch visual candy in the style of her Super Bowl show.
The commitment to pure, competent entertainment continues on Witness, easily the most enjoyable major chart-pop album so far this year (to be fair, there hasn't been much competition). Ace producers working with Perry have ensured the record doesn't sound like a throwback but, rather, like a big-budget, 3D revival: bludgeoning, sure, but still an effective thrill. A surprising amount of strangeness has been injected in, too—enough that the "generic" tag Perry so often receives doesn't really seem fair.
You can hear all of this on the opener, "Witness," which starts with jarring chord, builds to a pre-chorus in which there's a rattling sound evoking a loose rivet on a rocket ship, and closes with a whistle solo. Next comes "Hey Hey Hey," a roiling, Gwen-Stefani-esque female-empowerment anthem seemingly written with Mad Libs (Perry is "a baby doll with a briefcase" and "Marilyn Monroe in a monster truck"). "Roulette" rides a spooky keyboard riff like the one from "Sweet Dreams," and the hall of mirrors that is "Swish Swish" just gets more fun with each repetition of its tongue-twisting Fatboy Slim sample. The first three songs are all co-produced by Martin; the run of all four is an impressive, uninterrupted dance party.
The rest of the album can't quite keep pace, but it's sturdy, so long as you can stomach the lyrics. Perry's addiction to hammy mixed metaphor is only worsening; a verse selected at random, from "Deja Vu," goes, "Your words are like Chinese water torture / And there's no finish line, always one more corner / Yeah, they slither like a centipede." And her professed new devotion to "purposeful pop" mostly means singing about the need to make purposeful pop. "Bigger Than Me," a dweeby take on the recent tropical-pop trend, insists, "I'm pushing my thoughts to a new place," but there's not much evidence.
Then again, she's written a few unusually lucid and revealing ballads—perhaps a sign that her "purpose" is simply to connect with fans. Over soft-loud drum samples, "Power" references her mother with a suggestion that Perry was raised to be more submissive than she now wants to be in relationships. "Save as Draft" uses the millennial-baiting premise of agonizing over a text or tweet, but it also seems to look back on one of her celebrity exes: "Sometimes I swear I pass your SUV on Sunset Blvd." Then there's the frank, cutting insight at the center of "Miss You More": "I miss you more than I ever loved you."
Still the main requirement of a Katy Perry album is to deliver a good time, and Witness does it. Late in the track list, the warm, stomping "Pendulum" sounds like the pep talk one might give to a celebrity ingenue faced with maintaining a longterm career: "Don't try and reinvent your wheel / 'Cause you're too original." Originality is not something Perry's ever been accused of, but her talent for creating spectacle has been reliable—and it remains so. Even if she doesn't really achieve the balance of poise and partying that characterized the music she's pilfering from, and even if Perry remains as politically squicky as ever, she understands a very '90s-era directive: Make everybody dance now.