Jay-Z's Pitch for Generational Wealth
His new album 4:44 has a confessional thread, but it pushes a deeper message about commerce and racial progress.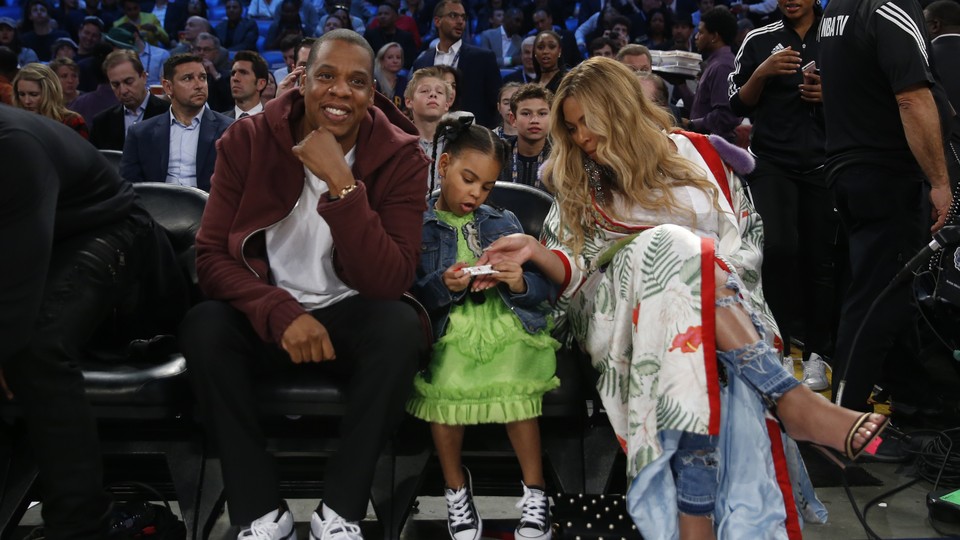 If you were not a Tidal subscriber or Sprint customer as of June 26, you'll need a new phone plan to play Jay-Z's new album, 4:44, this week. Simply signing up for Tidal, the streaming service co-owned by Jay-Z and a number of other superstar musicians, won't do it—you need a Sprint contract as well. To any would-be listeners annoyed at this situation, Jay-Z's spin on the matter may not help things. "This is a perfect storm of sharing music with fans," he said in a press release. "Sprint allows for and promotes creative freedom."
Finding virtue in what appears to be selling out has, of course, long been part of Jay-Z's package. His list of corporate partnerships over the years is lengthy, and Sprint is the third separate phone company through which he's released an album. Many music listeners are, understandably, squicked out when an artist so enthusiastically links their work to corporate interests. But 4:44, Jay-Z's best album in a long time, tries to answer those concerns. It's the thoughtful refinement of a career-long argument that Jay-Z has made: that for him, making huge bucks serves a greater good.
The hip-hop veteran No ID produced the album's 10 tracks, using chopped-up soul samples and crisp rhythms for controlled, bittersweet soundscapes that foreground the lyrics. And what juicy lyrics they are. Lemonade's implication that Jay-Z cheated on Beyoncé? Confirmed, and heartily apologized for, on the title track. The mysterious video of his sister-in-law attacking him in an elevator? In 4:44's first track, he expresses remorse for having "egged Solange on." His increasingly tense relationship with Kanye West? They're officially on the outs, with Jay-Z suggesting that his onetime protégé and friend is "insane." There's even a revelation that Jay-Z's mom is a lesbian: "Had to hide in the closet, so she medicate / Society shame and the pain was too much to take."
This confessional thread is remarkable on its own, but it also serves as a headline-baiting advertisement that helps to spread 4:44's deeper message about commerce and racial progress. Hip-hop's materialist streak has always been tied to black struggle, and Jay-Z has long rapped about his hustling—whether as musician, businessman, or drug dealer—as a reaction to growing up poor and under threat. But for 4:44, he consolidates his thinking on the link between material success and racial inequality with some big-picture, long-term prescriptions. "Generational wealth, that's the key," he says on the closer, "Legacy," which is essentially his will and testament in song form. "My parents ain't have shit, so that ship started with me."
The powerful and melancholy "The Story of O.J." attacks this idea head-on. On it, Jay-Z replies to O.J. Simpson's famous claim "I'm not black, I'm O.J." with a curt, skeptical "okay" (his delivery is so perfectly nonchalant that it's worth immediately rewinding). Simpson, the implication goes, wrongly thought his own success would exempt him from the reality of race in America. Jay-Z compares that shortsightedness to drug dealers risking their lives over turf that they don't even own, and to rappers who sign away control of their careers. At times, the song risks clunkiness with financial-planning case studies about investing in appreciating assets (real estate and fine art, rather than cars), and it's hard not to wince when he asks, "You ever wonder why Jewish people own all the property in America?" His point is that one marginalized group can learn from another, and the bottom line is all-American: "Financial freedom my only hope / Fuck livin' rich and dyin' broke."
Jay-Z deftly connects his desire to achieve more than a quick buck with the album's other themes, like fatherhood.  "A man that don't take care his family can't be rich," he raps on "Family Feud," and for "Legacy" he bequeaths his daughter Blue Ivy his stake in the record company Roc Nation. Thinking about his offspring's long-term prosperity also deepens his discussion of infidelity. On "4:44," he imagines a difficult conversation with his kids about what he put their mother through, and the pain isn't only in his betrayal of Beyoncé, but in the gambling of his daughter's future: "You did what with who? What good is a ménage à trois when you have a soulmate? You risked that for Blue?"
Jay-Z's attention to inheritance fits aptly into a cultural moment of vibrant discussion about the long history of black families being actively prevented from accumulating capital. Not coincidentally, though, talking about this topic has helpful business implications for Jay-Z himself. On the album, he hectors fans who would pirate songs from Tidal and drink Perrier-Jouët rather than Armand de Brignac champagne, which he owns. "The reason you don't have Jay-Z new album is because you don't support black businesses," the influential radio host Charlamagne tha God tweeted to people complaining about Tidal—a sign of how powerful Jay-Z's intertwining of self-interest and racial solidarity has been.
Though only 36 minutes long and relatively understated musically, 4:44 is a blockbuster event whose full dissection will take a good while (especially because its rumored star-studded companion film is still unreleased). Already, though, a few waves of acclaim and backlash seem inevitable. Some listeners may bristle at Jay-Z talking more about changing black investment strategies rather than about political obstacles and racism (though the "Story of O.J." video, which portrays lynching in cartoon form, might address those concerns). Others may take issue with Jay-Z trying to conquer capitalism as it exists rather than, say, making like Kendrick Lamar and questioning the system itself. Jay-Z, though, is no radical. He's managed to thrive in spite of the odds, and he believes his listeners can as well, so long as they pay the phone company first.