James Corden's Optimism Prevails in London
The host of CBS's Late Late Show paid tribute to the stoic nature of the city in the first of three shows filmed in the U.K. capital.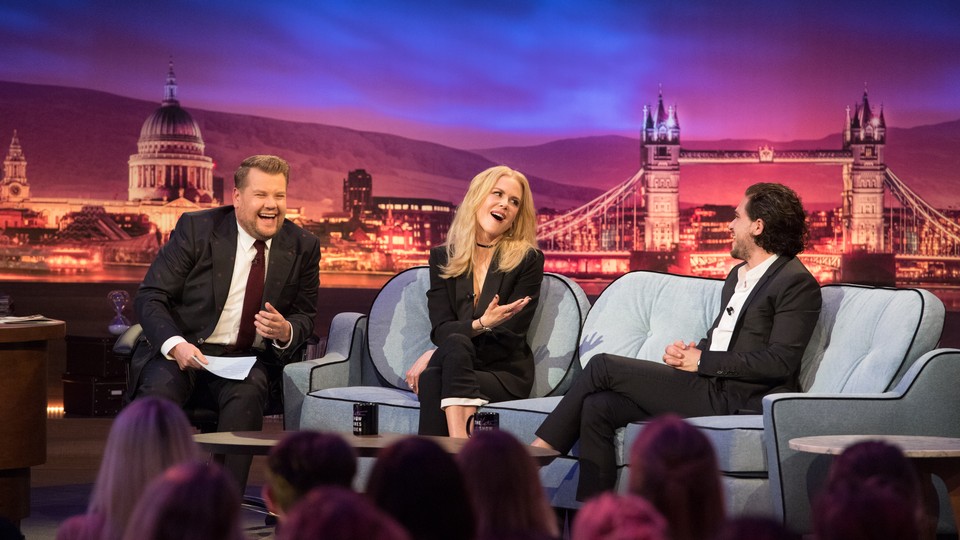 "I'm so sad when I think about all the times since I took this job that I've had to open talking about atrocities," James Corden said on Tuesday night, in the opening monologue to the first of three special episodes of the Late Late Show filmed in London. "Trying to find the right words to say is impossible, because there are none." But it's also a task that Corden, as a late-night host, has found himself increasingly wrestling with. Almost exactly a year ago, hosting the Tony Awards, the British performer was obliged to address a shooting at a nightclub in Orlando in which 49 people were killed. Two weeks ago, he opened his show with an emotional tribute to Manchester, following a suicide-bomb attack at an Ariana Grande concert in the northern English city.
When so much in the news seems to defy logic or reason, comedians like Corden and his CBS stablemate Stephen Colbert have a heightened role in helping viewers make sense of events that make no sense at all. And Corden consistently finds the right pitch when it comes to addressing tragedy, perhaps, paradoxically, because his schtick is so naturally joyous, and so free of bitterness and malice. His instinct, always, is to focus on positivity. "Theater is a place where every race, creed, sexuality, and gender is embraced and is loved," he said after Orlando. "Hate will never win." In the wake of Manchester, he praised the "strong, proud, caring people with community at [their] core." And in March, after an attack on Westminster Bridge, Corden spoke of a "diverse and proud and brilliant city" that would not be cowed by terrorism.
So, following the London Bridge attacks last weekend, Corden's first London show continued largely as planned, with the exception of a big opening musical number, which was scrapped. Instead, the camera followed Corden through the dark streets of Westminster. On Saturday night, as events unfolded, he explained, all of the Late Late Show staff had been out, having a great time, "staying in a hotel about two minutes from where the attack took place." He pointed to the Houses of Parliament, "a building that represents democracy, something that the people who carried out this attack hate." He nodded to the U.K. election on Thursday. And he set the tone for the evening. "Some people might say it's a strange time to do a variety show in this city. I couldn't disagree more." Instead, Corden said, he was going to make his London shows "the silliest, stupidest, most fun-packed shows we've ever made," in tribute to the "stoic British determination to let nothing or anything get in our way."
This meant a bumper edition of "Crosswalk the Musical," with Corden playing Mary Poppins and Sir Ben Kingsley as Bert; the pair and a fleet of backup singers performed musical numbers in the middle of a pedestrian crossing in London's The Strand. There was a new installment of Corden's "Carpool Karaoke" skit in which the British singer Ed Sheeran attempted to fit 47 Maltesers into his mouth. Corden also interviewed the actress Nicole Kidman and the Game of Thrones star Kit Harington. In other words, business very much as usual.
This was, of course, pragmatic: Live television, like life, has to go on. But in an hour of television that played to a very American interpretation of Britishness, with bus tours through central London and Union Jack decor and red telephone boxes, the most British thing of all was maybe the fact that after a tweak to the planned introduction, everything proceeded largely as normal. (That and the rain.) "This is not a country that feels afraid," Corden said in his opening monologue, in a cheering counterpoint to the amped-up, 24/7 panic of cable news. "It may be the worst weather in the world but it is still my favorite city."