How Will Silicon Valley Work Without T.J. Miller?
The mercurial comedian, who plays the disruptive Erlich Bachman, departed the show under mysterious circumstances in Sunday's season finale.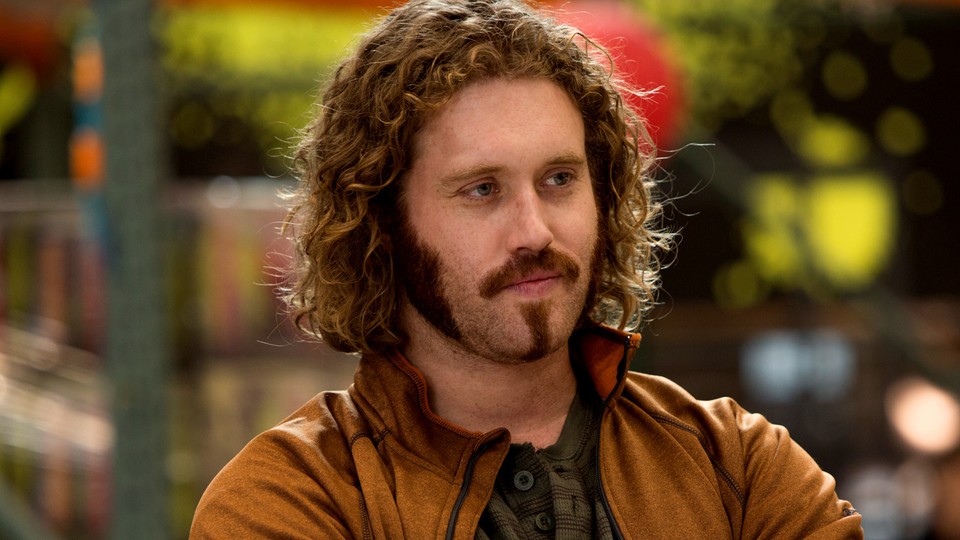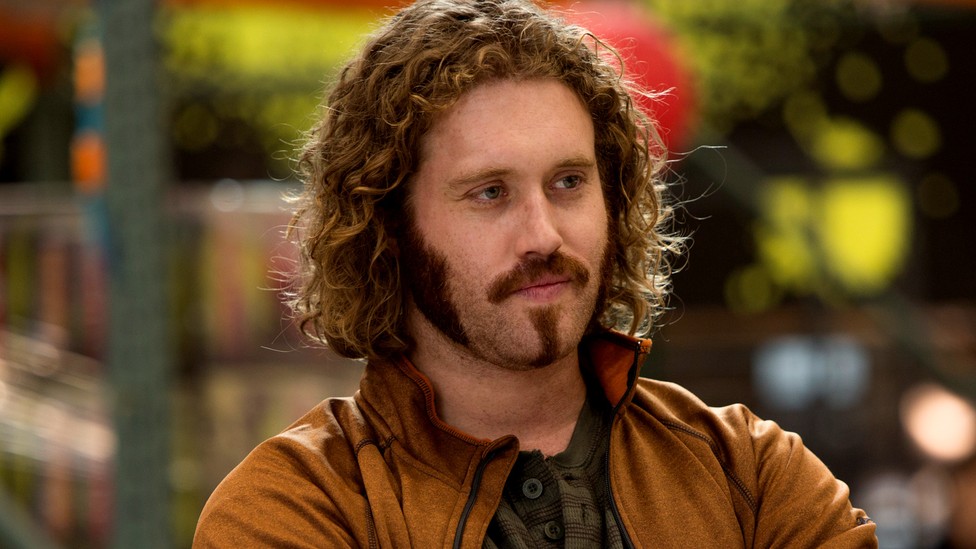 If you watched Sunday night's fourth-season finale of Silicon Valley without reading the accompanying online chatter, you might not have realized that it marked the final appearance of one of its most beloved characters, Erlich Bachman (played by the comedian T.J. Miller). On a mission to retrieve the tech CEO Gavin Belson (Matt Ross) from his retreat at a Tibetan monastery, Erlich gets waylaid at an opium den; a frustrated Gavin pays the proprietors to keep him busy there for five years. It sounds final, but it's also exactly the kind of ridiculous predicament Erlich got himself in for the entirety of the show's run. So why is this the way Silicon Valley chose to say goodbye to him?
As usual with an unexpected showbiz departure, there have been multiple reported sides to the story. It's hard to imagine that Miller's departure will be a good thing for Silicon Valley: Erlich has always served as a delightful narrative wrench for the show, sidetracking stories and upsetting the Pied Piper team's apple cart with his oft-stoned, egotistical antics. A Silicon Valley without Erlich will be a smoother show, but not necessarily a better one—especially since the character embodied the sort of unrestrained, tech-industry id the series sought to satirize.
Stranger still is the abruptness of Erlich's departure. He was a consistent thorn in the side of the show's protagonist, Richard (Thomas Middleditch), but it seems there'll be little to no acknowledgment of his absence, which is odd considering the entire ensemble still lives in Erlich's house. Silicon Valley is known for its emphasis on elaborate season-long plots that resolve well in beautifully constructed last episodes. The second-season finale "Two Days of the Condor" remains one of the most hilariously tense pieces of TV comedy I've ever seen, having its story dominoes fall with all the tautness of a heist movie. Compared to that, the season-four finale "Server Error" felt comparatively tame, focusing mostly on Richard's maniacal efforts to create a new kind of internet, which were helped along by a confusing deus ex machina.
On top of all that, Erlich is apparently gone forever, with barely a sendoff. Miller's departure was first announced in late May, framed as a "mutual decision" by an HBO representative, but reports have persisted that Miller was taken aback by the firing. Miller is an outsized personality both off and on the screen; you can listen to any of his podcast appearances, especially his wide-ranging interviews with the comedian Pete Holmes on You Made It Weird, to get a sense of that. A recent Vanity Fair profile of Zach Woods, who plays Silicon Valley's beloved character Jared, included a loaded-sounding quote from Middleditch, who said the cast were real-life friends, "especially amongst the people that are still on the show."
Adding to all this confusion is a Hollywood Reporter interview with Miller that posted right after the finale aired. It both clears the air and doesn't, suggesting a narrative in which HBO wanted to scale back his role on the show, and Miller instead insisted on leaving for good. The interview is another great example of Miller's extremely strong personality—in it, he brags about his busy schedule, repeatedly (and self-deprecatingly) plugs his upcoming lead role in The Emoji Movie, remarks on Silicon Valley's repetitive plot structure, and fires parting shots at both Middleditch and the show's showrunner Alec Berg.
"I'm doing a lot as a public servant and jester to the American public. As Kristen Stewart always says, 'It's worldwide. It's worldwide,'" is one of his more memorable quotes in the piece. "[Berg] went to Harvard, and we all know those kids are fucking idiots. That Crimson trash. Those comedy writers in Hollywood are fucking Harvard graduates and that's why they're smug as a bug," is another. Whether or not Erlich could return, it does seem like Miller is burning a bridge—and the show's creator, Mike Judge, confirmed in a separate interview that "[Miller] didn't want to do the show anymore."
Silicon Valley still has one of the brightest ensembles on TV, from Woods and Middleditch to Kumail Nanjiani (breaking out this summer in The Big Sick) and Martin Starr. Its future at HBO seems secure, and though the Season 4 finale felt like it was scrambling to set up next year's plotlines, Richard's "new internet" project should provide a wealth of comedy to mine in the coming season. But Miller's anarchic spirit, on-set drama or no, will undoubtedly be missed.