How The Handmaid's Tale Freed Itself
The Hulu show was at its best when it moved beyond the source material, which bodes well for a second season.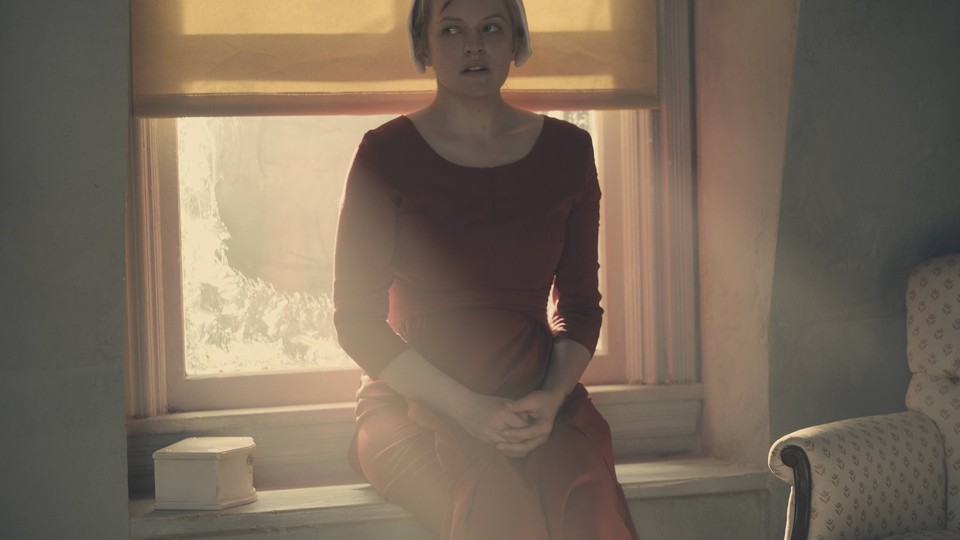 This article contains spoilers through all ten episodes of Hulu's The Handmaid's Tale.
One of the most powerful scenes in Margaret Atwood's The Handmaid's Tale comes late in the novel, when Offred and the other handmaids gather for a "Salvaging." The event—also known as a "particicution," a fusion of the words "participation" and "execution"—involves the handmaids beating convicted criminals to death, and in the book's epilogue, supposedly narrated by a Gilead historian in the year 2195, it's revealed that particicutions were devised to give the women an outlet for their pent-up hatred and rage.
The Hulu adaptation, whose final episode of the first season was released Wednesday, tweaked this scene in two ways. The salvaging was moved to the very first episode, giving the audience an immediate sense both of the ritualized and state-sanctioned cruelty of the Republic of Gilead and of the emotional complexity of Offred (Elisabeth Moss). And it was given an encore in the season finale, when Offred and the other handmaids were ordered to stone Janine (Madeline Brewer) to death after she endangered the life of her baby. Led by Offred, they refused: In the end, they couldn't bring themselves to redirect their internalized anger and fear at one of their own. One of the side effects of Gilead's dehumanizing of the handmaids by eroding their individuality, it turned out, was that it made them stronger as a group. As Offred put it, "They should never have given us uniforms if they didn't want us to be an army."
This moment—which was entirely original to the show—demonstrated how The Handmaid's Tale found its power and momentum by stepping outside the world of the book. The first three episodes were an astoundingly faithful adaptation of a classic novel: Written by the showrunner, Bruce Miller, and directed by Reed Morano, they did the visual worldbuilding that established Gilead as not just a physical locale but a place defined in every way by what it prohibits. Offred's internal monologue created the same sense of emotional intimacy with the character that the book did; virtually every scene in those three episodes was taken from the book (with the exception of Moira cursing out Uber, a company that wasn't anywhere close to existing when it was first written). It was a terrifying and alarmingly beautiful world, but it was also static. This became clear in the limp fourth and fifth episodes, in which Offred was confined to her room, and audiences learned the mostly irrelevant history of her relationship with Luke.
But the sixth episode, "A Woman's Place," which dealt with a visit from a Mexican trade delegation, and explored Serena's (Yvonne Strahovski) involvement in the founding of Gilead, gave the show a vital jolt of energy. In large part, this was because it broke away from the book, not just to flesh out characters, but to precipitate action. As a work of speculative fiction, The Handmaid's Tale is built around Offred's passivity: Things happen to her and she processes them internally. It's a terrific setup for a novel, but not so much for a television show, particularly one that has a lot more space to fill (Hulu has already renewed the series for a second season). As Atwood told The New York Times, "The Hulu team made their Offred more active than my Offred. Partly because it's a television series, and partly because it's an American television series."
You could argue that the show occasionally went too far in positioning Offred as an icon of female empowerment, but only insomuch as its efforts to do so were often thunderingly clunky and unsubtle ("Nolite te bastardes carborundorum, bitches"). But "A Woman's Place," the best episode of the season, showcased all the strengths of Miller's vision. Atwood's story about a society that oppresses women, policed by women, became a story about a dystopia that was dreamed up by a woman. Serena, it was revealed, was so utterly devoid of empathy that she couldn't imagine how a system she created to make women follow rules she prescribed would also end up curtailing her own freedom. As the delegate put it, "a society where women can no longer read your book, or anyone else's."
Serena's elaborate self-sabotage was a fascinating indictment of women who betray other women to gain power for themselves, but it also served to set up the horrific events of the finale, in which Serena tortured Offred with a glimpse of her daughter and then threatened Hannah's safety. It was a sizable step away from the Serena of the novel, who's almost as passive as Offred, and it set yet more events in motion, mainly Offred's refusal to throw her stone at Janine. This insurrection didn't just make for powerful television: It underlined the show's message that people are stronger when they come together. If Offred had been the only women to reject the stoning, she would have likely ended up being beaten as badly as the second Ofglen. But because all the other handmaids joined her protest, Aunt Lydia was rendered powerless.
The Handmaid's Tale was able to define its distinct philosophy only when it moved away from the events of the novel. A scene in which Moira (Samira Wiley) was welcomed humanely and efficiently as a refugee in Canada made stinging points about the current refugee crisis without being overbearing. The events of "A Woman's Place" showed how easily cruelty can be marketed as innovation with the right branding. Offred's perspective in the book is deliberately restricted, which means her understanding of Gilead is partial at best, but by opening the story up to Canada and Mexico—places that view Gilead with the same sense of horror that viewers do—Miller broadened our ability to comprehend how something like Gilead could come to be. The Mexican delegate's seeming willingness to trade the freedom of women in her country for the promise of perpetuating life added complexity and counterarguments to the question of how to respond to the infertility crisis.
That Miller was able to do so much in stepping outside the bounds of the book only makes it more regrettable that the show hasn't directly negotiated the subject of race. At Vulture, Angelica Jade Bastién has an excellent and thoughtful summary of its failings in this respect, and how The Handmaid's Tale does a disservice to its characters of color by placing them in a society that seems to have moved beyond race (and racism). It would greatly benefit the show to consider race thoughtfully in Season 2, especially considering how smartly it's used new locations and plots to expand not just its story, but what its story is trying to say. In its first season, Miller has successfully freed his show from the confines of the novel, and shown the potential of doing exactly that. Now, it's his privilege to imagine where it can go from here.