Hamilton's Peaceful Protest
The show's producer, Jeffrey Seller, explains how its November statement to Vice President-elect Mike Pence came about.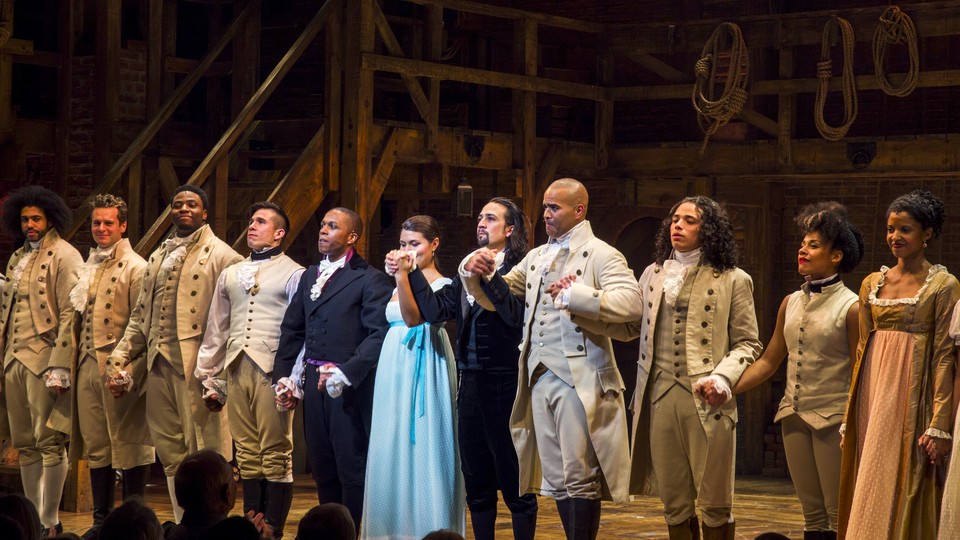 In November last year, the morning after the presidential election, the cast of Hamilton faced a day where they had two shows to perform, in the wake of a result that left many of them horrified. "It was a soul-crushing day," the show's producer, Jeffrey Seller, said. Some of the production's actors told him they felt unsafe in America. A wardrobe person was in floods of tears. The company held a meeting, and discussed how to move forward. "We had to get up and say, now our play is more important than ever before, and we need to tell this story that embodies our greatest values as a country, as a democracy," he said.
Two weeks later, the theater received a call saying that Vice President-elect Mike Pence wanted tickets.
It was a moment that led to one of the most publicized peaceful protests in theatrical history, when the actor Brandon Victor Dixon, who plays Aaron Burr, read a message to Pence during the show's curtain call asking the new administration to work "on behalf of all Americans." While Pence denied that he was offended by the public statement, President-elect Donald Trump was furious, and vented at the production on Twitter. "The Theater must always be a safe and special place," he wrote. "The cast of Hamilton was very rude last night to a very good man, Mike Pence. Apologize!"
Seven months later, Seller said he's still proud of the way in which Hamilton registered its objections to the incoming administration, and he explained how the moment came about in a conversation with David Rubenstein at the Aspen Ideas Festival, co-hosted by the Aspen Institute and The Atlantic. His first response to getting a phone call saying that Pence wanted to see the show, he said, was, "What can we do? We cannot deny this man a ticket … [But ]what am I going to say to my actors? How are they going to go on and perform for this man? Because we know what he embodies."
So Seller pulled out his phone and drafted a statement. Then he called the show's creator, Lin-Manuel Miranda, who was in London filming Mary Poppins Returns, and  Seller read aloud the sentences he'd written. "Lin said, 'Okay, let's start editing it,'" and the pair worked together to come up with the statement that Dixon eventually made. Seller explained that he knew there was a risk of bringing unwanted negative attention to the show, but everyone involved felt it was necessary. "It wasn't about a story, it was about the opportunity to say, 'Look at us, we are here.'"
Dixon's statement, which Pence paused on his way out of the theater to listen to, said,
You know, we have a guest in the audience this evening. And Vice President-elect Pence, I see you walking out, but I hope you will hear us just a few more moments. There's nothing to boo here, ladies and gentlemen. There's nothing to boo here. We're all here sharing a story of love. We have a message for you, sir. We hope that you will hear us out.

Vice President-elect Pence, we welcome you, and we truly thank you for joining us here at Hamilton: An American Musical. We really do. We, sir, we are the diverse America who are alarmed and anxious that your new administration will not protect us, our planet, our children, our parents, or defend us and uphold our inalienable rights, sir. But we truly hope this show has inspired you to uphold our American values and work on behalf of all of us. All of us. Again, we truly thank you truly for seeing this show, this wonderful American story told by a diverse group of men and women of different colors, creeds, and orientations.
In the theater, that night it drew overwhelming applause. Other responses in the days after were more mixed. Beyond Trump's calls for the cast and crew to apologize, the Fox News host Judge Jeanine Pirro called the show's team members "hypocrites," and accused them of reverse racism. The Los Angeles Times theater critic Charles McNulty wondered if the show had fallen into a trap by not trusting the musical to make its own case for pluralism and tolerance.
But as Seller explained, the act of making a statement had significant meaning for everyone involved in the show. "It was a form of active communication, maybe resistance," he said. "And by the way, I want to tell you, I'm proud of it."